Don't You Just Love It? Virtuoso Hotels Welcome Amenities
It always warms my heart to spot a special and unexpected Virtuoso amenity waiting for me in my room on arrival—this in addition to Virtuoso-only hotel benefits such as spa credits, resort credits, daily breakfast for two, and early check-in/late checkout. Here are a just a few of mine and our Glass Slipper Concierge and GSC World Travel advisor favorites:
Mandarin Oriental, Singapore
How quintessential can you get when your amenity is a nice pot of hot tea tucked in a wicker basket along with a plate of delicate chocolate pralines.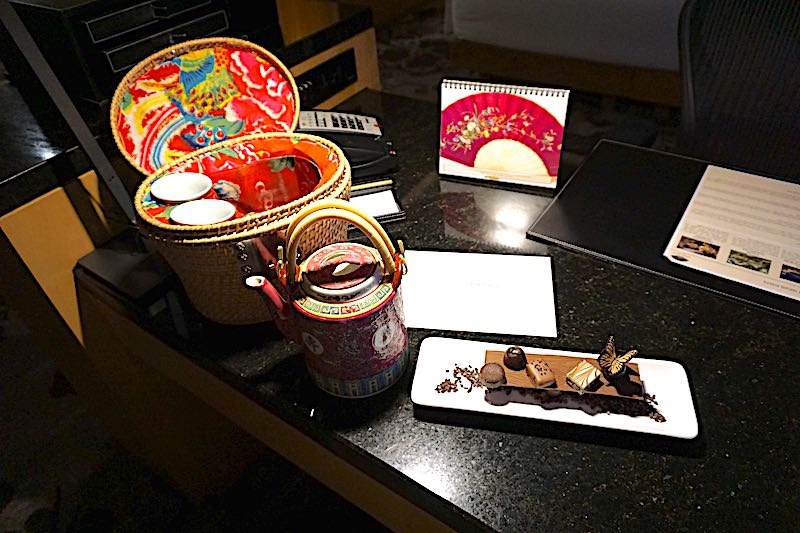 The Ritz Carlton Orlando, Grande Lakes
Glass Slipper Concierge Gold Key Advisor Tammy Henderson found this waiting for her and her husband Chris on their anniversary at The Ritz Carlton Orlando. The hotel actually found a photo of their wedding day on Facebook and framed it for them, sending it along with a platter of goodies and a bottle of vino—an amazingly thoughtful and personal touch.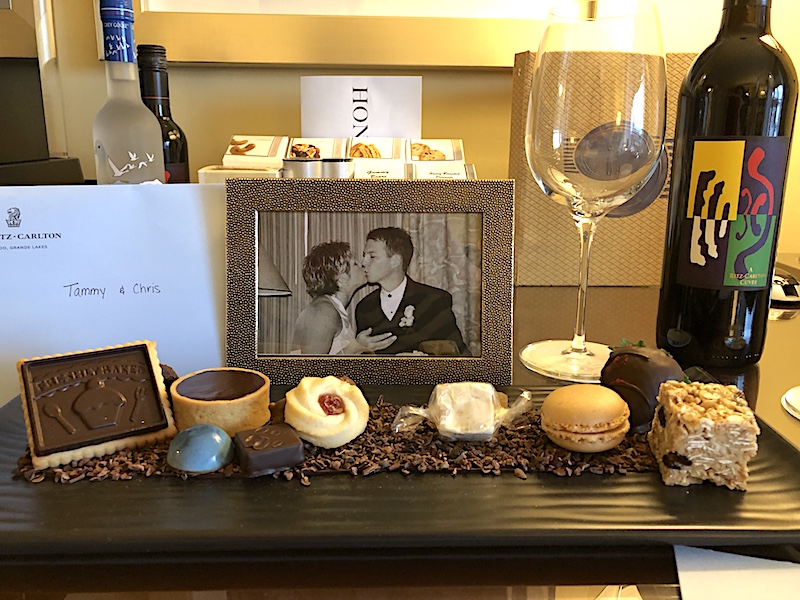 Jennifer Kozlow of GSC World Travel and a Glass Slipper Concierge Gold Key Advisor had a super birthday celebration at The Ritz Carlton Orlando. Believe it or not what looks here like a bottle of wine is actually a chocolate cake! And her daughters were treated to these darling chocolate lions—when broken with the supplied hammer they found a pile of hard candies inside!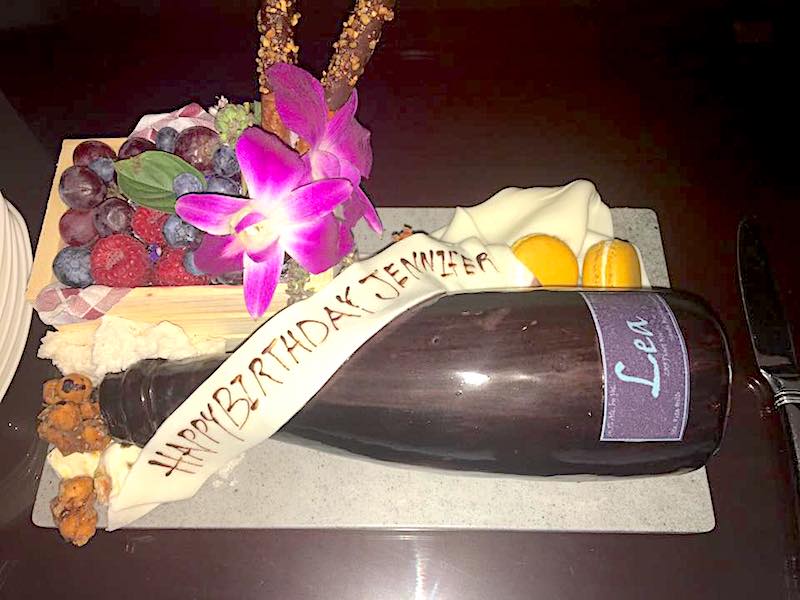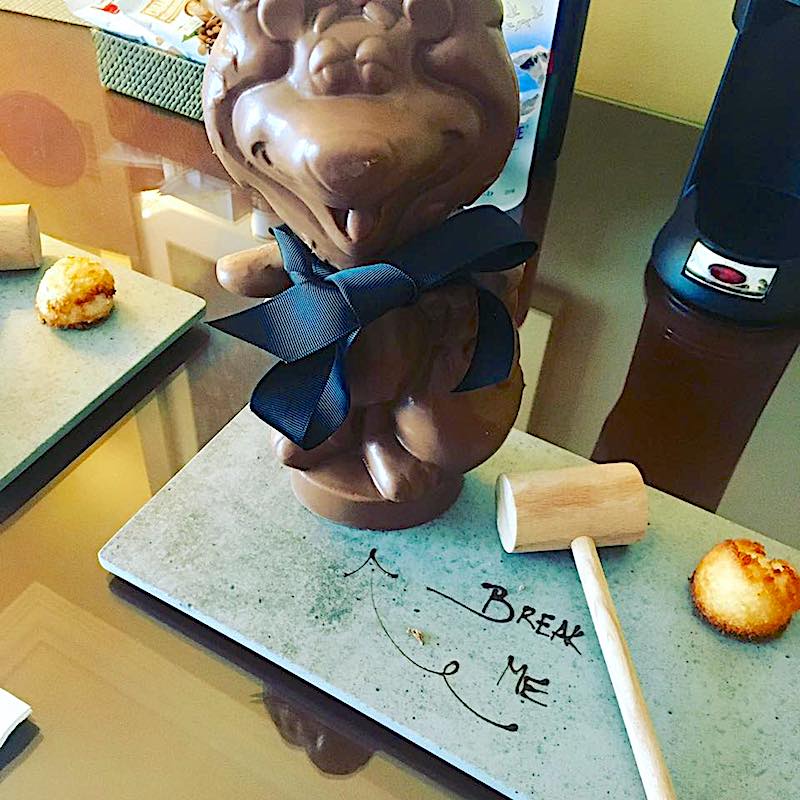 Normal folks not celebrating something particularly special will find their amenities pretty exciting as well. How about a great glass of champagne, pastry treats, and a cool water bottle and fragrant candle that Mary Steadman, Glass Slipper Concierge advisor, found on arrival?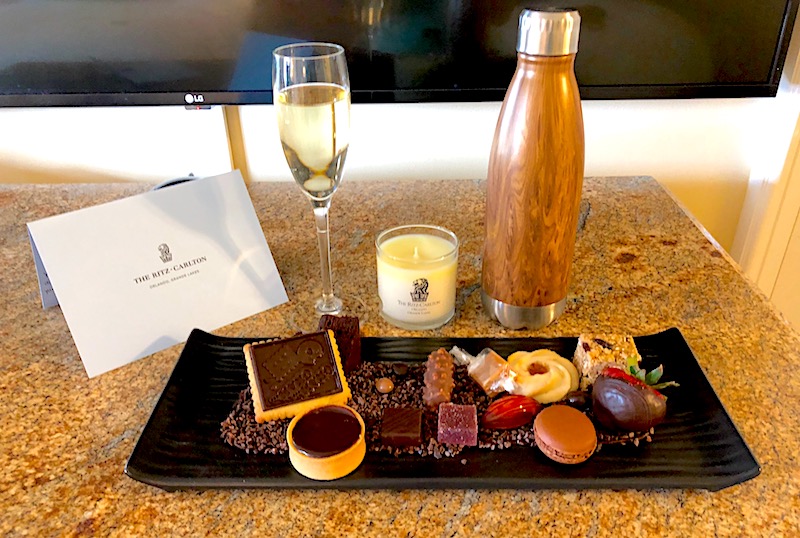 And when the Glass Slipper Concierge Gold Key Advisor team stayed here we all received these darling chocolate glass slippers surrounded by sweet treats.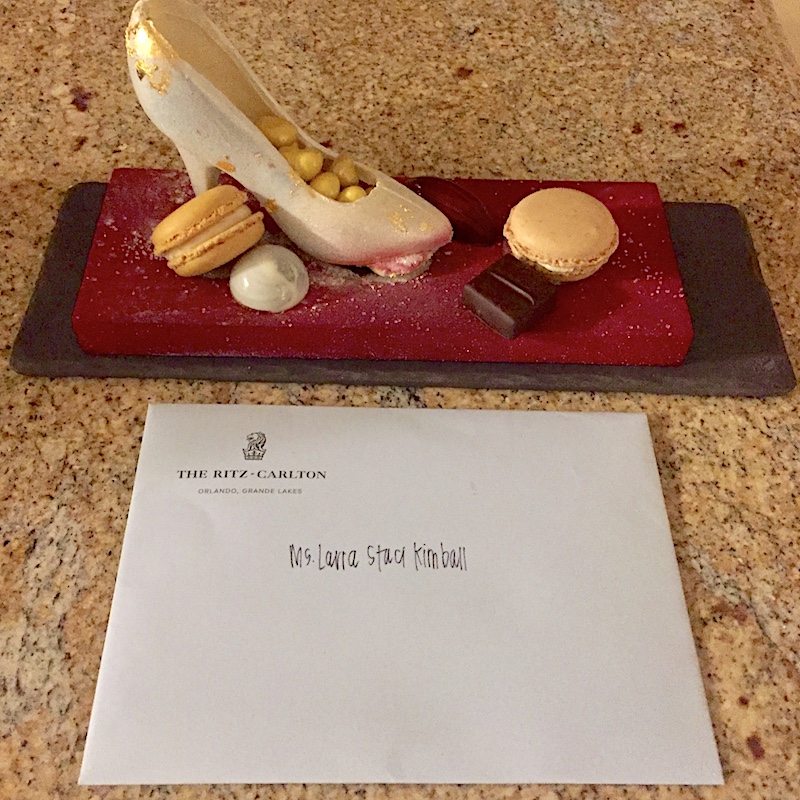 Faena Hotel Miami Beach
Staci Kimball of GSC World Travel and a Glass Slipper Concierge Gold Key Advisor received this gorgeous red-themed tray of coffee and macarons.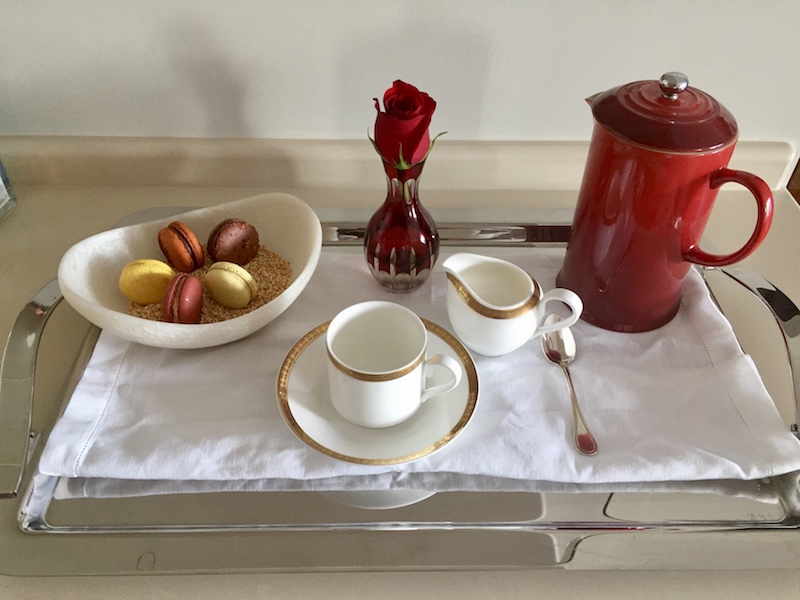 And Tammy Henderson and her husband had yet another surprise waiting for them in celebration of his birthday, this time at Faena Hotel Miami Beach—an adorable cake and Chris' favorite treat, a bucket of beer.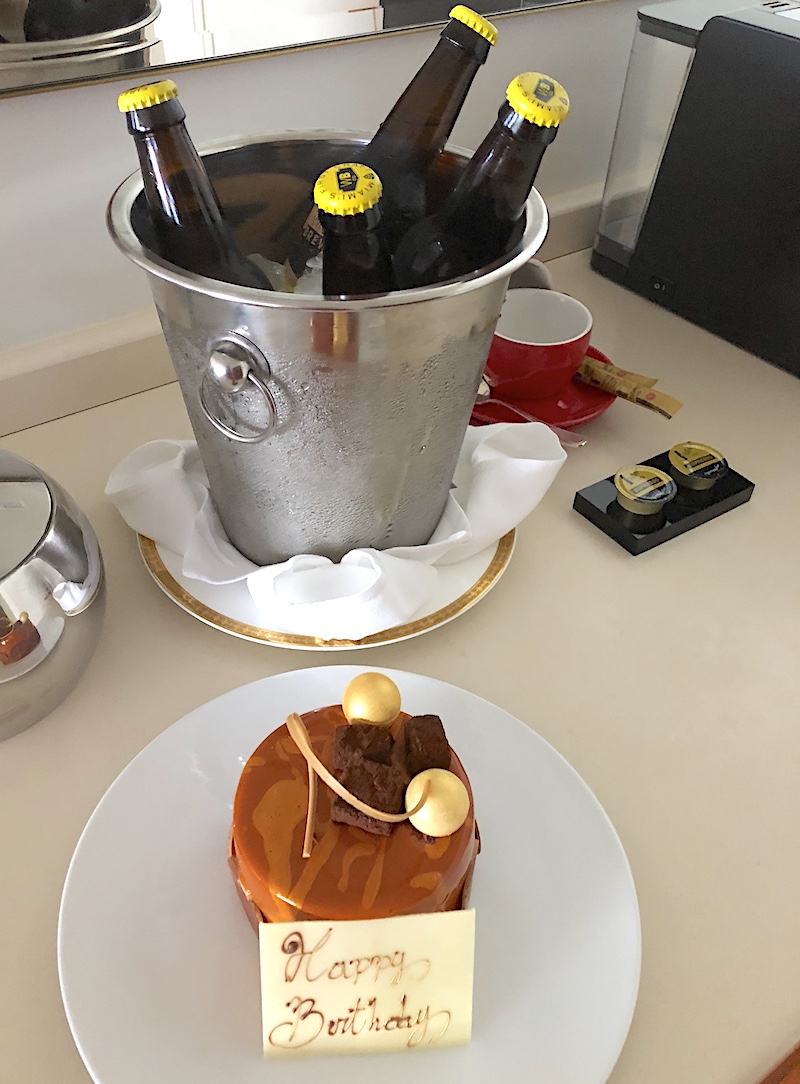 St. Regis Houston
It's all about Texas here and you know it right away on arrival when these Texas-shaped chocolate treats await you.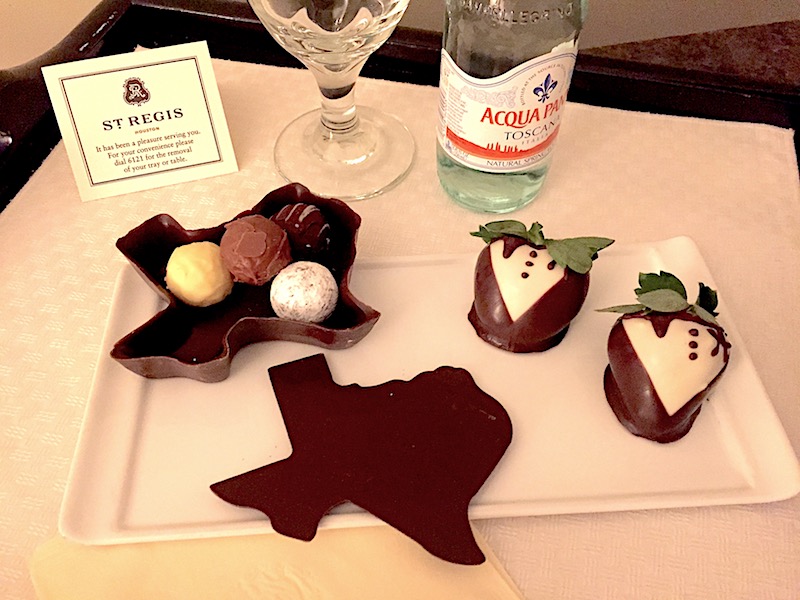 Four Seasons Resort Orlando
Leave it to Four Seasons Orlando to come up with both an amenity for the adults and well as the kids. We feasted for days on a huge platter of fruit, an assortment of cheese, and great bottle of red wine. The kids? Well they adored their supplied pirate gear and played with it for days. And the gummy worms and milk in the refrigerator was a super hit.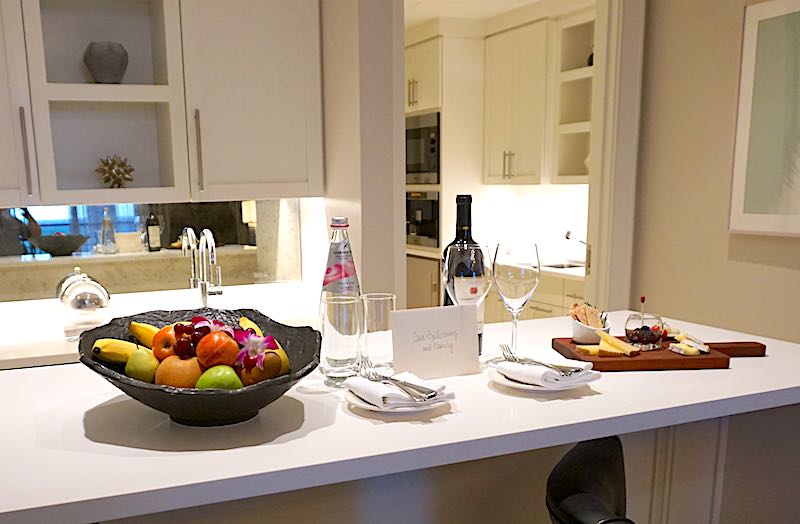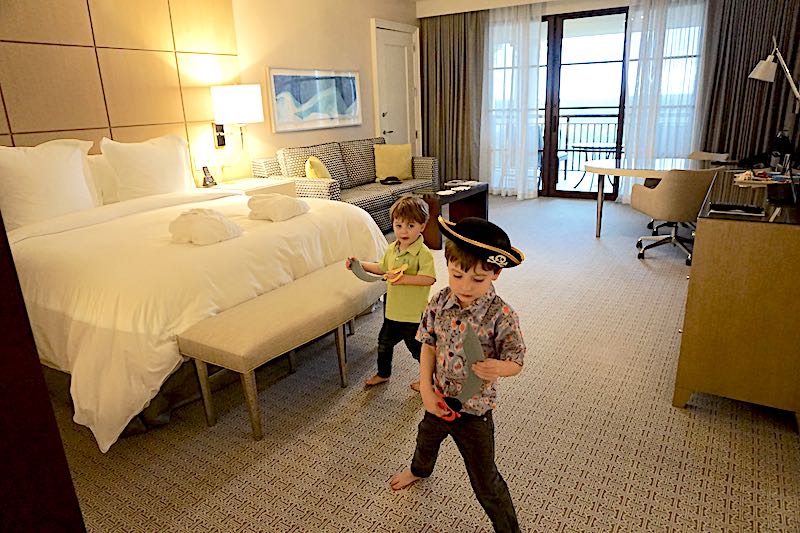 Four Seasons Orlando treated Staci Kimball to not only fruit and wine but a darling birthday cake to celebrate. And her big kids went wild over their delicious amenity.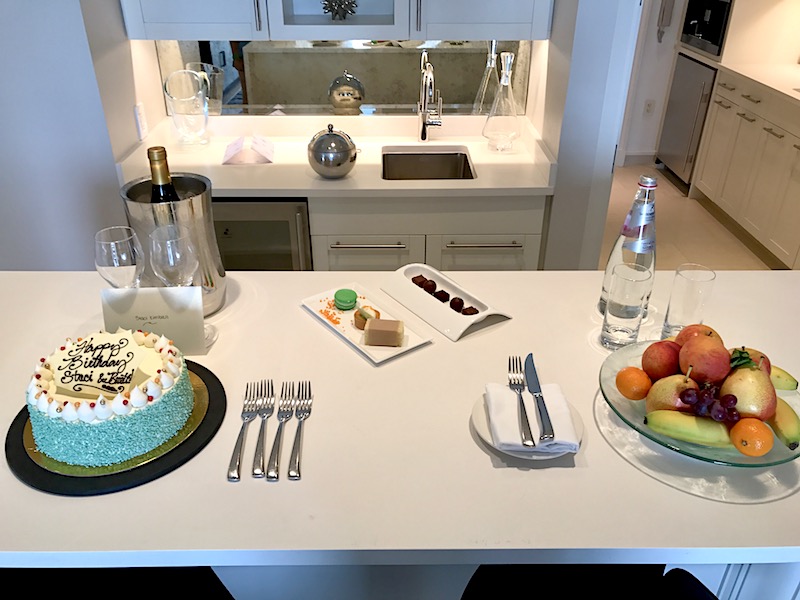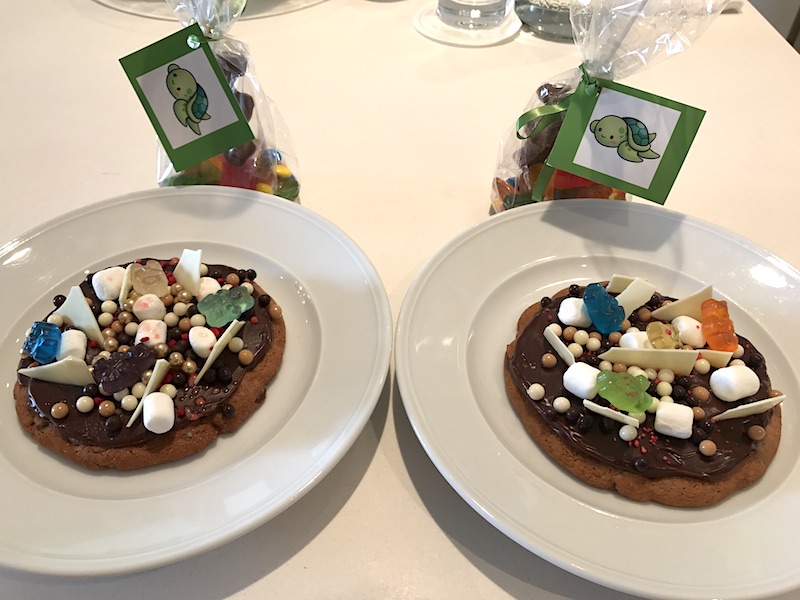 EAU Palm Beach
Mary Steadman loved her champagne, Pelligrino, and macarons along with an intimate ocean retreat at EAU Palm Beach.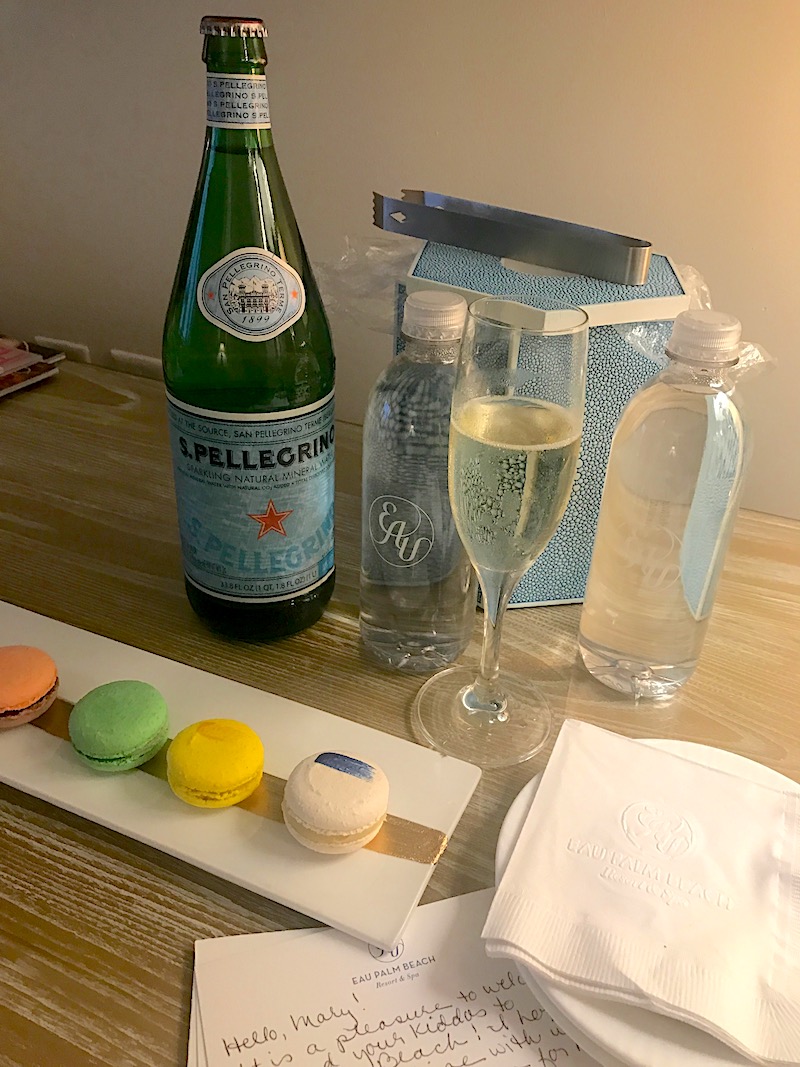 Trump International Hotel Washington, D.C.
Talk about treats for the kids! Giant size cookies and cones of candy took the cake for GSC World Travel advisor and Glass Slipper Concierge Gold Key Advisor Dani Garcia's children.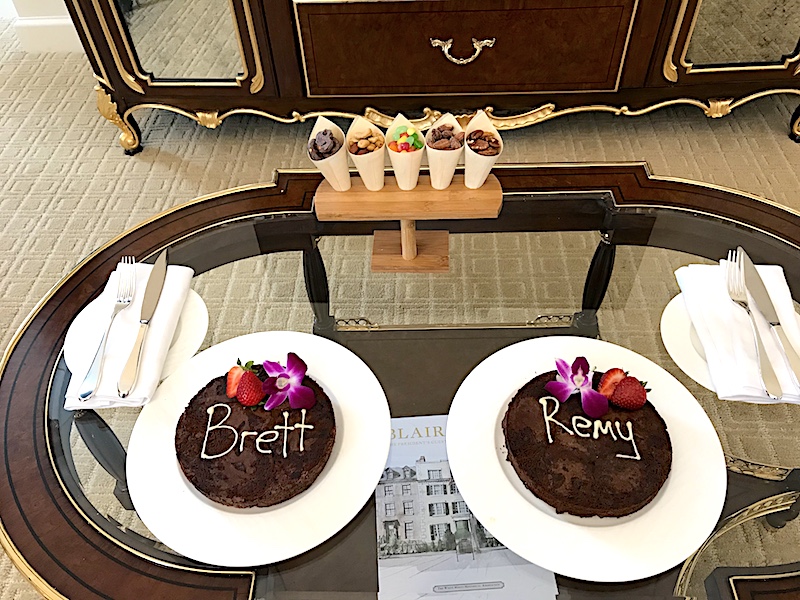 Terranea Resort, Rancho Palos Verdes, CA
For me the super spread of cheese, sweets, and a great bottle of red in my Bungalow kitchen at Terranea almost but not quite beat out the spectacular view of the So Cal coast.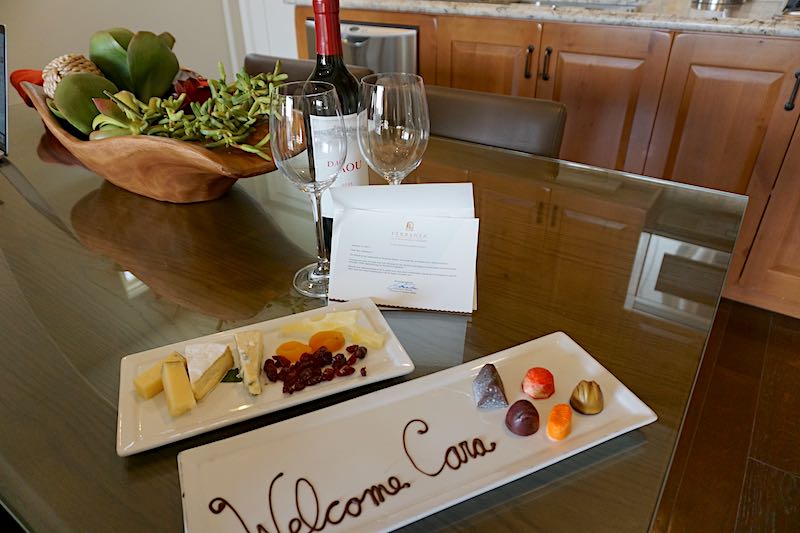 And for Glass Slipper Concierge advisor Lauren Kennedy an assortment of festive cupcakes were perfect to go along with her cheese and wine there.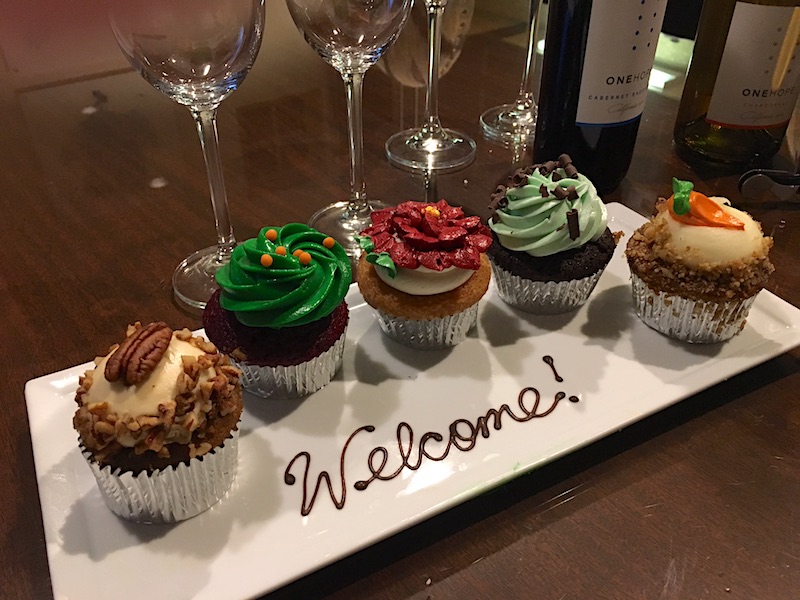 The St. Regis Princeville Resort
Mary Steadman at it again. These amenities are part of the pleasure of travel. Here is her island bounty at one of the most gorgeous spots on earth.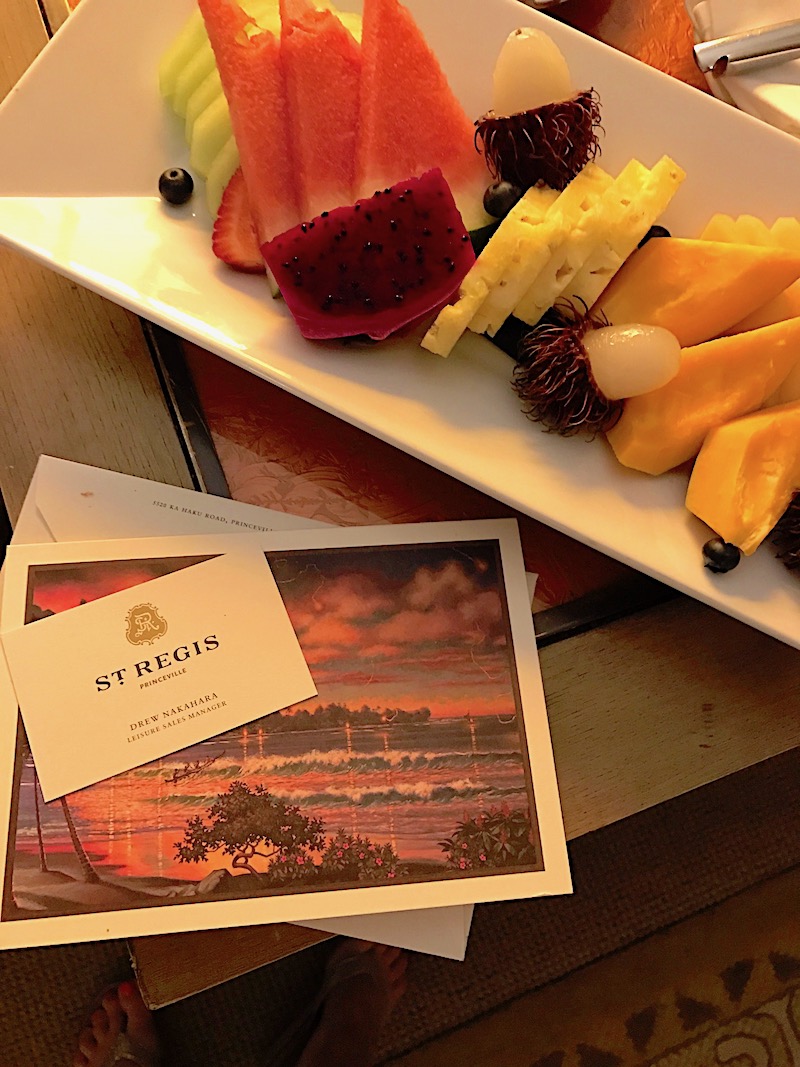 The Royal Hawaiian, Waikiki
Staci Kimball's bottle of bubbly, chocolate truffles, and goodies from the Royal Hawaiian bake shop only added to her super stay in this classic gem of a hotel.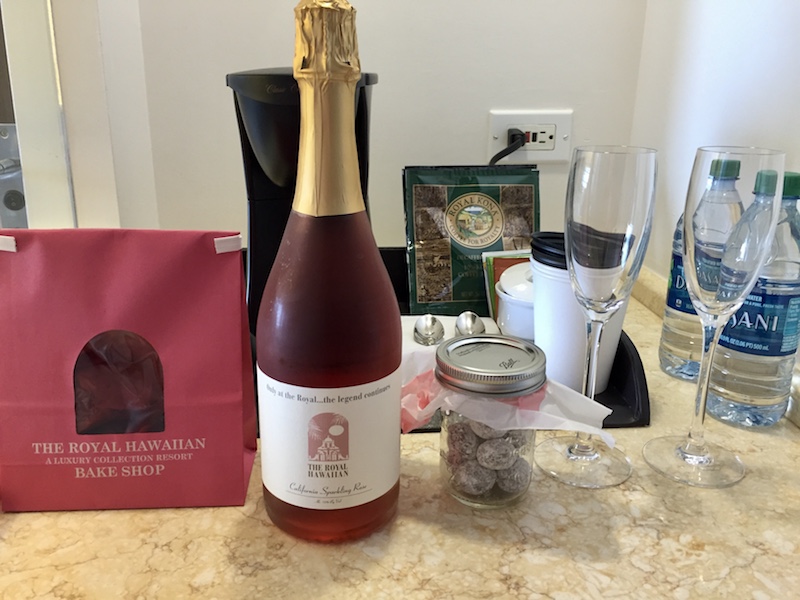 Boca Raton Resort & Club, A Waldorf Astoria Resort
Macaroons, sparkling wine, and Evian. What more could a girl want? Staci Kimball was certainly impressed, but when she saw her very own monogrammed pillowcase she was truly wowed!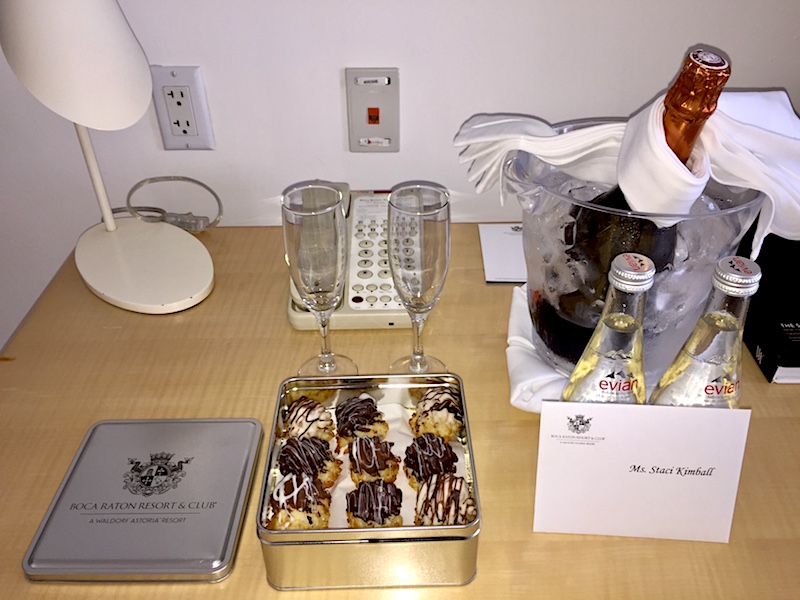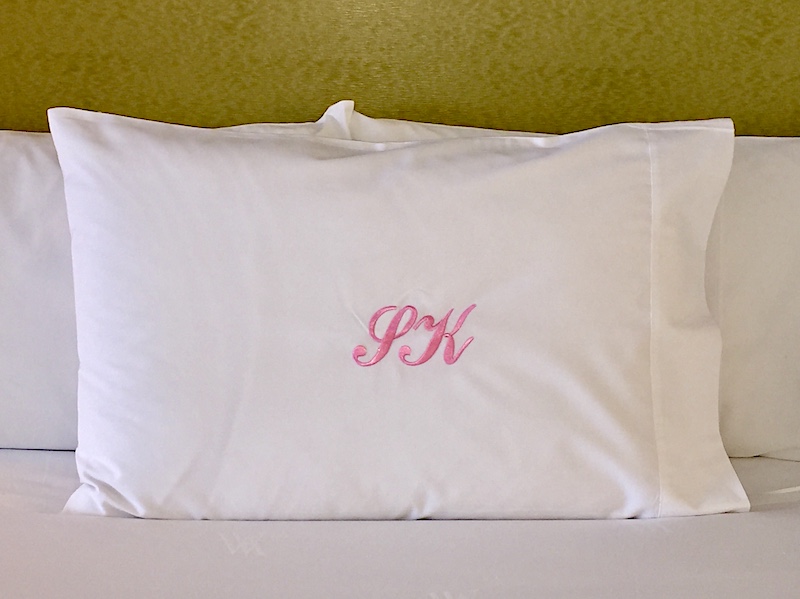 The Peninsula Beijing
Kaleigh Kirkpatrick of GSC World Travel and a Glass Slipper Concierge Gold Key Advisor was not only bowled over by this hotel and its top-notch service, but she couldn't even believe the amenities of not only an assortment of sweets and fruit but a darling retro chocolate airplane with an edible agency logo. And check out the framed photo of her daughter with Alice in Wonderland. They found it on Instagram and had it waiting for them on arrival, changing out the photo and moving it around the room during their stay. Talk about personalization!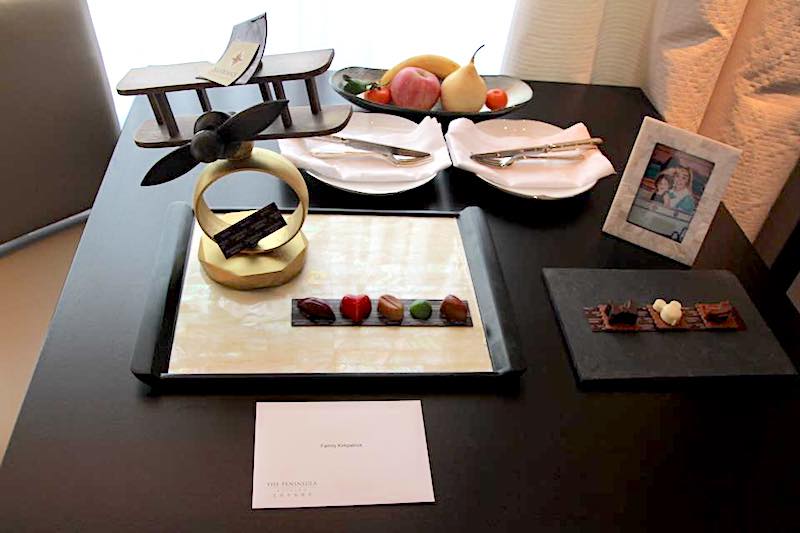 Myconian Villa Collection, Mykonos, Greece
Brittany Sexton of GSC World Travel and Glass Slipper Concierge Gold Key Advisor couldn't decide which she loved more: the wine and fruit welcome amenity or that fabulous view that went along with it.
This was so much fun and I have so many more super room amenities to share with you. Stay tuned for Part 2, Virtuoso Hotels Welcome Amenities.
Let Us Help You in Planning an Extraordinary Luxury Vacation!
Our expert travel advisors at GSC World Travel will plan a fabulous vacation to the places I write about and more. Your luxury Travel Advisor will work with you to create the perfectly planned trip of a lifetime, making sure that nothing is left to chance.
Please submit a Consultation Request to begin.
---