The Retreat: Seabourn Encore's Exclusive Hideaway
Seems as if one major topic of conversation from my fellow passengers onboard the Seabourn Encore was whether or not The Retreat, Seabourn Encore's al fresco sanctuary located on the ship's top deck, was worth the cost. Everyone definitely had a strong opinion one way or the other, some thinking it was a waste of good deck space and others feeling as if it was their favorite spot onboard. Covered in a contemporary canopy, ringed with 15 private cabanas, and centered with an oversized whirlpool, Seabourn's new concept is interesting, but not as popular as I'm sure they were hoping it would be given the amount of empty cabanas on most days.
Full-day rentals at $349 on sea days and $249 on port days seems to me to be a fair enough price compared to the pool cabana prices at most luxury resorts. So, of course, I had to try it for myself.
The Cabanas
Each cabana offers a luxurious but compact living area with sofa, coffee table, dining table, oversized HD flat screen TV, refrigerator stocked with beverages of choice, and two sun loungers. A ceiling fan keeps the cabana cool, something much needed on hot days. Because we were sailing the Equator it did get steamy until the clouds rolled in early afternoon.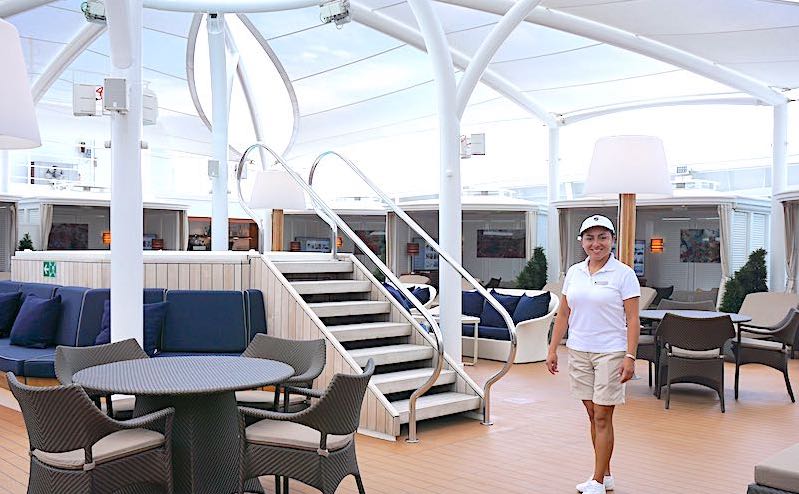 Cabanas are serviced by a Retreat attendant who caters to your every need from early morning until early evening. Amenities include fresh fruit, sun lotions, Evian mist spray, thick towels, and bathrobe.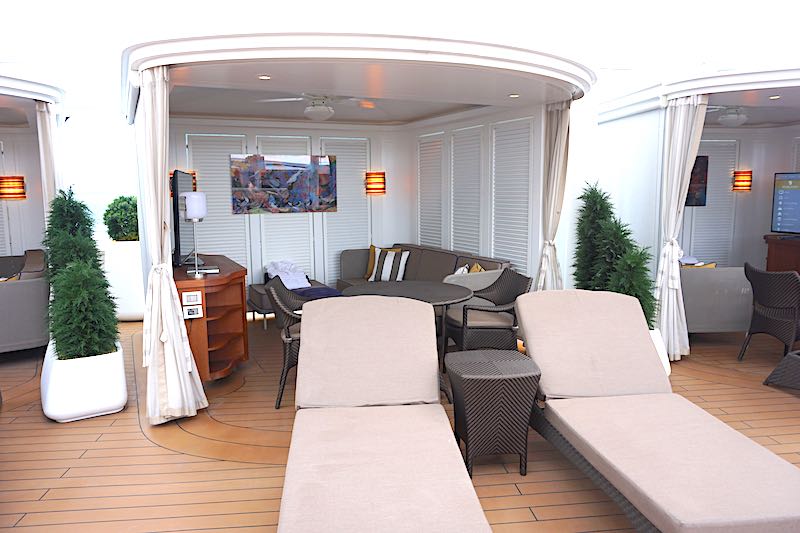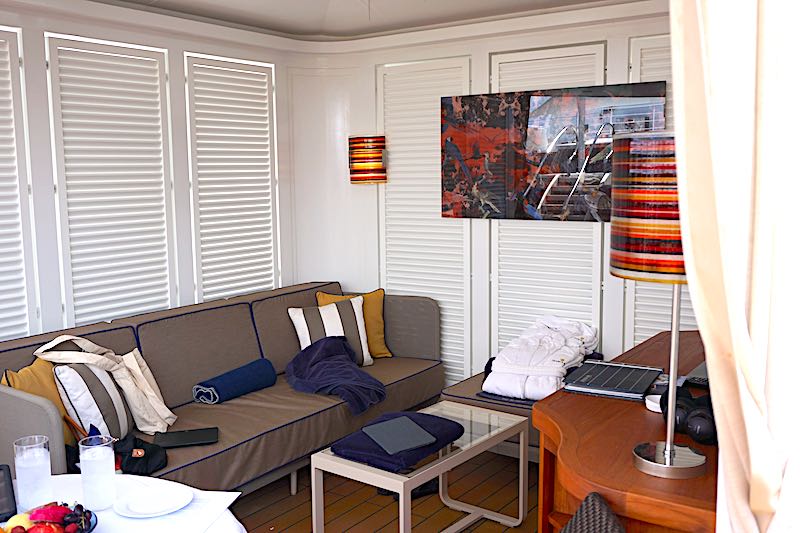 The Experience
We opted for a port day since one of our stops in Indonesia just didn't seem terribly enticing, and a great choice it was since we had the entire place to ourselves! I do wish we had arrived earlier since breakfast is served as well although you need to be there by 9:30 AM to do so. But we were more than content with the popping of the cork on a nice bottle of champagne, a platter of fresh fruit, and whatever drinks we wished on arrival. You can even choose from a special menu of freshly prepared cocktails created specifically for The Retreat.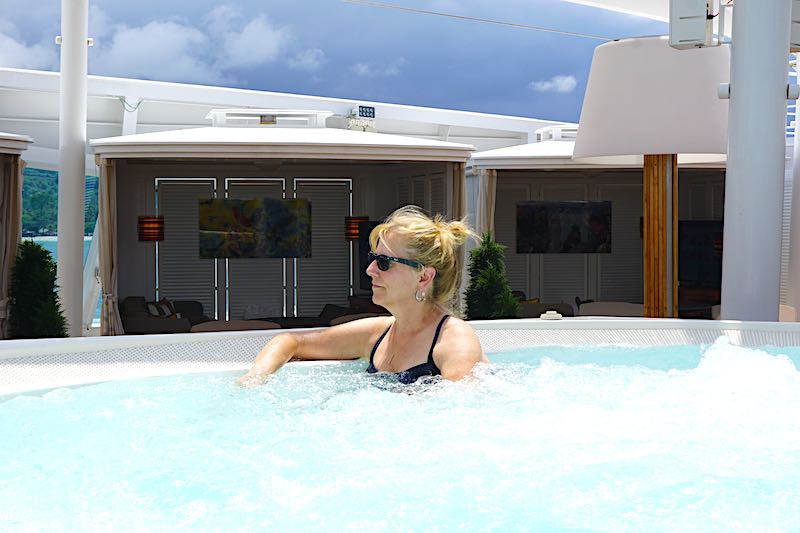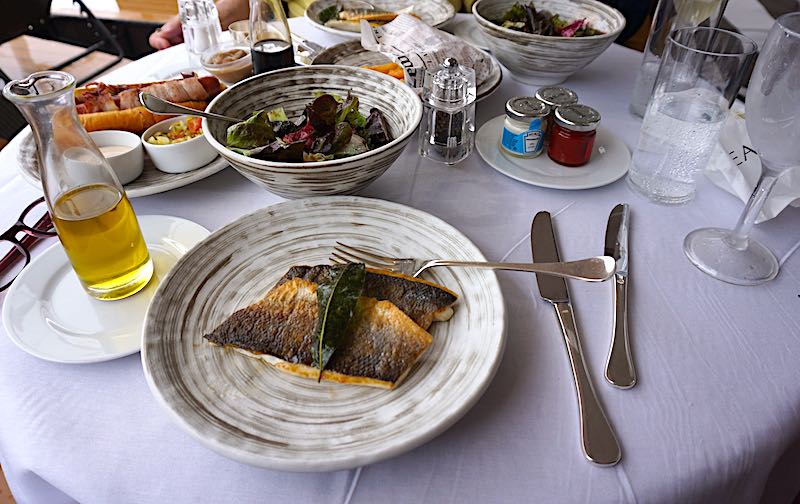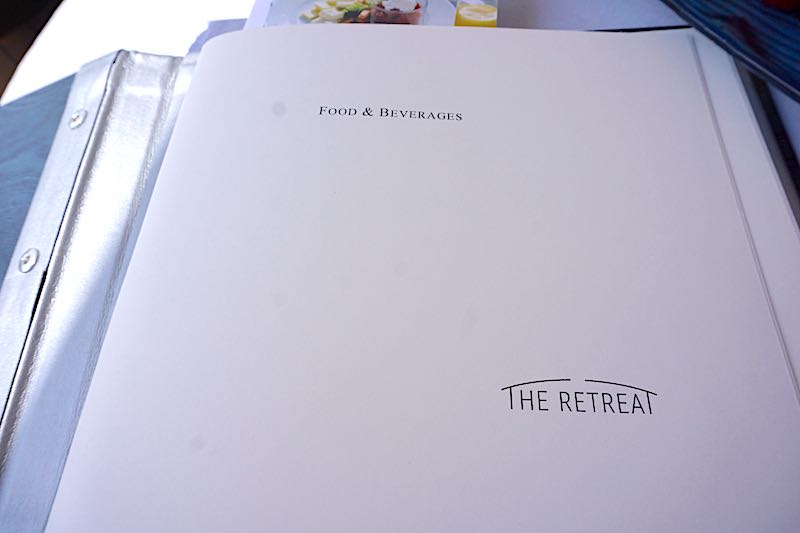 We enjoyed the peace and quite while sunbathing and taking advantage of the whirlpool until rain moved in just after a refreshing lunch of grilled sea bass, salad, and crusty bread. So we used the down time to relax inside our cabana and watch a movie while sipping wine and champagne. Lunch is on order from a specially designed spa food and beverage menu, but truthfully much of it can be found at the pool grill at any time. Of course, if caviar is what you are craving, it is Seabourn after all so don't hesitate to make your request known.
One caveat: don't expect an ocean view since the circle of cabanas and the slatted blinds enclosure blocks it along with much of the ocean breezes.
Spa
There is a Spa Treatment Cabana and you can choose from a selection of relaxing services. We decided to opt out, but I did have a facial booked that evening and they surprisingly extended the discount to the main spa for me.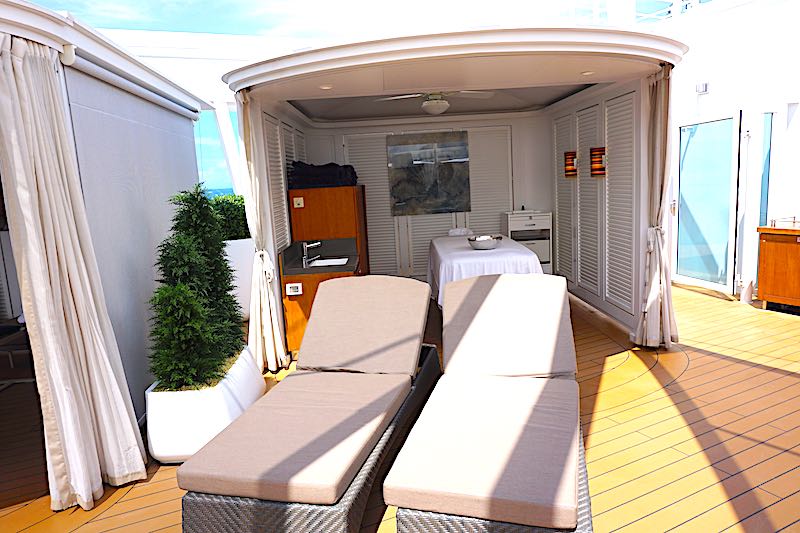 We stretched out our day at The Retreat as long as possible and as the sun was setting headed back to our suite in anticipation of anther great evening onboard. Would I do it again? Probably not, but the one-time experience was a nice enough diversion for a day.
I invite you to join me on Facebook and Twitter.
Let Us Help You in Planning an Extraordinary Luxury Vacation!
Our expert travel advisors at GSC World Travel will plan a fabulous vacation to the places I write about and more. Your luxury Travel Advisor will work with you to create the perfectly planned trip of a lifetime, making sure that nothing is left to chance.
Please submit a Consultation Request to begin.
---