Seabourn Encore: A New Favorite Has Emerged
In the past year I've had the pleasure of sailing on three new luxury ships: Regent Explorer, Silver Muse, and now Seabourn Encore. I'm not a fickle person, but my loyalty to Silversea just might be wavering a bit since embarking in Singapore on the Encore. I last sailed Seabourn five years ago to Patagonia on the Sojourn, and at that time some aspects of the ship lacked polish—so-so food, spotty service, unacceptable slipups—but that no longer seems to be the case with this cruise line. The Encore totally has its act together.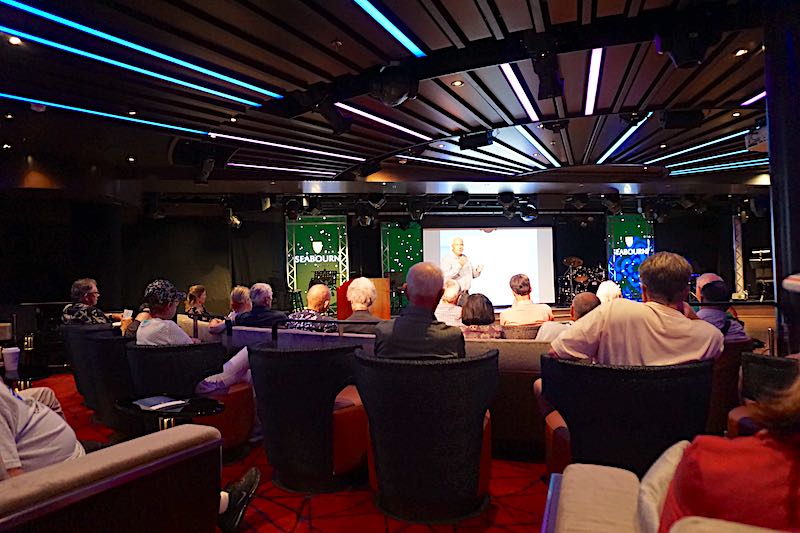 Outstanding food, a wide variety of excellent evening entertainment, an interesting Seabourn Conversations lecture program with sometimes four or five options on sea days, staff that is always concerned for your comfort, and significant luxury touches here and there make all the difference between a good and a great cruise. And finally a cruise line that understands not everyone heads to the dining room at 6:30 PM. Instead entertainment is on on offer in three lounges until 7:45 and again from 9:15 on . . . perfect timing for us.
The Encore really has guest satisfaction in mind with great sail-away parties, deck dance evenings, a plethora of activities on offer day and night, staff greetings at the gangplank on your return each afternoon with cocktails and cold towels, and the best cruise director at sea, Handré Potgieter. Truly, each and every staff member is totally attentive to guests' needs.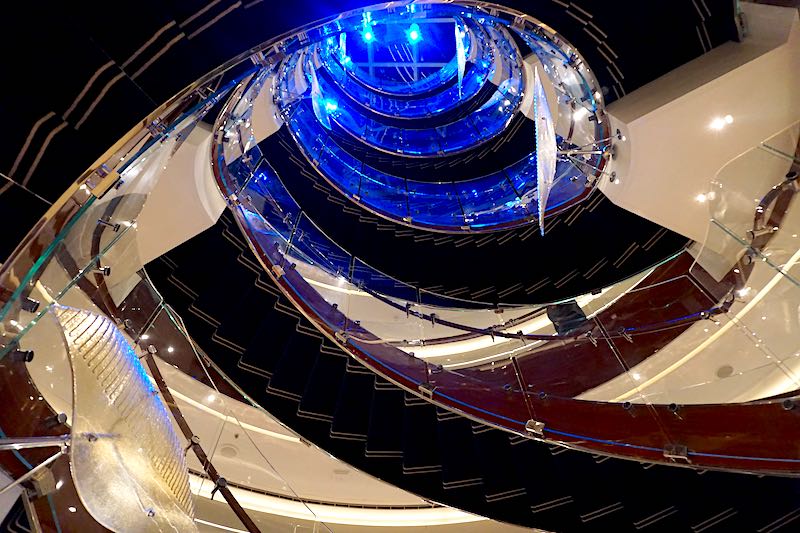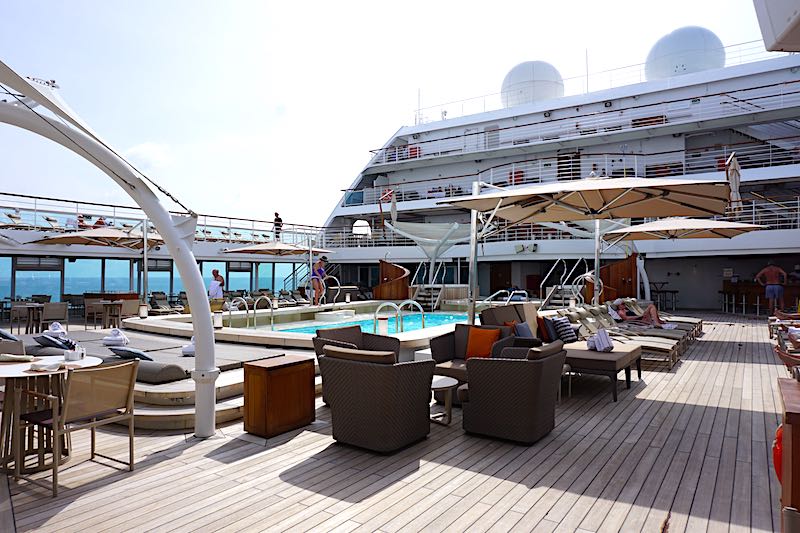 Sleek and contemporary, the Encore is quite the beauty. Plenty of curved and polished mahogany and stainless steel, shiny mirrors everywhere you look, lovely public spaces, and loads of light create a pleasant and luxurious feel. While slightly bigger than other ships in the Seabourn fleet, with only 600 passengers it retains a yacht-like feel, but with enough activity to keep you happy and occupied even on sea days. The ship's artwork, while pleasant is certainly nothing to write home about, and, compared to the Regent Explorer, even seems a bit paltry, but the ship shiny look of the Encore makes up for any lack.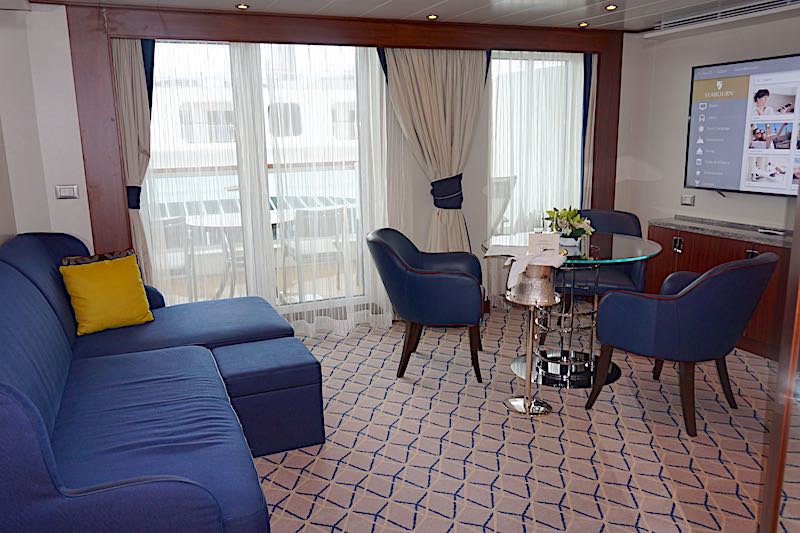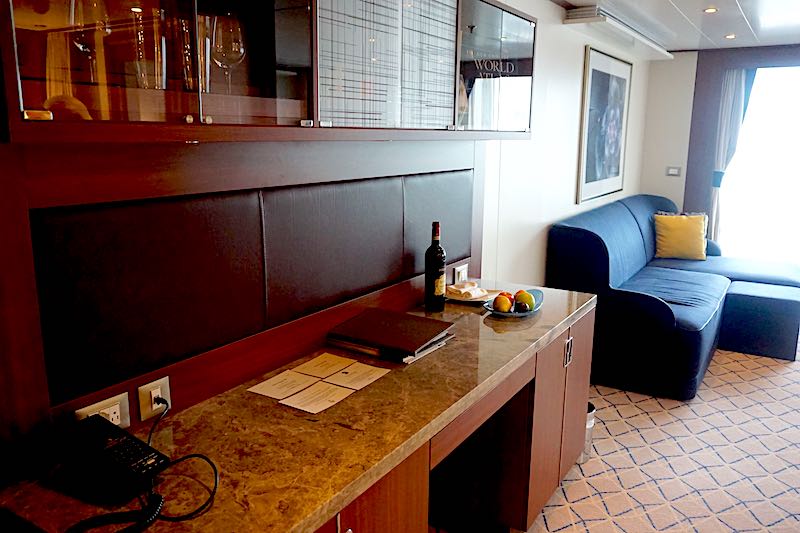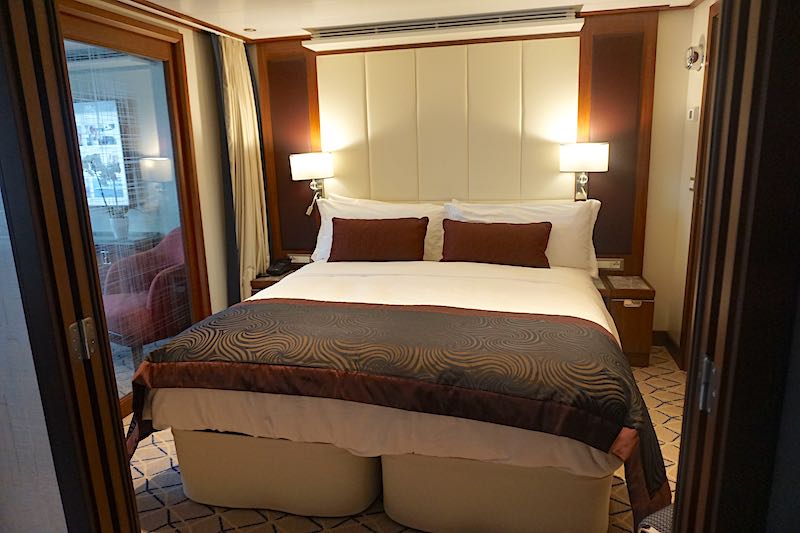 Our Penthouse Suite on Deck 10 is spacious with 450 sq. ft. of inside space, plus a 98 sq. ft, veranda. It includes a separate glassed-enclosed bedroom with French doors, corner vanity, TV, double sink marble bath with a shower, deep whirlpool soaking tub, a separate toilet area with a third sink, and Molton Brown bath amenities. The mattress is very comfortable, and the soft sheeting and cushy down pillows makes for great sleeping. Just outside the bedroom is a credenza with three drawers, a nice-size undercounter refrigerator, and space above for wine glasses and storage. Best of all, adequate scattered drawer space and a walk-in closet assures there is enough room for storage.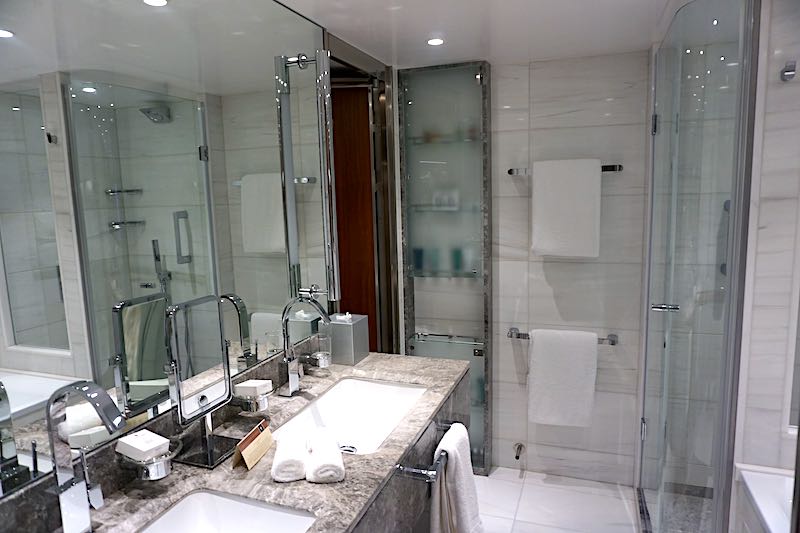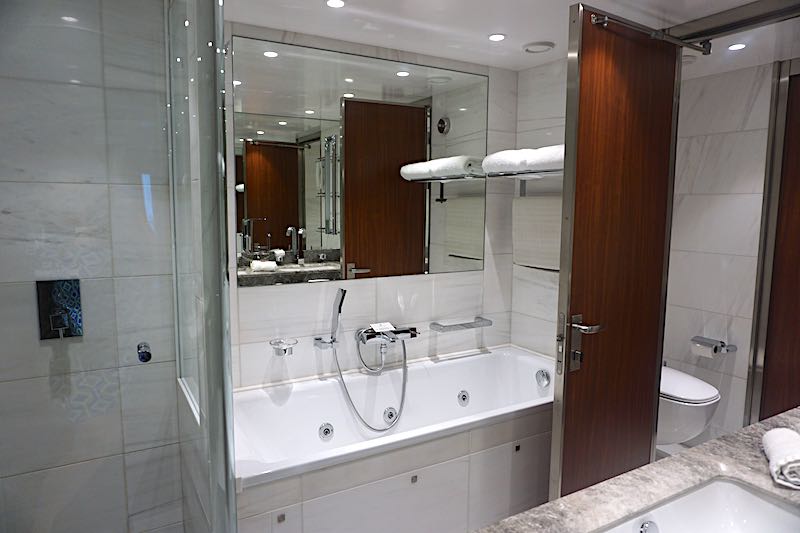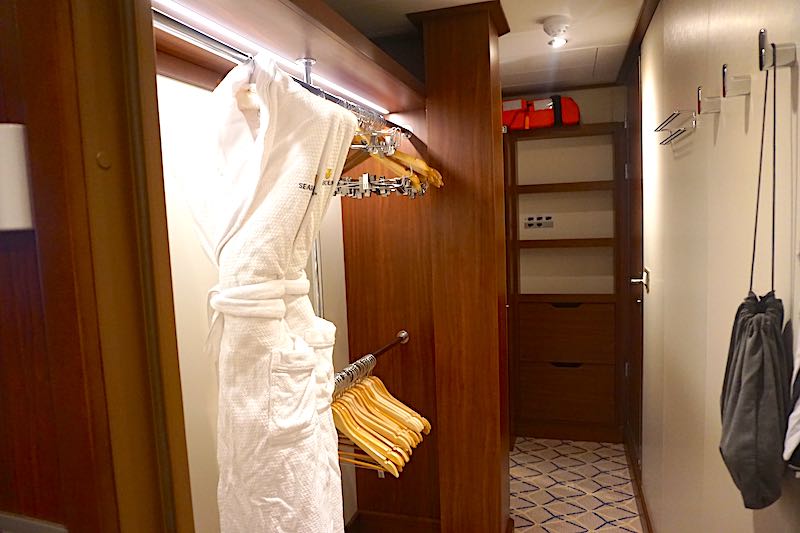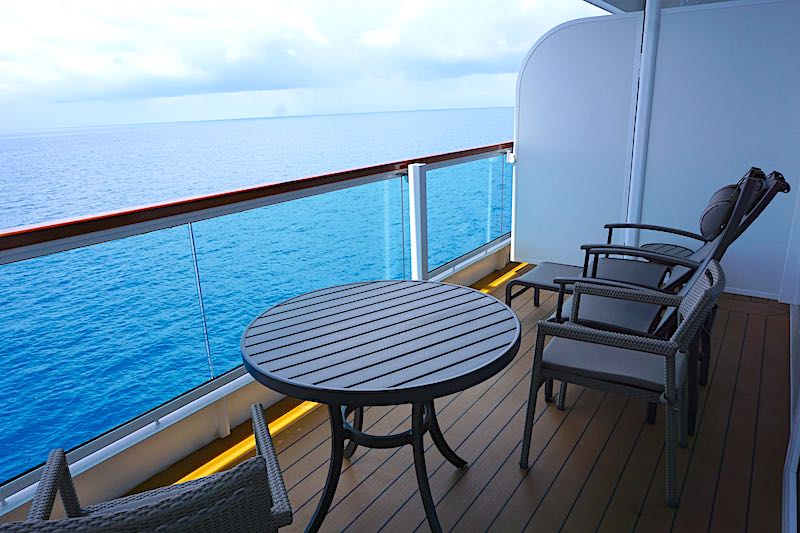 In the living area is a credenza above which sits a massive TV, sectional sofa with a chaise on one end, three-person dining table, and an easy chair. The adjoining teak veranda holds two lounge chairs as well as a dining table with two chairs.
The suite does have a few awkward places such as the vanity jammed in the corner of the bedroom with just barely enough room to move around. I'm 5"4 and 120 pounds so not really sure what someone larger than me would do with such a small space. The safe, unless locked, swings in your face as your walk through the closet between the bedroom and bathroom. There are no side tables on the ends of the sofa so we made a makeshift drink table from a large atlas as a tabletop and the ottoman as the base. But honestly, these are minor inconveniences and certainly won't make or break our comfort.
While I do love Silversea's butler service, our Encore stewardess, Alvi, was the best ever. We lack for nothing, and not once have we had to remind her of our preferences—every single morning and evening she has cleaned our room spotlessly and replenished fruit, water, and everything in the refrigerator, alcoholic and non-, including the ice that I don't seem to be able to live without.
This cruise was also a Ventures sailing, a program perfect for those interested in nature. An experienced expedition team of scientists, scholars, and naturalists are part of the Seabourn Conversations program, providing excellent insights into the history, ecology and culture of the places you visit. And in select ports of call are optional Ventures by Seabourn excursions, guided by the expedition team, many of which launch from the Encore's fold-out water sports Marina in Zodiac inflatable boats or sea kayaks. We took two of these excursions—one by land in Darwin, Australia, and one by Zodiac in Cairns, Australia—and loved both.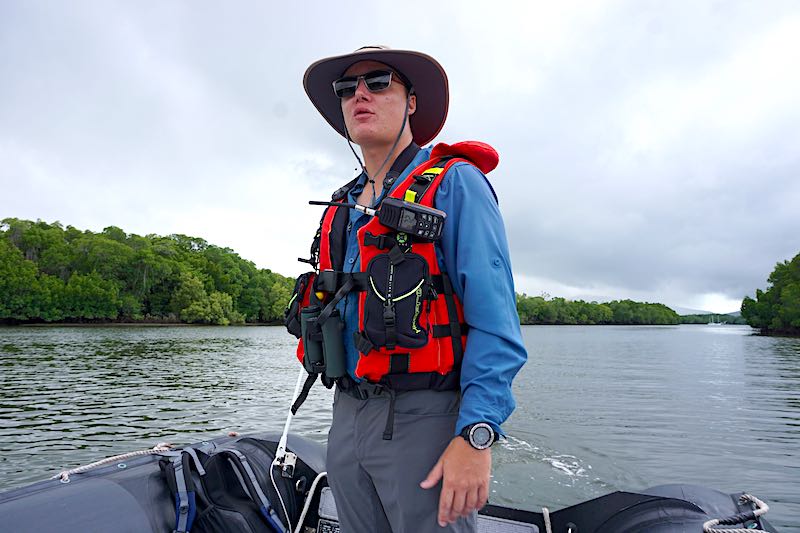 Included in the Encore's fare are all beverages including fine wines and spirits throughout the ship, plenty of caviar, stocked in-suite minibar, and all gratuities.
Seabourn Encore Cons:
Excruciatingly slow Wi-Fi
Pricey shore excursions
Seabourn Encore Pros:
Excellent cuisine
Efficient and friendly suite stewardesses
Interesting and varied lectures
Great entertainment, in particular the Seabourn Singers
Loads of champagne and caviar!
Read on in Part II, Seabourn Encore Dining.
I invite you to join me on Facebook and Twitter.
Let Us Help You in Planning an Extraordinary Luxury Vacation!
Our expert travel advisors at GSC World Travel will plan a fabulous vacation to the places I write about and more. Your luxury Travel Advisor will work with you to create the perfectly planned trip of a lifetime, making sure that nothing is left to chance.
Please submit a Consultation Request to begin.
---