On Safari with National Geographic Expeditions
An African Wildlife Safari has been on my travel bucket list for longer than I can remember, so when offered the opportunity to explore Tanzania on a National Geographic Signature Land Expedition, I jumped at the chance! Knowing that National Geographic Signature Land Expeditions are now part of the Disney Collection—and that safety always comes first with Disney—gave me even more confidence to embark on this once-in-a-lifetime journey to Africa.
Lots of preparation goes into planning a trip to Africa, beginning with finding the perfect itinerary. This part was easy! National Geographic's On Safari: Tanzania's Great Migration offers an ideal introduction to the best wildlife viewing areas in Tanzania: Lake Manyara National Park, Ngorongoro Conservation Area, and The Serengeti. And since education is a key component of any Nat Geo Expedition, the immersive itinerary also featured opportunities to connect with the locals, learn about the culture firsthand, and discover the fascinating significance of the geography, archeology, habitats, migration patterns, and flora and fauna of this remarkable destination.
National Geographic Expeditions outfitted us with some of the basic necessities: backpack, water bottle, easily identifiable luggage straps, and of course, a map of Tanzania, all of which arrived beautifully packaged about two weeks prior to the trip.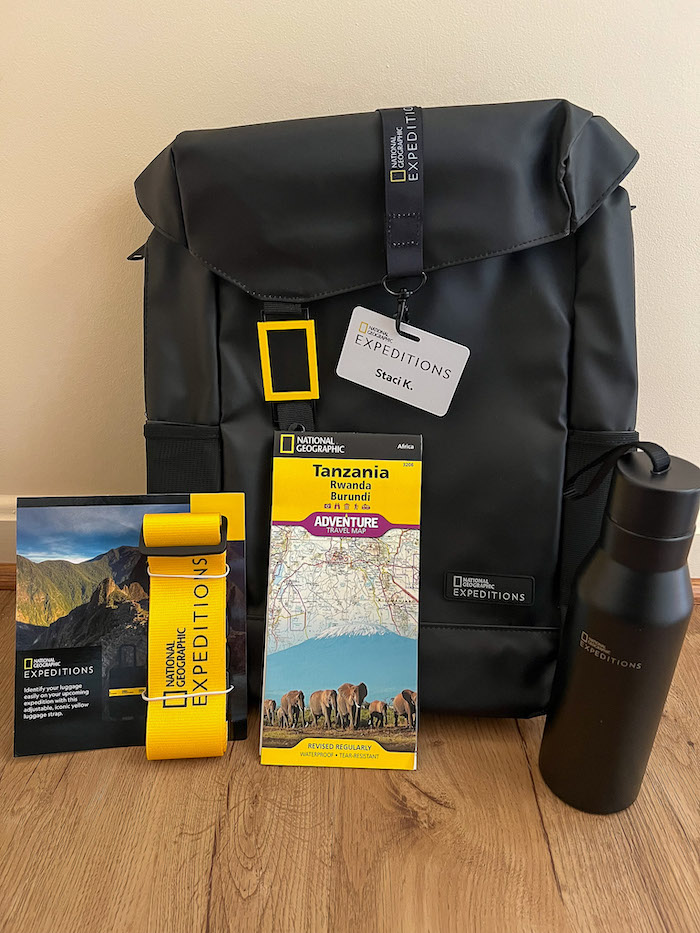 We had to be cognizant of the 33-pound luggage capacity when packing. Still, with a little strategizing and some great packing cubes, I managed to fit in all the essentials, including a camera, binoculars, medications, a hat, breathable pants and tops, a jacket, hiking shoes, sandals, and a couple of versatile dresses for the evenings. Overpacking is strongly discouraged since you move around quite a bit, and the convenient laundry service at each lodge makes it easy to simply wash and re-wear daily safari attire!
Our expedition group consisted of about 20 explorers, primarily solo travelers like myself, couples, mother/daughter duos, and friends. We all shared the same objective…to discover this beautiful country's geography, wildlife, and culture and learn as much as we could along the way. Our common goals and interests set the tone for a wonderful group dynamic during our time together in Africa. We even started connecting with each other before the trip via a dedicated Facebook group!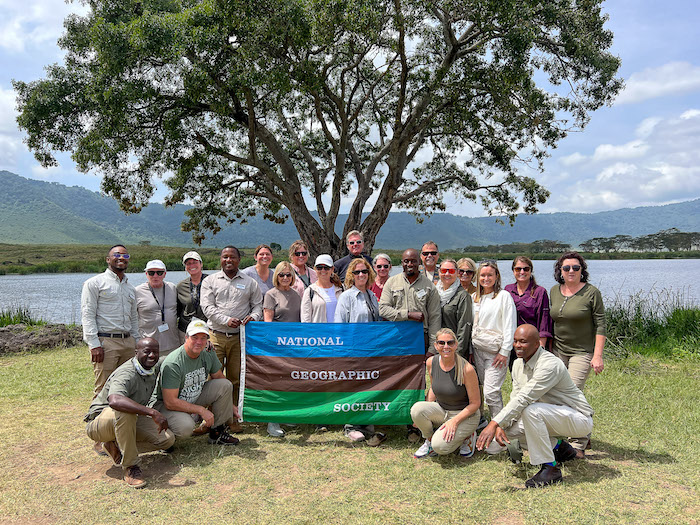 Flights to Africa are long, no matter where you are traveling from! I was grateful for the affordable upgrade to Business Class offered during check-in—what a difference it makes when you can sleep on the flight and feel refreshed upon landing in Arusha!
After getting through customs, we were met by a National Geographic safari guide who drove us to our first hotel, the five-star Gran Melia Arusha, set against the backdrop of magnificent Mount Meru. Early the next morning, we met up with the rest of the guides, the Nat Geo wildlife and photography expert, and our fellow explorers for an overview of the week ahead.
We could tell immediately how knowledgeable and experienced our guides were. They were so eager to introduce us to their beautiful country! Our bags were swiftly loaded into one of four "safari limos," and we headed out to Lake Manyara for our first of two game drives in this exquisite National Park.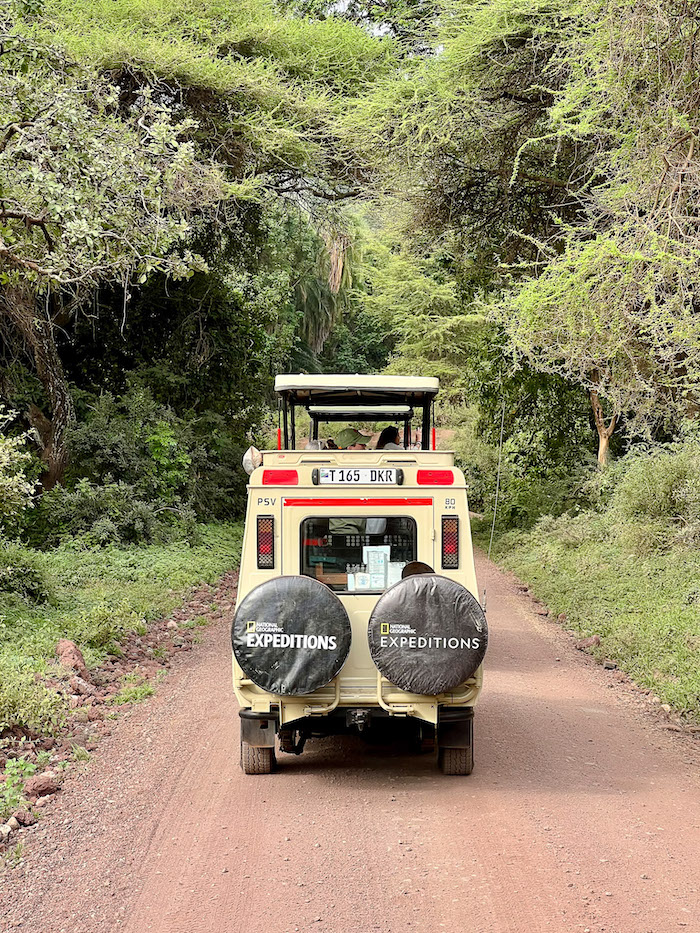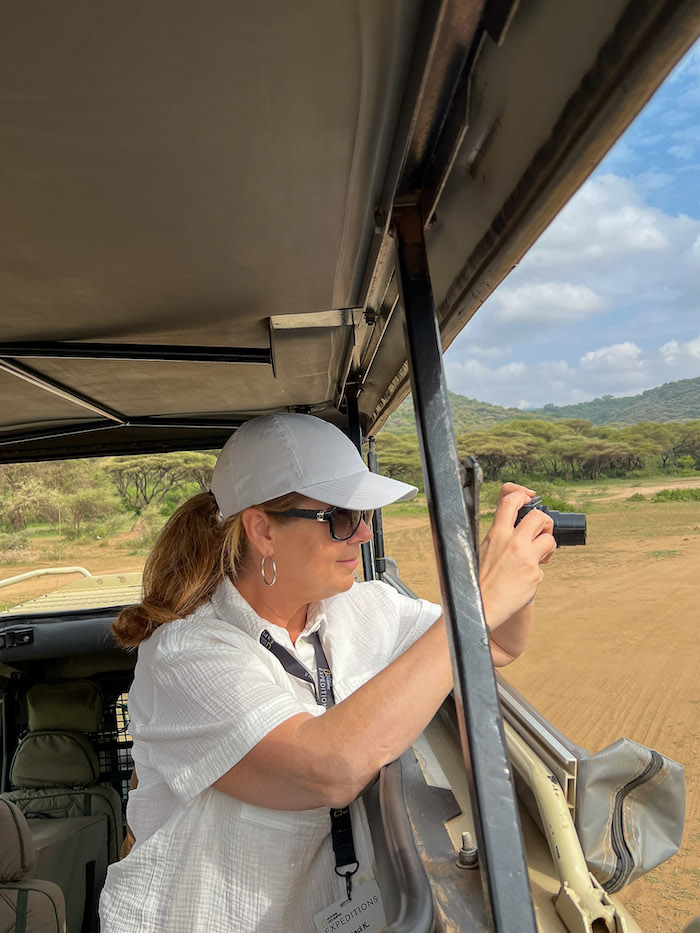 The stunning Rift Valley landscape set the stage for a truly breathtaking experience. From herds of elephants trekking across the lush landscape to infant baboons swinging from the treetops, it was an awe-inspiring introduction to Tanzania's vast beauty and wildlife. Pictures can't begin to capture the exquisite beauty and abundant wildlife activity within this wildlife oasis! Within the four natural habitats, there was always something and someone new to discover. The stunning floral and fauna were impressive enough to be the main attraction - particularly the 1000-year-old Sycamore and African Baobab trees. But wildlife is the draw here, and our two game drives in Lake Manyara brought us up close and personal with more animals than we dreamed possible. We encountered giraffes, zebras, buffalo, elephants, warthogs, monkeys, baboons, impala, lizards, and exotic birds in all their glory. We witnessed journeys and herds, troops and flocks, gangs and dazzles.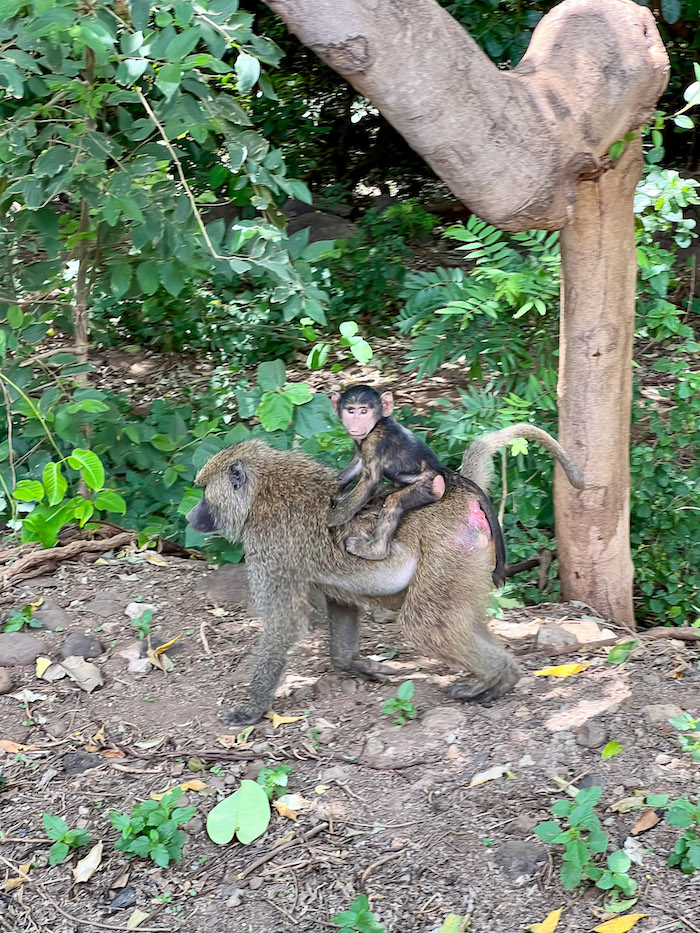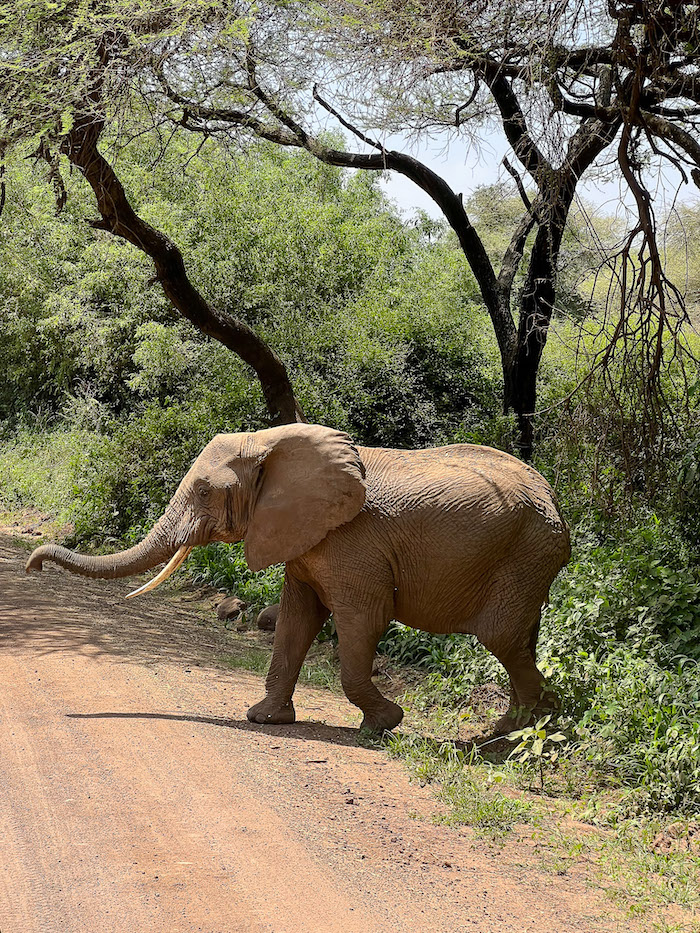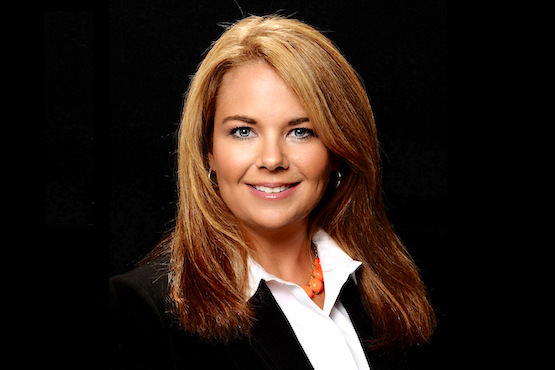 Little did we know this safari preview was just the "soup" as our guides described it, and the "appetizer" and "main course" were yet to come!! It was hard to imagine that Tanzania could get much better than this!
Over the next two days, we settled in at one of the most wonderfully unique and peaceful places you could imagine…Plantation Lodge. One of the highlights from our time at the Lodge was a special evening with the local Maasai Chief, William, who founded a lion conservation project aimed at increasing the tolerance people have towards lions, reopening corridors of connectivity, and restoring a healthy landscape that sustains all forms of life. William shared a thought-provoking presentation about efforts to enable lasting coexistence between people and lions in the Ngorongoro Conservation Area, an area we would soon discover in all its glory. But the most impactful conversations with William happened after the presentation, during an intimate dinner with our National Geographic Expeditions group. William graciously helped us better understand the Maasai traditions, culture, and customs…so different from our own. We were profoundly grateful to Chief William for his willingness to listen, share, and educate with an open mind and open heart. A memorable evening indeed. To learn more about William's lion conservation efforts, visit www.Kopelion.org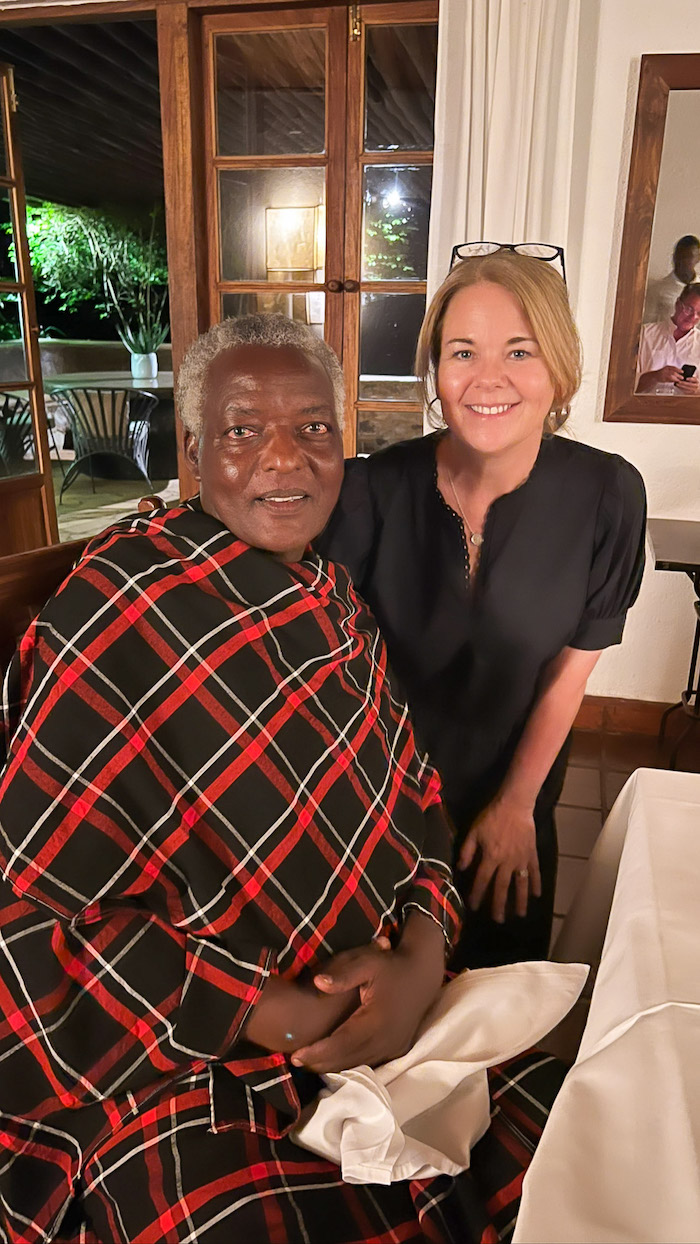 Having learned about the Maasai Tribe from our new friend William, we were anxious to spend time in the Ngorongoro Conservation Area, a protected, multi-use land area in Tanzania where the local Masaii and their livestock coexist with the area's abundant wildlife. This expansive area is a UNESCO World Heritage site and one of the most famous safari destinations, consisting of magnificent grass plains, acacia woodlands, and crater-filled highlands. Our Ngorongoro hotel for the next two nights offered spectacular views of the crater, but nothing compares to being down IN the crater surrounded by wildlife so close you can practically touch them. On our afternoon game drive in Ngorongoro, we saw black rhinos, hippos, zebra, giraffe, gazelles, lions, lion cubs, elephants, warthogs, buffalo, golden Jekyll, and wildebeest…tons and tons of wildebeest! Nothing prepares you for the overwhelming beauty of this place and the people and animals who call it home. It was literally like being in the pages of a National Geographic magazine. The whole experience was incredible!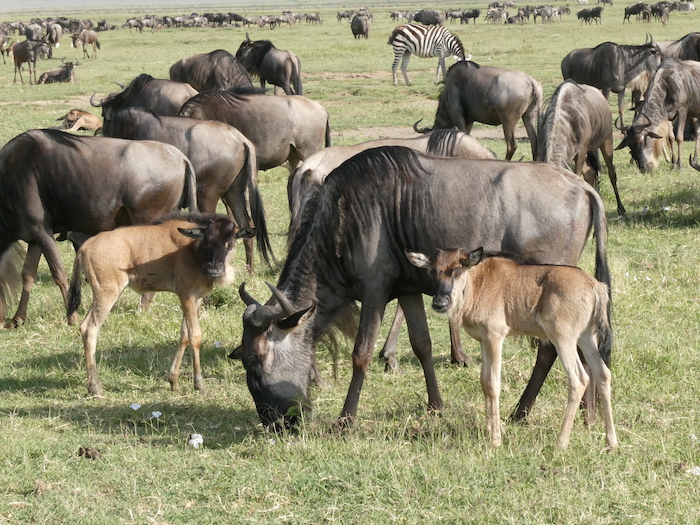 The great thing about this itinerary is that we visit each park or conservation area twice, once in the morning and once in the late afternoon when the animals are most active. For our second game drive in Ngorongoro, we left bright and early to catch a spectacular sunrise before slowly making our way into the picturesque crater. Although we covered much of the same ground the day before, it was a completely different experience in the early morning hours. The rising sun gave new light to a breathtaking caldera, teeming with animals and alive with activity. The animals were running, grazing, and playing, many with babies in tow. We watched in wonder as a pride of lions feasted on freshly killed wildebeest, laughed at the rambunctious lion cubs playing by the water's edge, marveled at a majestic bull elephant meandering across the caldera, tracked hyena on the prowl, delighted in the hippos rolling around in a shallow stream, gazed in awe as a heard of wildebeest thundered by, held our breath as a family of elephants nibbled on the brush alongside us, and saw endless buffalo, gazelle, and zebras. You can never see too many zebras!! Later, we shared our morning discoveries over a lovely lakeside brunch in the bush, surrounded by all this wonderful wildlife against the most incredible backdrop! Filled with gratitude for this extraordinary adventure, we returned to our accommodations at the exquisite Serena Lodge just in time to beat the rain and catch the most magical double rainbow over the caldera!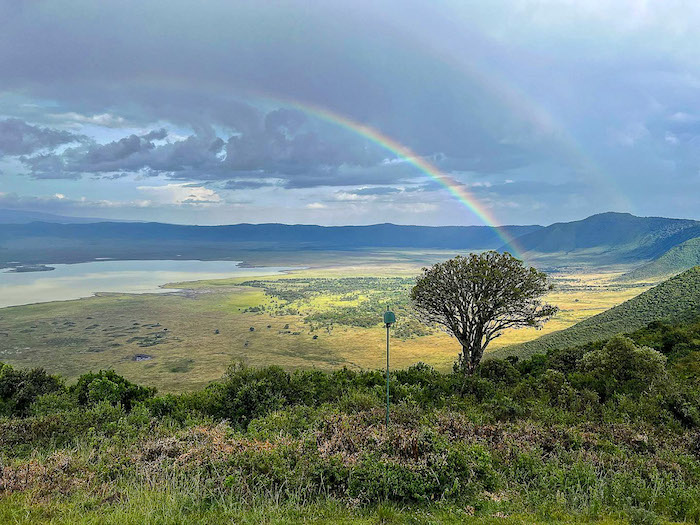 Each day brings new discoveries with National Geographic Expeditions On Safari in Tanzania, and one of the most profound discoveries occurred during a presentation with National Geographic Expert in Residence, Louise Leakey. Louise joined us at Serena Lodge for two enlightening presentations about the groundbreaking paleontologist finds in the Ngorongoro Conservation Area, led by her famous grandparents, Louis and Mary Leakey. It was fascinating to hear about Mary Leakey's 1959 discovery of Homo Habilis, one of the earliest members of the human genus, at Olduvai Gorge in Tanzania. Later, we visited Olduvai Gorge and descended into the gorge to walk the grounds where the Leakey's made their groundbreaking discoveries. After a local guide shared the science behind identifying fossils and bones, it was our turn to explore the gorge and make our own discoveries! This focus on education is one of the many distinctions that sets National Geographic Expeditions apart from other adventure travel. They don't just show and tell; they immerse and engage!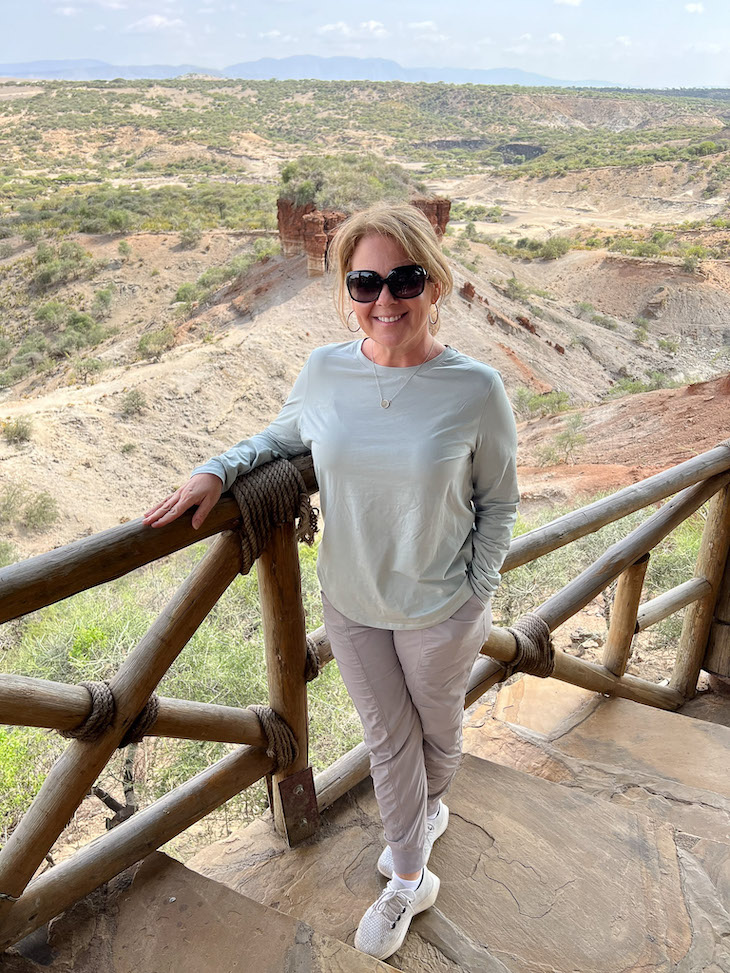 Another key distinction with National Geographic Expeditions is that a portion of the proceeds from every trip is given to the National Geographic Society to help further the efforts of scientists, conservationists, explorers, and educators working to make a difference in our world. Much of that work takes place in Serengeti National Park, one of the world's most famous and significant wildlife sanctuaries and the final stop on our spectacular safari. National Geographic's Big Cats Initiative is one of the organizations funded by the Nat Geo Society. The Initiative facilitates research and conservation projects aimed at halting the decline of the big cat population and protecting their critical habitats. Cats like lions, cheetahs, and leopards…all of which call the vast Serengeti home. A highlight of this trip for me was witnessing these iconic cats in their natural habitats (and completing our search for the Big Five!), knowing that my participation in a National Geographic Signature Land Expedition helps protect their environment and safeguard the future existence of big cats living in the Serengeti and big cats living in the Serengeti and elsewhere.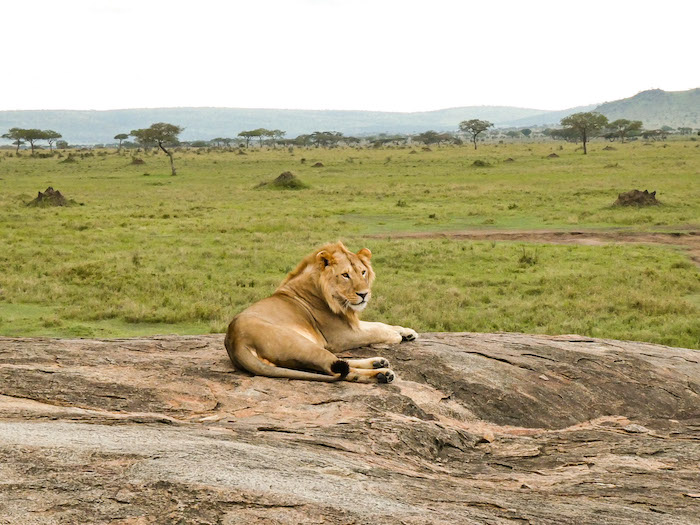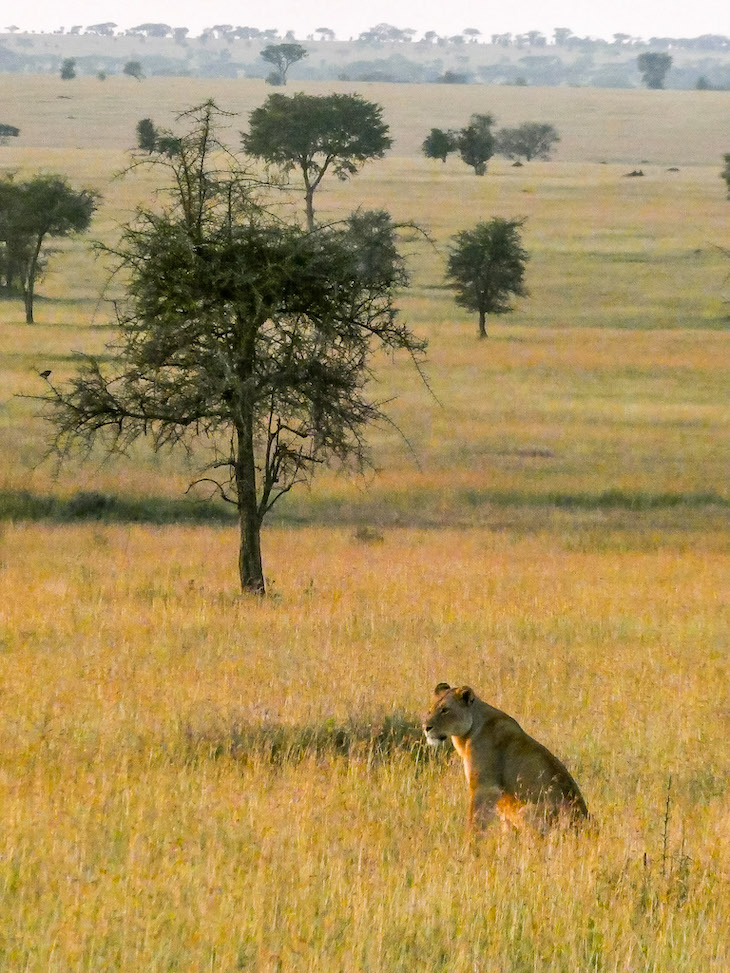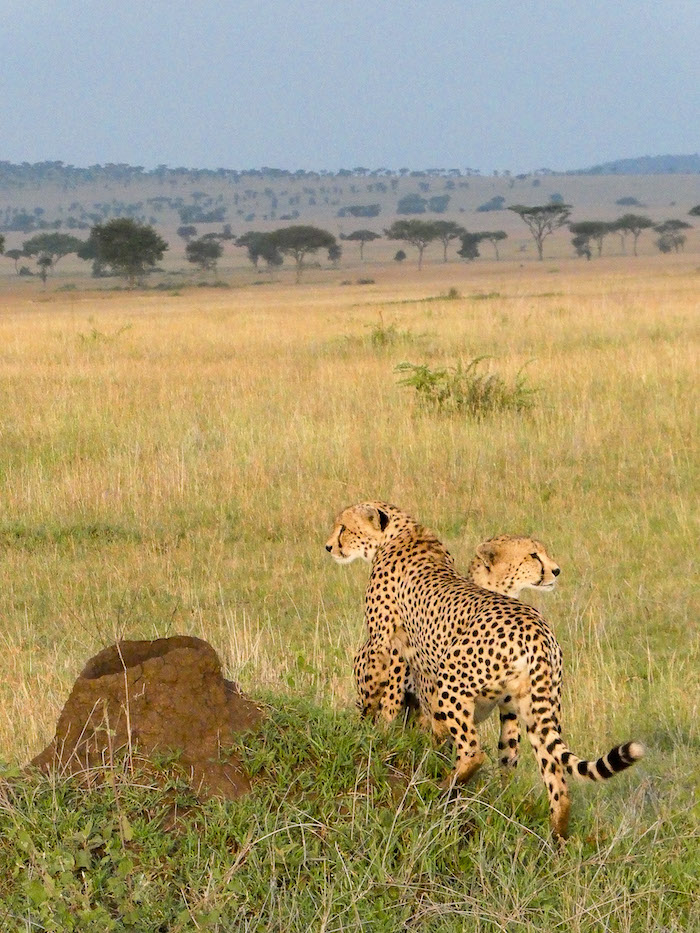 As exciting as it was to get up close and personal with these ferocious felines, we were witness to many other wonderous animal encounters throughout our time in the Serengeti. Each year, millions of wildebeest (followed by gazelles and zebras) journey to the endless grasslands of Serengeti National Park during what is known as the Great Migration, the greatest wildlife spectacle in Africa. The wildebeest tend to stay in one place and give birth to their calves until the end of the rainy season (typically late April), and while we did not see the actual migration, we watched in awe as vast herds of wildebeest, graceful gazelles, and dazzling zebras thundered past us with their adorable newborns keeping pace with the packs.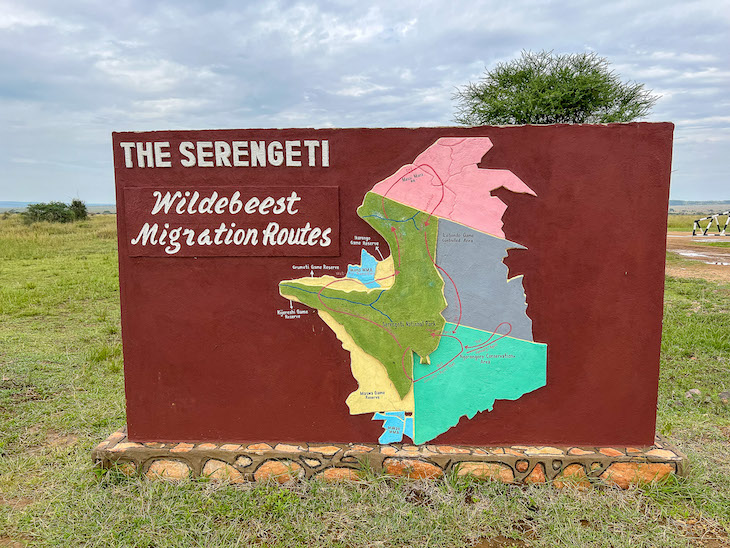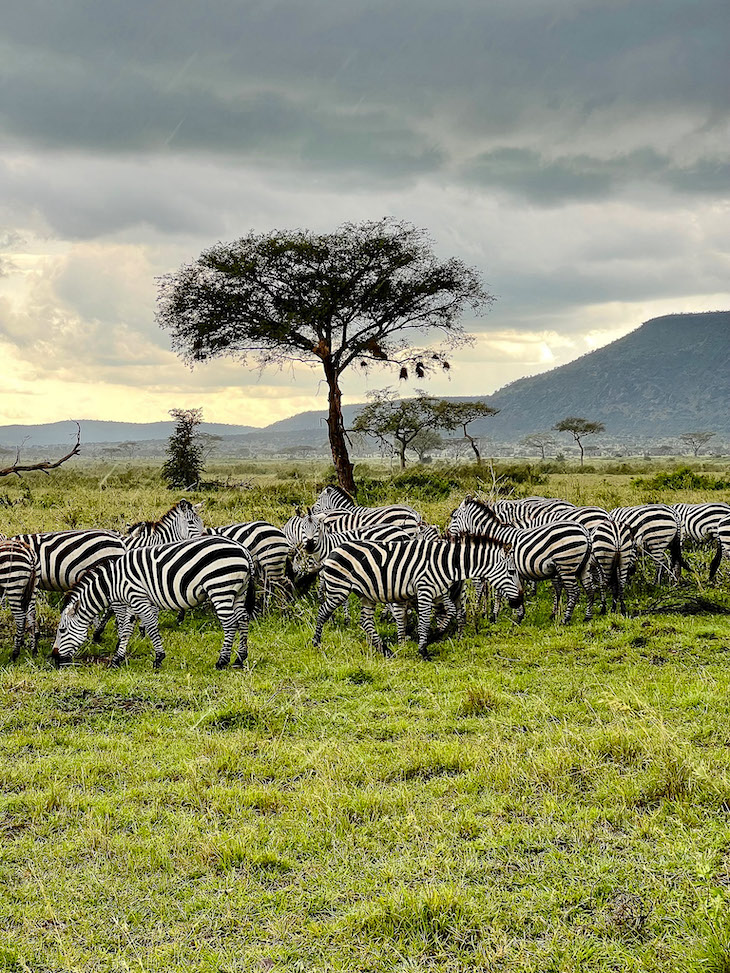 From the incredible lodge accommodations at Gran Melia Serengeti to the abundant game drives with our intuitive guides who expertly navigated the endless grasslands and woodland savannas like they were their own backyards, our time in the Serengeti was truly transformational. It's an indescribable experience to come within mere yards of lions, cheetahs, elephants, and giraffes in the wild and feel no fear—just awe and wonder. That's how close our expert safari guides got us to these majestic animals for the most memorable encounters, all the while ensuring our safety and comfort took precedence above all else.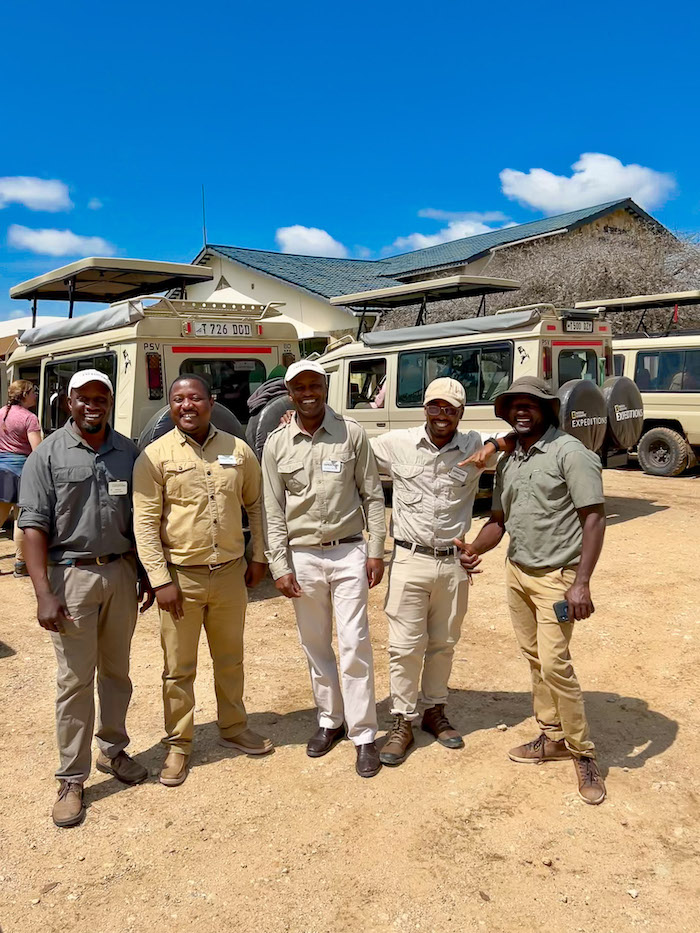 Asante sana National Geographic Expeditions for an unforgettable experience on safari in Tanzania. From Lake Manyara to Ngorongoro Crater and the Serengeti, you challenged us to dig deeper, look beyond the obvious to make new discoveries, and uncover hidden truths about ourselves and others that can only be achieved through the wonderful gift of travel.
So much gratitude for this extraordinary journey and all the wonderful people we met along the way. This really was the adventure of a lifetime!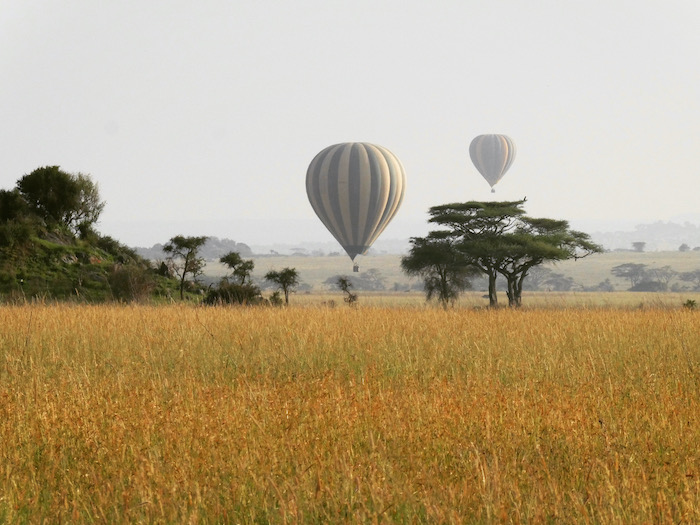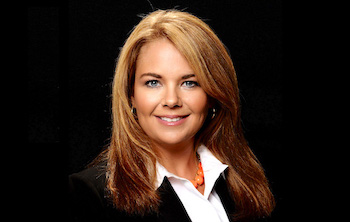 Staci Kimball is a Senior Advisor, Premier Level with GSC World Travel. A graduate of the Virtuoso Certified Travel Advisor program and a Virtuoso Voyages Host, Staci is always seeking new opportunities to grow in her profession. Through regular participation in destination study tours and familiarization trips, advanced industry training, and frequent collaboration with travel partners throughout the globe, Staci has gathered a wealth of personal and professional travel expertise. Through her affiliation with Virtuoso, Staci has access to an elite network of destination specialists, luxury hotels and resorts, and distinguished cruise lines worldwide…all of which are her partners in the industry. Staci works diligently with these partners on your behalf to secure the unique travel opportunities, exclusive perks and privileges, and special amenities that you, her valued client, are entitled to.
Whether it's sailing on a luxury cruise, embarking on a guided European tour, relaxing at a fabulous beach resort, or enjoying a deluxe theme park experience, Staci will go above and beyond to make your vacation dreams come true!
---