ELōISA: A Fabulous Santa Fe Find
While I believe Santa Fe is one of the best restaurant cities in America, a fabulous find at a Drury Plaza Hotel, of all places, was one big surprise. Converted from an historic hospital and within walking distance to the Plaza, you've never quite seen a Drury experience like this. Who would think that a Drury Inn could be so hip? Only in Santa Fe!
The Setting
The hotel's modern New Mexican restaurant, ELōISA, set in a contemporary, sophisticated space on the ground floor, has not a hint of your typical Santa Fe décor. Modern tables, chairs, banquettes, even extending to the serving plates, are par for the course. And along with some of the best food in town you'll also find a phenomenal and knowledgeable wait staff with Johnny-on-the-spot service.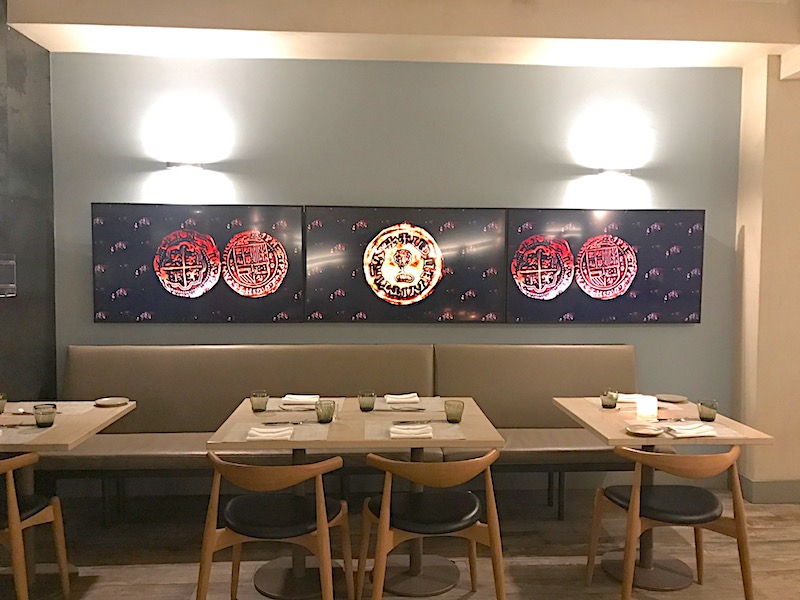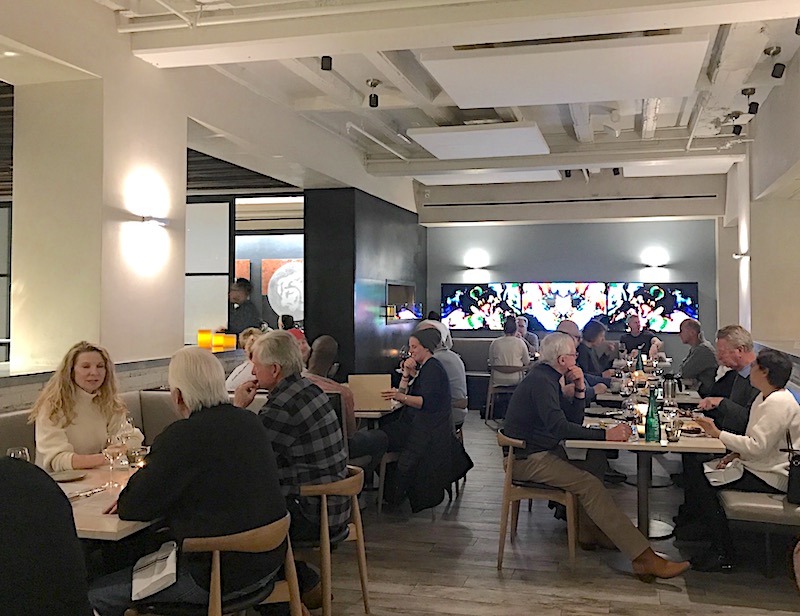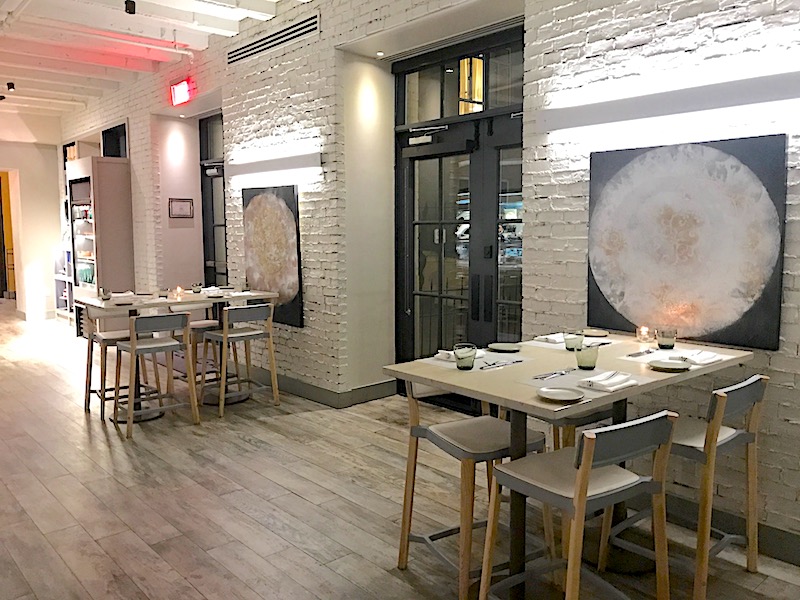 Small Plates
You could order an entire meal around the restaurant's small plates. Thick white corn tortillas stacked and wrapped in a bright white dishtowel are served with a whipped, spicy avocado, much like guacamole but smoother. What is most unusual is that pressed into these small tortillas are organic herbs and edible flowers! Gorgeous tasting and gorgeous looking.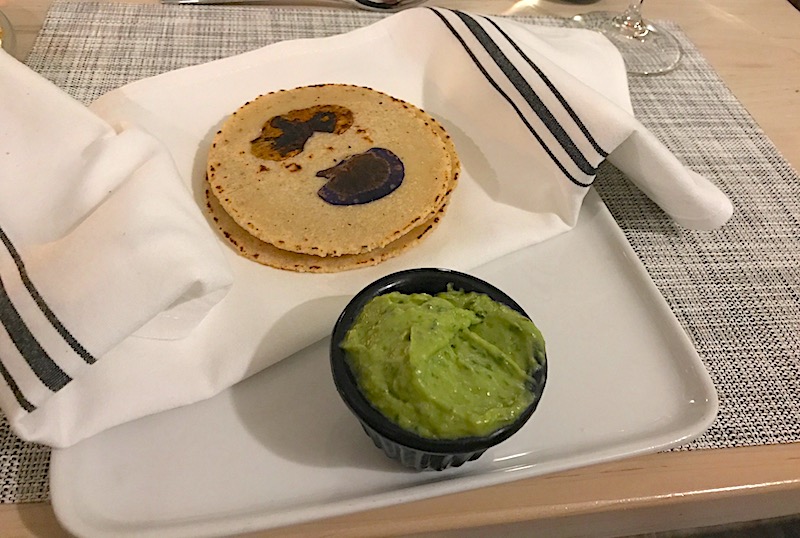 Other small plates include a grilled quail salad basted with jalapenos and honey atop a salad of frisee tossed with hazelnuts, perhaps with a bit too heavy emphasis on tartness in the vinaigrette, but lovely all the same.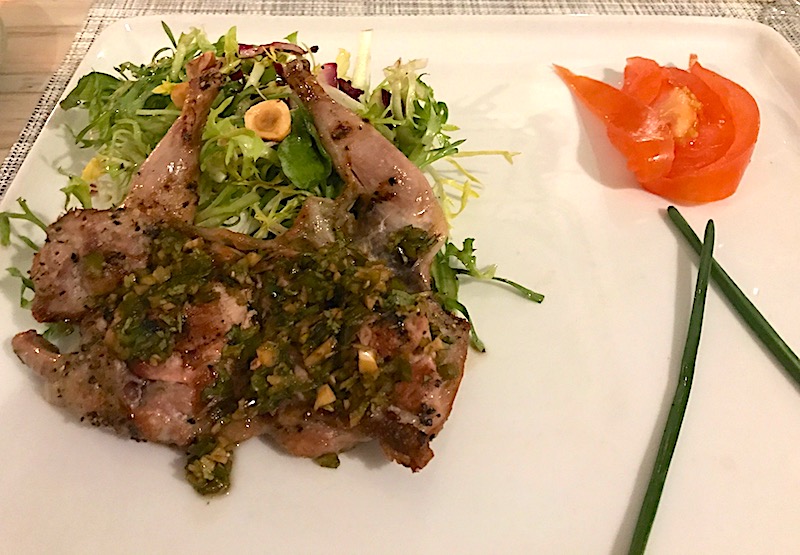 And a wedge salad, while not particularly unusual, sports a creamy blue cheese dressing with a cilantro oil accent and draped with an entire piece of bacon.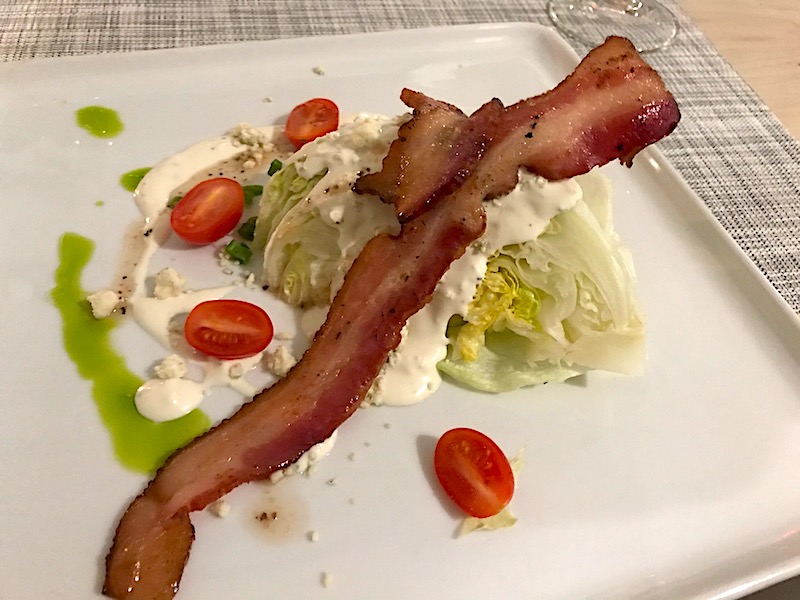 Large Plates
A tender chicken chili con queso entree packs a punch. An airline chicken breast smothered in a poblano pesto and Spanish blue cheese sauce sits over a corn polenta cake, and scattered on the plate are scrumptious charred carrots. Or the delectable scallops, perched atop a crispy polenta cake, beautifully seared and served with a tasty warm corn and pepper salad tossed with tomatillo sauce.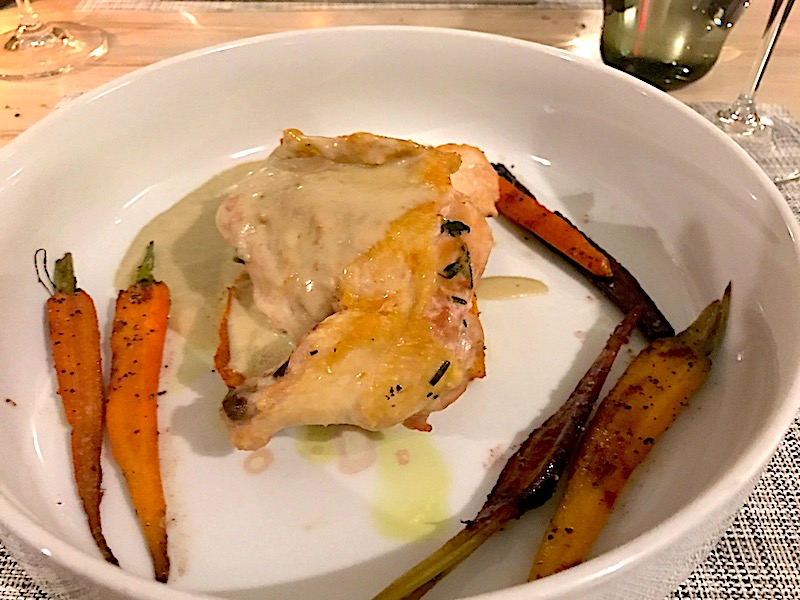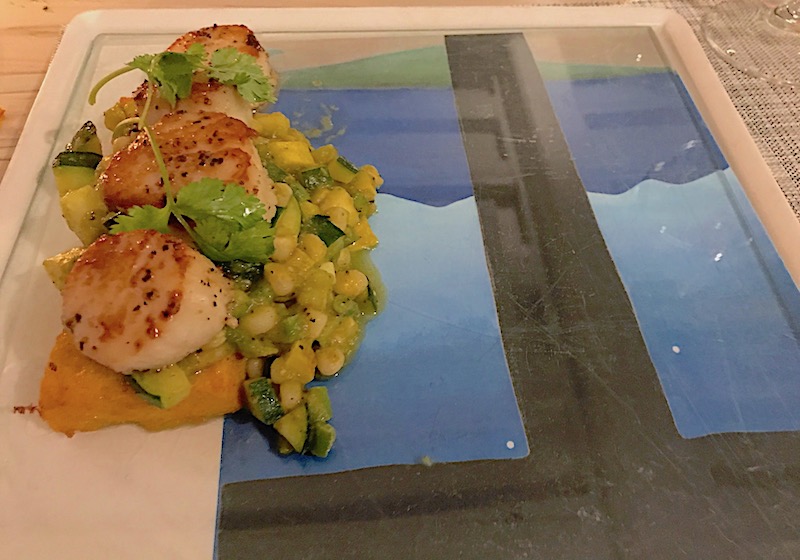 A blue cornmeal-crusted seared trout atop a greens and corn salad is made special with a fragrant oregano spice and savory pepper sauce smeared across the plate.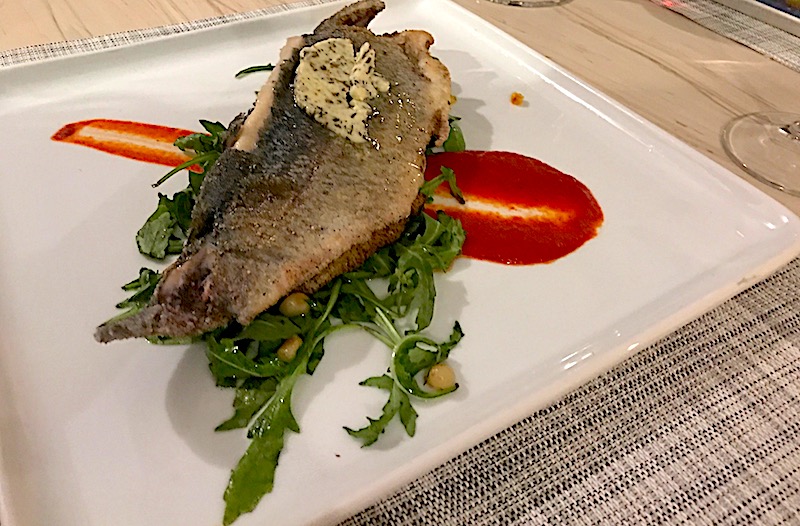 Sweet Endings
For dessert you must try the restaurant's version of bread pudding of brioche with a caramelized topping served with salty popcorn ice cream and apricot sorbet. Or almost like an Almond Joy bar, the chocolate cremeaux dessert is served with creamy coconut ice cream sprinkled with crunchy pomegranate seeds.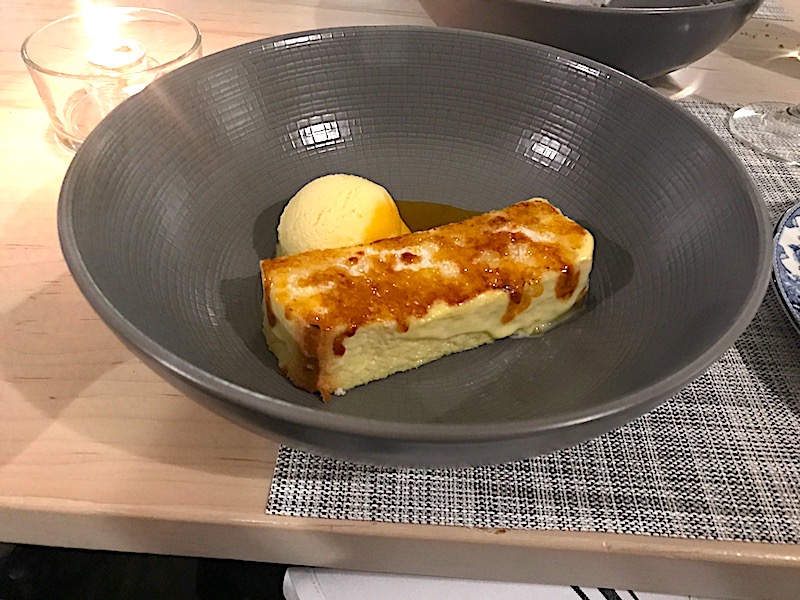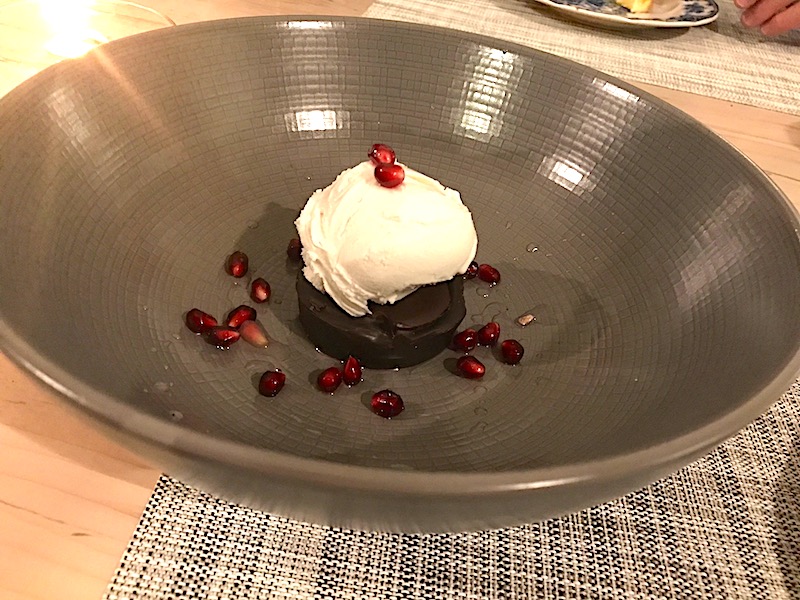 Come before dinner to enjoy the creative cocktail bar inside the restaurant or the outdoor firepit patio (in summer months this turns into additional restaurant seating).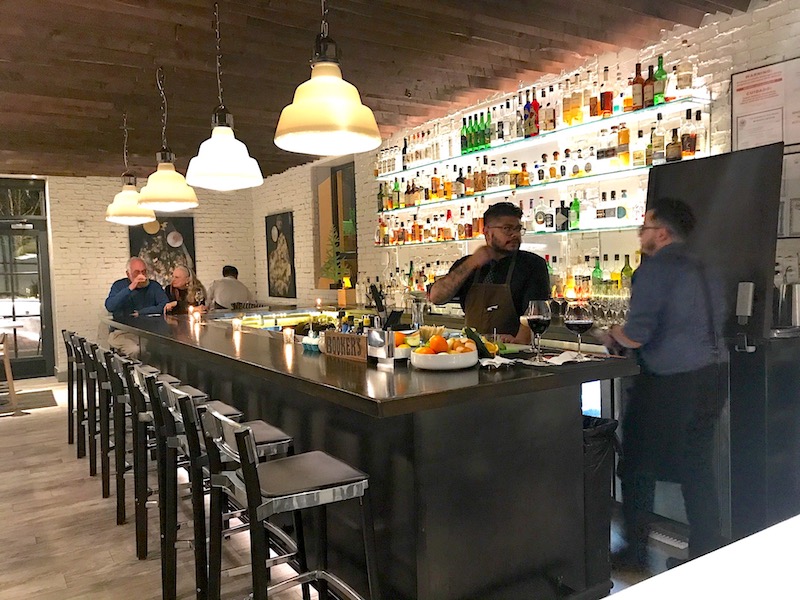 Or head upstairs to the hotel's very popular rooftop and poolside Bar Alto. Valet parking is complimentary with dinner so let the valet know where you are dining.
I invite you to join me on Facebook and Twitter.
Let Us Help You in Planning an Extraordinary Luxury Vacation!
Our expert travel advisors at GSC World Travel will plan a fabulous vacation to the places I write about and more. Your luxury Travel Advisor will work with you to create the perfectly planned trip of a lifetime, making sure that nothing is left to chance.
Please submit a Consultation Request to begin.
---