Why Upgrade to a Luxury Cruise Line?
What exactly is the definition of a luxury cruise and why pay so much more for one? For me, a luxury cruise is the very highest tier of service, accommodations, dining, and experience found on the four major luxury lines—Crystal Cruises, Regent Seven Seas Cruises, Seabourn, and Silversea—sailing smaller ships ranging from 300 to 1,110 passengers. In just a few words—you get what you pay for. And once you try it, luxury cruising is downright addictive!
All suite accommodations
Top luxury cruise lines offer spacious, all-suite accommodations with no inside cabins, with most offering lovely teak verandas from which you'll take in panoramic ocean views. Luxurious and spacious marble baths come with not only a roomy shower but also a soaking tub (some whirlpool style) along with your choice of high-end toiletries. As for sleeping comfort expect premium mattresses and fine bed linens, even a pillow menu.
Closets are walk-in with plenty of drawer and storage space. Expect in-suite, high-tech electronic entertainment equipment with an extensive choice of complimentary movies found on interactive flat-screen TVs, some with CDs and DVDs. You'll even find such additional amenities as a welcome bottle of champagne, binoculars, plush robes and slippers, personalized stationary, shoe shine service . . . the list goes on. And what about oh-so-luxurious butler service, the perfect enhancement to your cruise vacation?
Do know you'll need to reserve at least a Penthouse with Verandah category on Crystal ships for adequate size accommodations.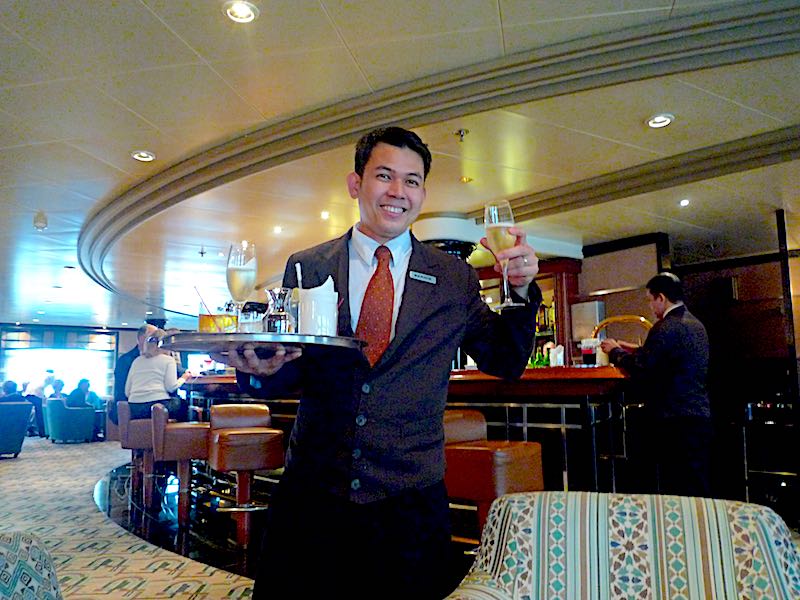 Impeccable service and attention to even the smallest detail by a highly trained crew
Don't you just love it when someone remembers your name, when you are treated as a VIP, when your needs are anticipated? Well get used to it when traveling on a true luxury cruise. From cabin stewards to bartenders, waiters to butlers, your name somehow magically becomes imprinted in memory and used with each encounter. And that is just the beginning of the exceptional personalized service to expect. Bartenders remember what drink you prefer and exactly how you like it and whisk it over to you on arrival. Room stewards and butlers can intuit your needs after just a day or two of making note of your preferences. Your dining room waiters might have your favorite glass of wine waiting for you and even steer you to a particular dish they know you might like based on previous choices. No request is too big or too small.
High crew to passenger ratio and high passenger space ratio
The higher the ratio of crew to passengers, the more personalized attention you can expect. On luxury lines, crew to passenger ratio is about double that of mainstream lines, which makes you the winner when it comes to little wait in line for just about anything while onboard. Embarkation and disembarkation is painless, it's a quick walk off the ship right into port, a cinch to be seated for dinner each evening where you'll dine when you like and with whom, buffet lunches are a breeze—don't even think about carrying your plate to the table.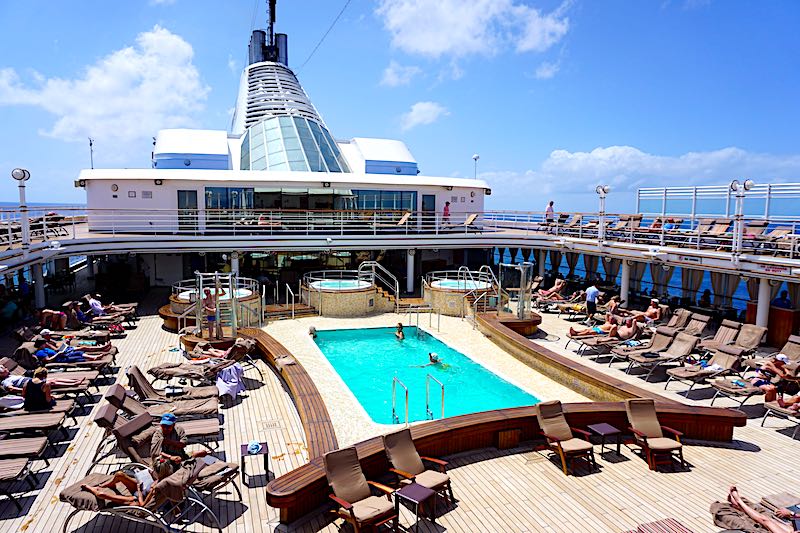 And with passenger capacity to space ratio being about half of that on an equal length mainstream line, you'll never feel as if any public space onboard is crowded. Even though mainstream ships are getting larger, deck space is staying relatively the same. How irritating to get up early in the morning, a time when you would rather be sleeping in, just to grab space on the pool deck. This just doesn't happen on a luxury cruise line where you'll find plenty of comfortable lounge chairs, certainly enough to accommodate those that wish to sun and swim. Dining rooms and theaters are large enough to hold most of the ship at one time. There's plenty of seating to be found at lounges before and after dinner. What a luxury!
No nickel and diming
Luxury cruise lines are more all-inclusive than mainstream lines. Paying up front for just about everything is, for me, a true indulgence. Nothing worse than being nickeled and dimed to death, pulling out your room key and signing bar tabs at every turn. Each luxury cruise line varies, but all include select alcoholic and non-alcoholic drinks throughout the ship—at bars, restaurants, lounges, even in your suite where there's a stocked refrigerator with your preferences—gratuities, most specialty restaurants, self-service laundry, excellent enrichment programs, and in-room dining. Regent is the most inclusive, offering not only unlimited beverages, gratuities, and specialty restaurants, but also roundtrip air (business class internationally beginning in 2017 and economy domestically), airport transfers, a pre-cruise hotel night, unlimited shore excursions, even Wi-Fi!
Open restaurant seating with exceptional cuisine
Dining on luxury cruises is quite the treat. You have dinner when you like and with whomever you like. Expect food to arrive beautiful plated on fine china and drinks in crystal glasses, service that is intuitive, genial, and attentive, and sumptuous cuisine. All offer exceptional alternative dining, many without a surcharge. How exciting to dine at cruise restaurants that partner with renowned celebrity chefs such as Chef Nobu Matsuhisa's Silk Road on Crystal Cruises and Thomas Keller's The Grill on Seabourn's new Encore, or Relais & Chateaux's Le Champage or La Dame on Silversea. Anticipate such menu items as Nobu-Style Lobster with Truffle-Yuzu Sauce, Lavender-Roasted Duck Breast, Seared Scallops with Chorizo, Butternut Squash Spaghetti and Champigny Sauce, and Breast of Pigeon with Artichoke and Morel Ragout. Quite the experience!
A peaceful atmosphere
Because luxury lines do not encourage or cater to children with no youth clubs or very few activities for them, you'll find your cruise either totally lacking or with just a handful of child passengers. Needless to say this makes for a quiet and peaceful atmosphere while onboard. And speaking of peace and quiet, don't expect PA announcements blasting away at every turn. Announcements are made only occasionally and never in your suite, except in case of emergency.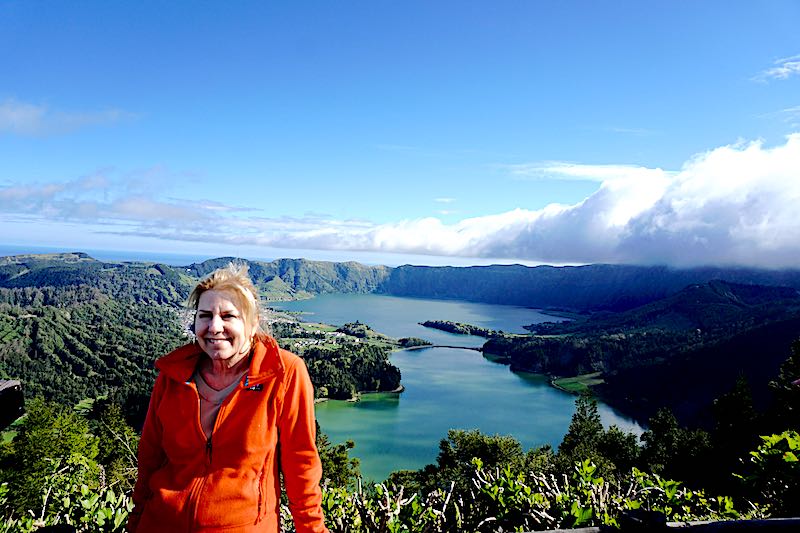 São Miguel Island, Azores
More interesting and less frequented ports of call
Because luxury cruise ships are small and intimate they have the ability to dock in ports not frequented by the mega liners, and tend to sail from port to port, traversing the world with little repeat in itineraries over the course of any given year. This means more interesting itineraries, secluded harbors, and quaint out-of-the-way stops with sometimes only your ship in port. Think Bequia, St. Vincent and Grenadines; Jost Van Dyke, British Virgin Islands; and Gustavia, St. Barts in the Caribbean instead of St. Thomas, U.S. Virgin Island; Philipsburg, St. Maarten; and San Juan, Puerto Rico. Or Porto Torres, Sardinia; Trogir, Croatia; and Patmos, Greece instead of only stopping at Nice, France; Naples, Italy; or Santorini, Greece. Even better, ships are conveniently docked right in town rather than miles away, and overnight stops are the norm rather than the exception, allowing for a more thorough exploration of the region, even dinner onshore.
I invite you to join me on Facebook and Twitter.
Let Us Help You in Planning an Extraordinary Luxury Vacation!
Our expert travel advisors at GSC World Travel will plan a fabulous vacation to the places I write about and more. Your luxury Travel Advisor will work with you to create the perfectly planned trip of a lifetime, making sure that nothing is left to chance.
Please submit a Consultation Request to begin.
---