Viceroy Riviera Maya - Luxury Mexico Style
Pros:
• Incredibly friendly staff
• Only a 10-minute drive to Playa del Carmen where a variety of restaurants and boutiques await
• Gorgeous and spacious villas, each with a plunge pool and patio
Cons:
• Wedged between other large resorts with noise issues
• Lack of a memorable beachside bar
Must-do's While You Are Here:
• Visit one of the Mayan archeological sites, in particular, Chichen Itza
• Have a least one real Mexican margarita - that means fresh lime juice with no simple syrup and margarita mix
• Visit Playa del Carmen for dinner one evening if not for the amazement at how much this once sleepy town has grown
• Mandatory beach time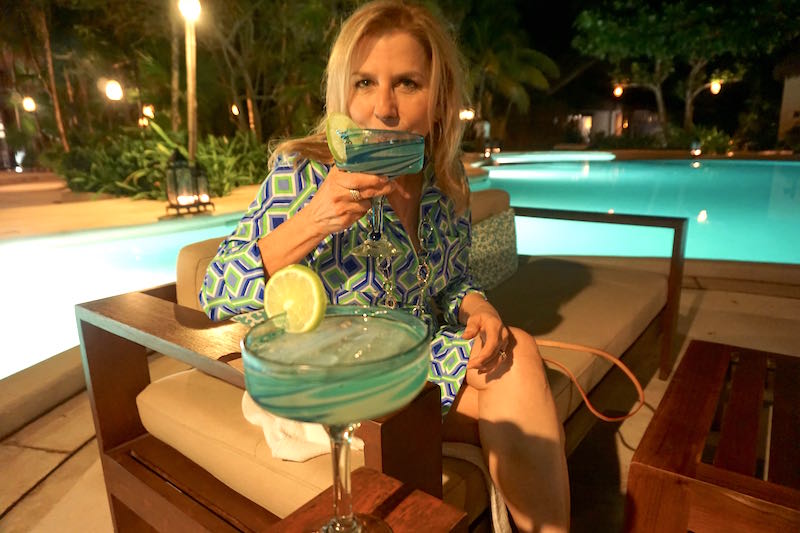 The Arrival
I was looking for an easy get-away with a short non-stop flights and a laid back atmosphere. Cancun and the Riviera Maya immediately came to mind, an easy flight from Texas. My last trip to this area was over 25 years ago so, needless to say, I was shocked when I saw its modern airport and the four-lane highway leading to the Riviera Maya lined with a countless variety of lodging. Could this possibly be the sleepy area I remember from years back? I'm afraid it was, but thankfully the exclusive Viceroy Riviera Maya, a beachfront luxury boutique resort, lay in wait for this overwhelmed traveler.
When I think of true hospitality I think of Mexico, and this place certainly did not disappoint in that department. The resort's seductive charm and superlative staff was just the ticket when it came to a place to be pampered for a few days. Guests are greeted at the portico lobby with cool towels and a Mayan coconut water/lemongrass drink, then taken on a quick tour of the resort including a stop at the spa where you can choose to be treated to a short Mayan welcoming ceremony with cleansing Copal incense.
Viceroy Riviera Maya Luxury Suites

Small and intimate, the Viceroy's 41 romantic villas, each with a private patio featuring a heated plunge pool with jets, double chaise lounge, table and chairs, and swinging hammock, is the picture of luxury. Villas are a minimum of 1,000 square feet, and my Premium Villa was even larger with the addition of a larger bath and more privacy than most.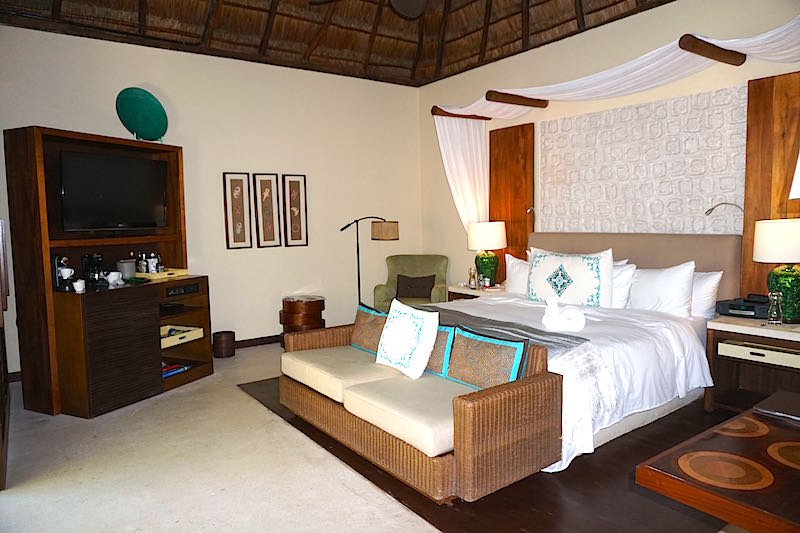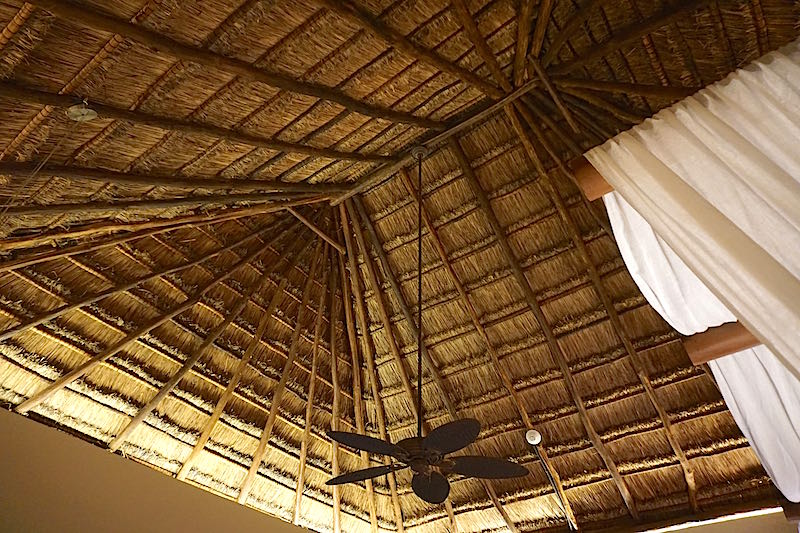 The bedroom is gorgeous with lofty thatch roofed ceilings, a firm king bed made with stark white Egyptian sheeting, down pillows, and turquoise and chocolate accents with coral motifs. A rattan sofa sits at the base of the bed, and in the corners of the room an easy chair and ottoman, and a credenza with mini bar and large TV.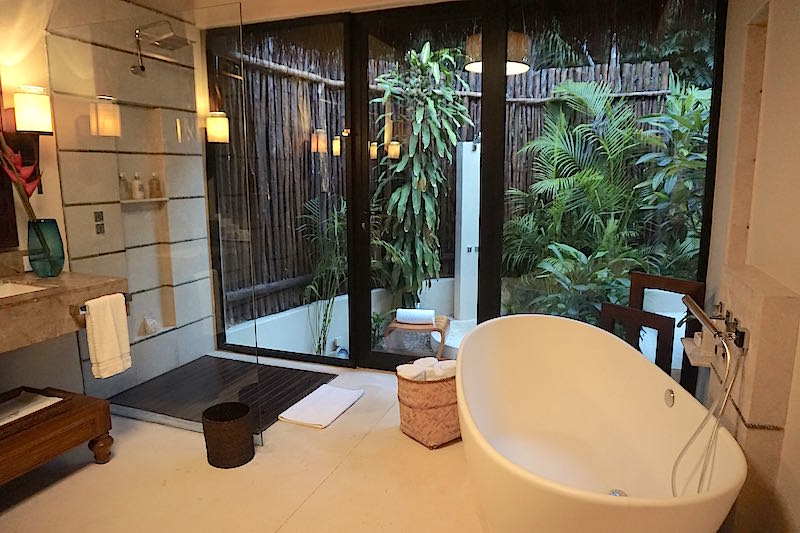 The bath's large vanity, made of stained cement with double sinks, is accompanied by too-dim lighting, a walk-in closet with plenty of drawer, shelving, and hanging space, and a freestanding oversized tub and open shower. Totally protected with thatch fencing and tropical plants, you won't find shades here; there's even a glass door that leads out to an outdoor shower, quite the indulgence. Housekeeping is superlative—don't be surprised to return on your last evening to a turndown of rose petals scattered in a heart-shaped pattern on your bed. And while here you'll use house-made artisanal soaps formulated with organic ingredients and Neil George bath products.
Don't pay extra for the resort's Ocean View Villas overlooking the pool with the ocean in the distance, but with very little privacy. I saw thatching strung up on request around the patio of this type of villas so the occupants didn't have the entire resort staring at them—pretty counterintuitive given they paid for a view now blocked.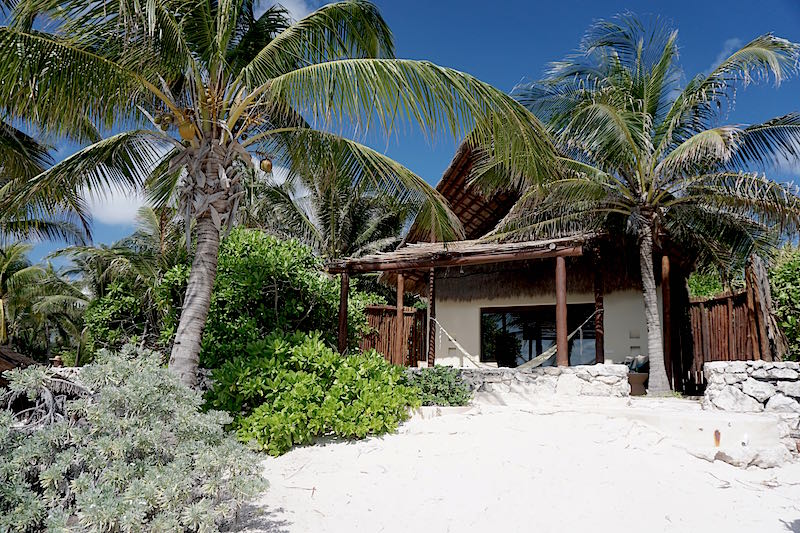 While the two Beachfront Villas face directly out and are situated just above the beach, they do afford a bit more privacy, particularly after the beach is mostly empty in the eveing. A 2-level Ocean View Villa comes with 2,500 square feet with a spacious living area downstairs and bedroom up.
The Beach Experience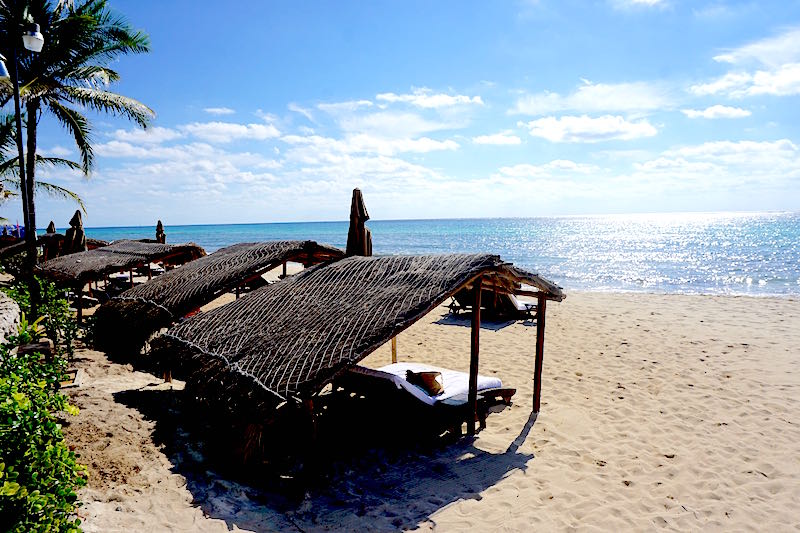 The ocean here is lovely, but a rocky beach (swim shoes are provided) and pretty darn cold water this time of year kept me high and dry on land. But what a perfect place to be! Lazing on the resort's stretch of beach in palapa-style cabanas with cushy double lounge chairs and a bevy of staff attending to each and every whim . . . simply divine. Can't decide on shade or sun, no problem. I had a palapa as well as two chairs just in front for sun–just ask the attendant on duty—your wish is their command.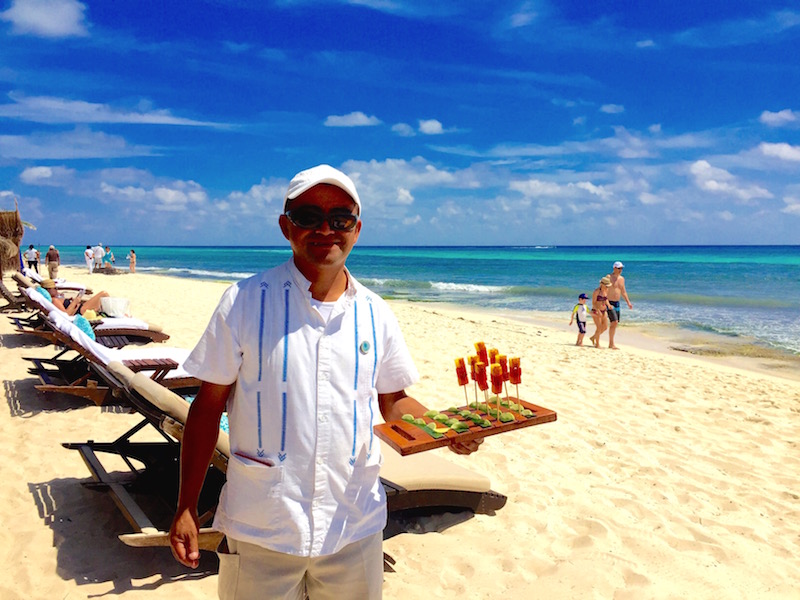 Every time I turned around someone was offering up skewers of frozen pureed fruit and icy cold towelettes, asking to clean my sunglasses, and bringing round tropical drinks and whatever suited my fancy from the resort's Coral Grill—think fish tacos, fresh guacamole and chips, ceviche—really heaven on earth.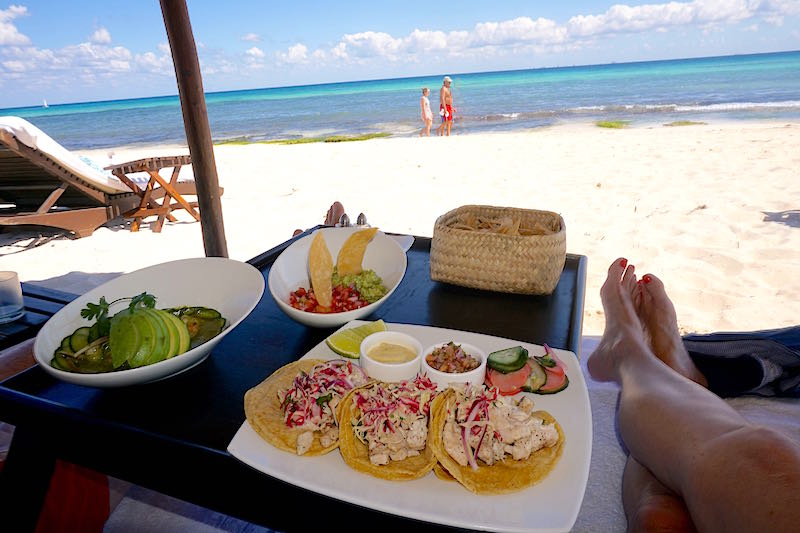 Those that shun the beach, for whatever crazy reason, will enjoy the serene Lagoon Pool that overlooks the ocean and features a large whirlpool.
The Spa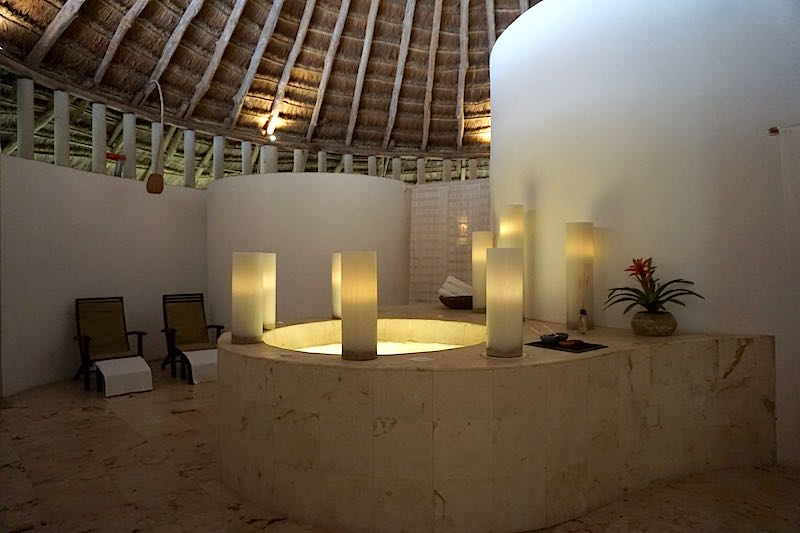 Definitely plan for a treatment at the resort's lovely spa, small but enticing, where the whirlpool and herbal steam rooms are open to resort guests at their pleasure. Romantic choices include an indoor/outdoor couples suite, as well as a Jungle Suite with splashing waterfall located near a cenote (a submerged fresh-water pool considered sacred by the Mayans). Both are special treats, where a variety of traditional Mayan treatments along with the standards are available. There's even a Mayan Temazcal, a sweat lodge available through the spa, where, through a ceremony with the use of steam and healing herbs, your body and spirit is purified. The fitness room, empty most of the time, was more than adequate with free weights and exercise equipment, and private yoga classes on the resort's private pier are available for an additional fee.
Culinary Delights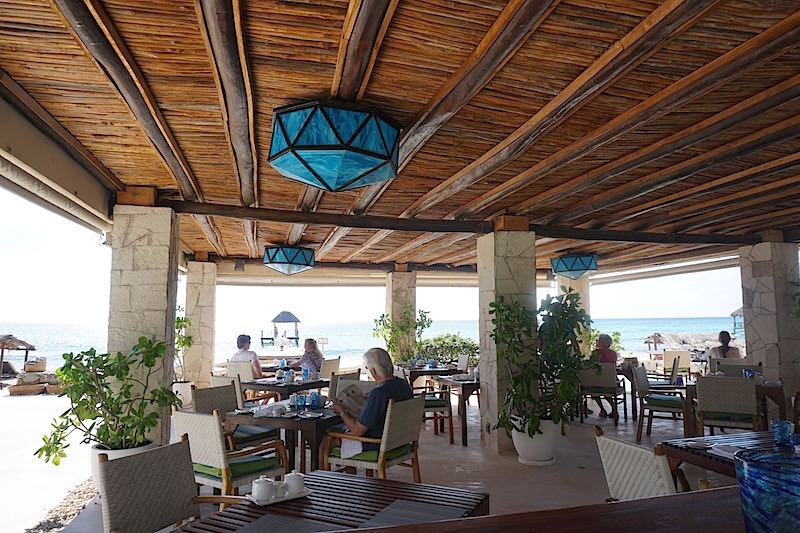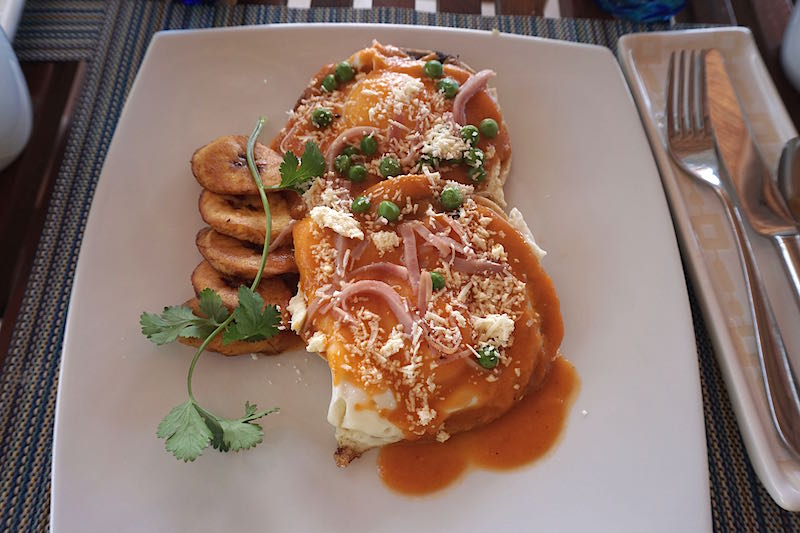 Speaking of restaurants, there are two resort choices: the beachfront Coral Grill open for breakfast, lunch, and dinner; and La Marea open for dinner only. I adored Coral Grill, offering a Mexican-style menu for all three meals and occasional themed dinners such as a Friday night beach barbecue.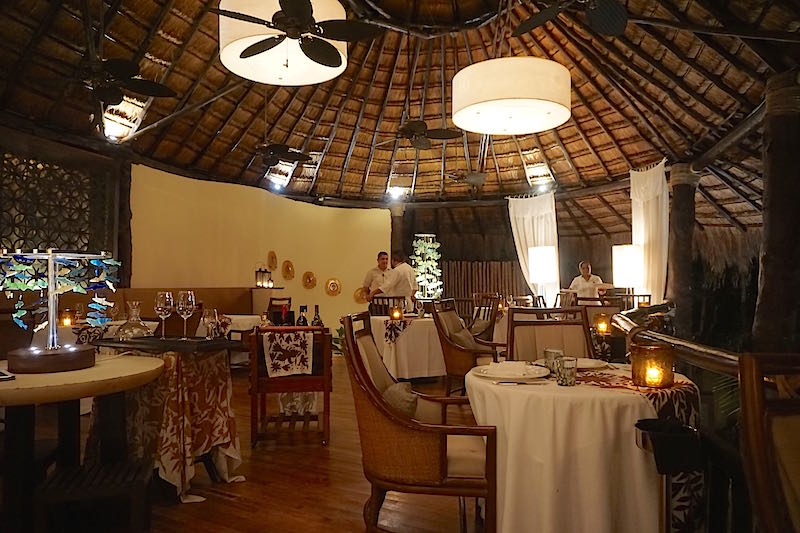 La Marea needs some work with a continental menu that, while tasty, just felt a bit dated and unexciting, but they do offer a 5-course Chef's Table once a week that is served, weather permitting, outside near the pool.
The lack of a memorable bar is a disappointment. A Mexico beach resort's highlight is a great place to sit and sip margaritas while traditional Mexican music plays with the ocean in the background. Here a small bar of sorts is located within Coral Grill, but it seemed a bit makeshift, particularly because your perch is near the hot wood oven all while attempting to sip frozen drinks.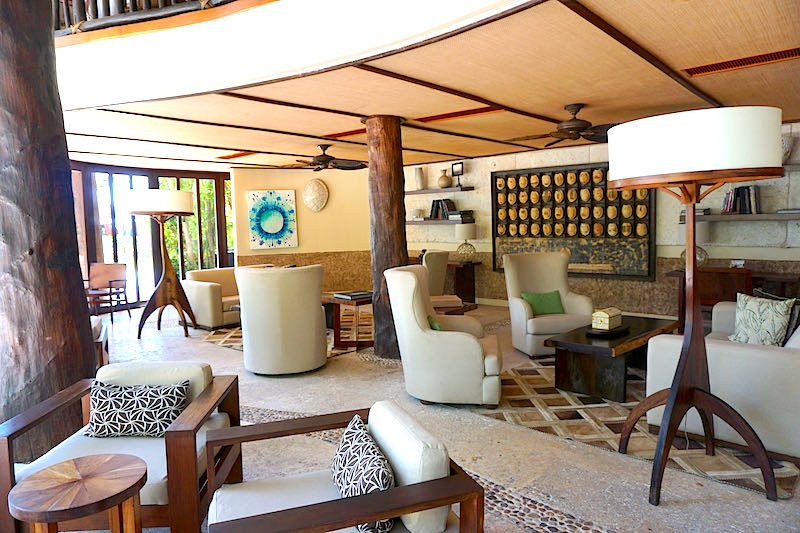 The Library, the resort's open-air relaxation/bar area on the ground floor of La Merea, while interesting, felt like it belonged elsewhere and not at a beach resort. A dedicated, festive bar with a great beach view is definitely what is missing here.
The Setting
And the biggest caveat . . . the hotel is literally wedged in between larger and, need I say, louder hotels, which proved to be an irritant several times during our stay. While attempting to enjoy our gorgeous and secluded patio we were blasted several times by the noise from a drilling rig emitting from the massive H10 hotel under construction next-door, and on our last night we could hear very loud and very late throbbing music from the surrounding Grand Riviera Princess Hotel and Azul Fives. The only saving grace is that the construction will eventually end. And while the promise is that the resort is nestled in the jungle, this is far from the truth. A profusion of lush tropical ferns, palms and guava trees with a scattering of small waterfalls do exude the feel of a jungle refuge; however, near here you won't find even a hint of jungle left. It's all been taken over by the neighboring resorts.
But an exceptional staff and near perfect accommodations do make up for what was fairly minor irritants, so typical of just about any hotel these days. And because children under age 14 are not allowed come prepared for a nice adult vacation. Do yourself a favor and arrange for the use of the hotel's private luxury transfers; the airport can be pretty crazy and someone waiting for you on arrival is definitely worth it.
I invite you to join me on Facebook and Twitter.
Let Us Help You in Planning an Extraordinary Luxury Vacation!
Our expert travel advisors at GSC World Travel will plan a fabulous vacation to the places I write about and more. Your luxury Travel Advisor will work with you to create the perfectly planned trip of a lifetime, making sure that nothing is left to chance.
Please submit a Consultation Request to begin.
---