Terranea: A California Coastal Oasis Far From the Crowds
Terranea, a 102-acre private peninsula paradise just minutes from the craziness of Los Angeles, seems worlds apart. This Mediterranean coastal resort, the sight of the old Marineland of the Pacific, is set on a promontory jutting out over the Pacific with 270-degree ocean views. It's the ideal choice if you are seeking to visit the sights of LA on day trips, but, at the end of the day, you crave peace and quiet or time to laze by the pool and ocean.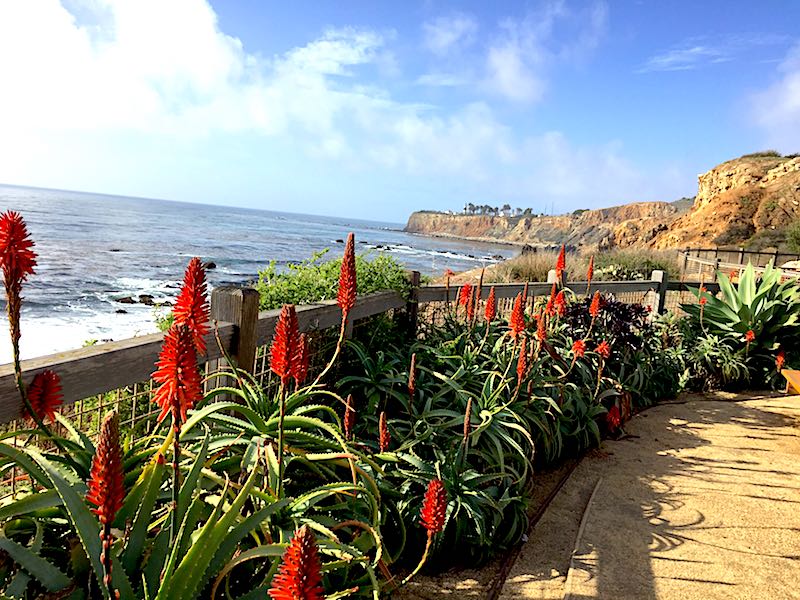 Location
Located between LAX Airport and Long Beach on an alluring point at the southern end of the Palos Verdes Peninsula, come prepared to travel a bit to the sights. With Disneyland 42 miles away, Hollywood 37 miles, and Santa Monica 25 miles, it truly is worth the driving distance for the peace and tranquility this resort affords. And Terranea's Lexus program is ideal for touring the area. Just ask at the concierge desk if a car is available, and it's yours for the day.
Now, can we talk about the resort's mesmerizing views of the Pacific Ocean and Catalina Island? Truly stunning! Within walking distance is The Cove at Terranea, a public beach enclave featuring tide pools as well as coastal trails and scenic viewpoints. And the resort's native flora and fauna, along with meticulously landscaped grounds covered with unusual cacti and succulents, are mind-boggling.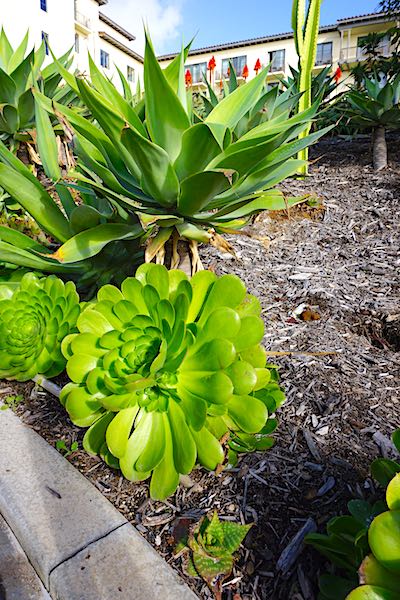 Activities
Choose from four heated swimming pools including a Family Pool, Spa Pool, Vista Pool for ages 13 and older, and the Cielo Point adult pool for ages 18 and older (you'll swoon over its location). Add to that horseback riding, falconry, paddle boarding, kayaking, and surf lessons. And it's a perfect place for great family fun with Tide Pool Kids' Club and Adventure Camp on offer. If the weather is a bit chilly no worries—at Terranea the great outdoors is made even better with an overabundance of both private and public spots offering lovely seating and outdoor fireplaces (228 in total to be exact!) along with heat lamps at every restaurant and bar terrace.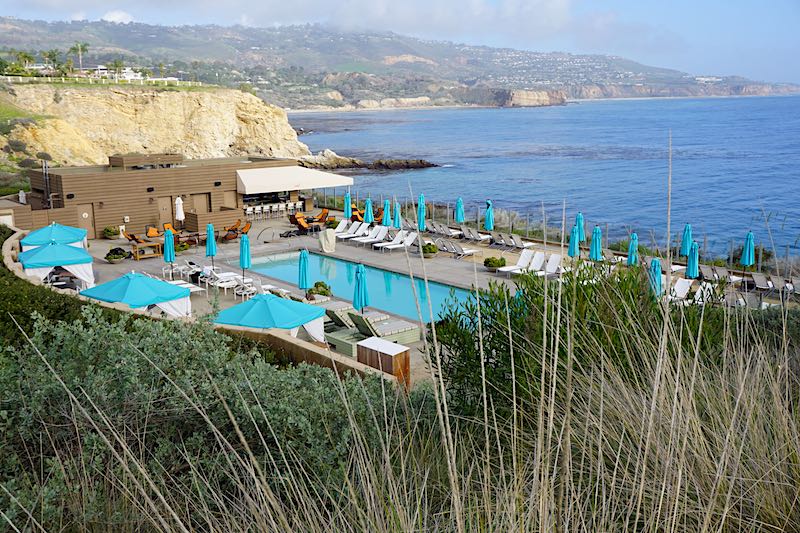 Cielo Point Adult Pool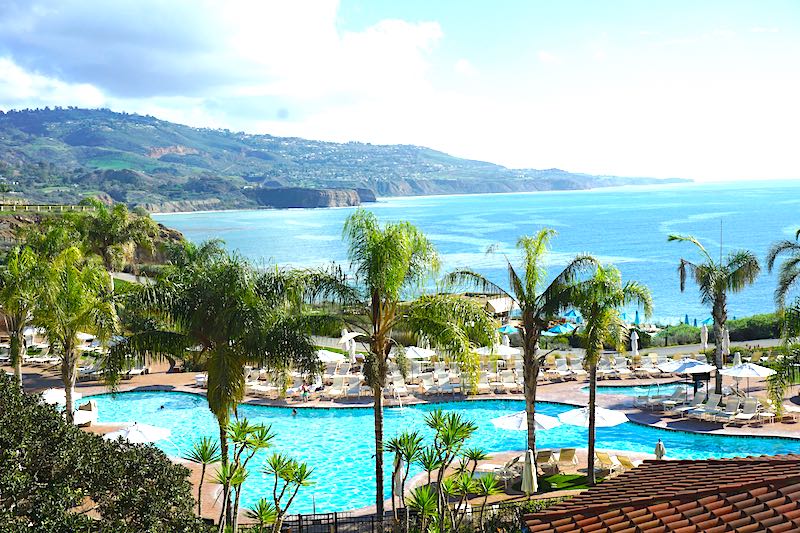 Family Pool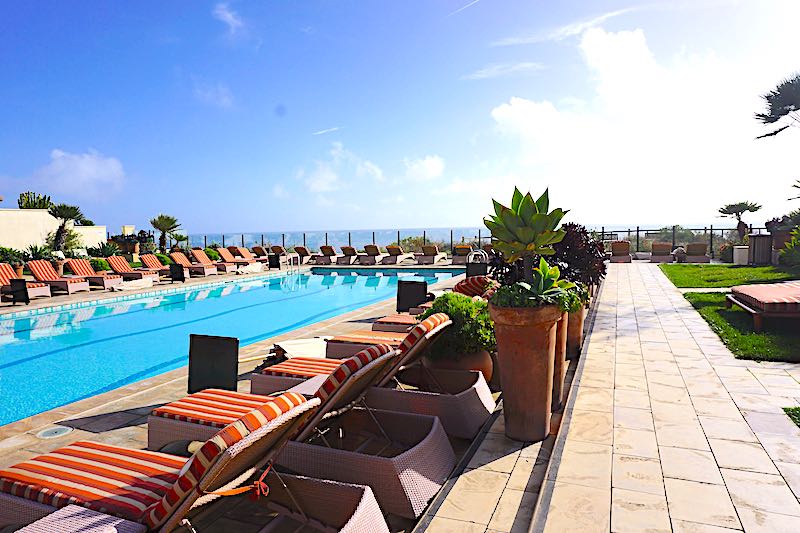 Spa Pool
The Spa at Terranea
And then there's the fabulous spa complete with 25 treatment rooms. It's literally an oasis here, with a posh Spa Pool overlooking the ocean, pool cabanas, VIP Signature Treatment Suites, separate indoor and outdoor spa lounges with saunas, steam rooms, whirlpools, cold plunges, and fire pits. The adjoining fitness center is a wonder with loads of Technogym fitness equipment, Life Fitness weight machines, even a Pilates reformer as well as an oceanfront yoga and Pilates studio. And for a $20 per person fee there are daily fitness classes including yoga, aqua conditioning, spin classes, Zumba, TRX core circuit, and more. If you're hungry, the Spa Cafe offers service by the pool, fire pit, and poolside cabanas
Dining
Nelson's proved to be our favorite dining casual dining spot in the resort, the perfect place to enjoy the sunset and outdoor views from their large outdoor seating area (more fireplace as well).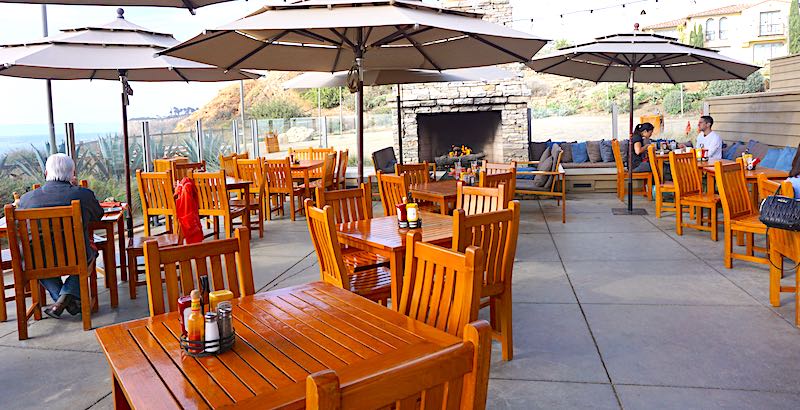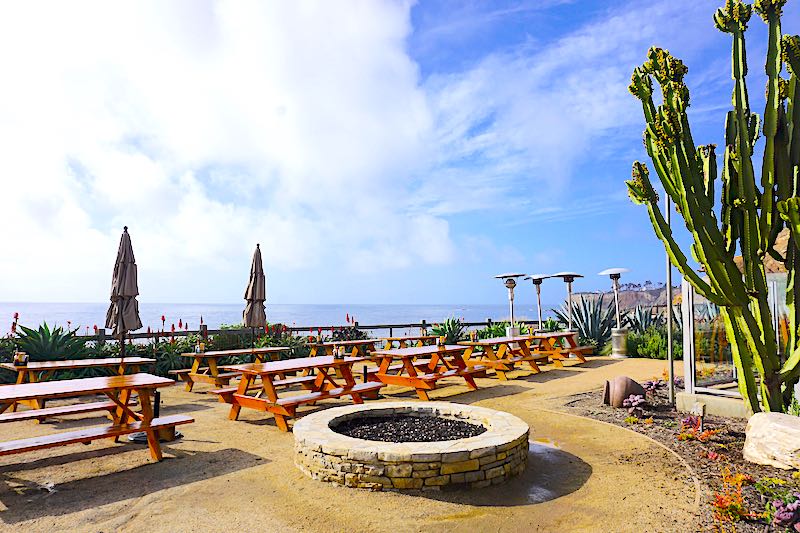 This along with terrific fish tacos, cioppino, and lobster rolls as well as healthy items such as a delicious quinoa tabbouleh salad and sides of fresh-from-the-garden sautéed vegetables. The restaurant was named for Mike Nelson, the character played by Lloyd Bridges on the "Sea Hunt" TV series, which was filmed in the waters below where Terranea now sits.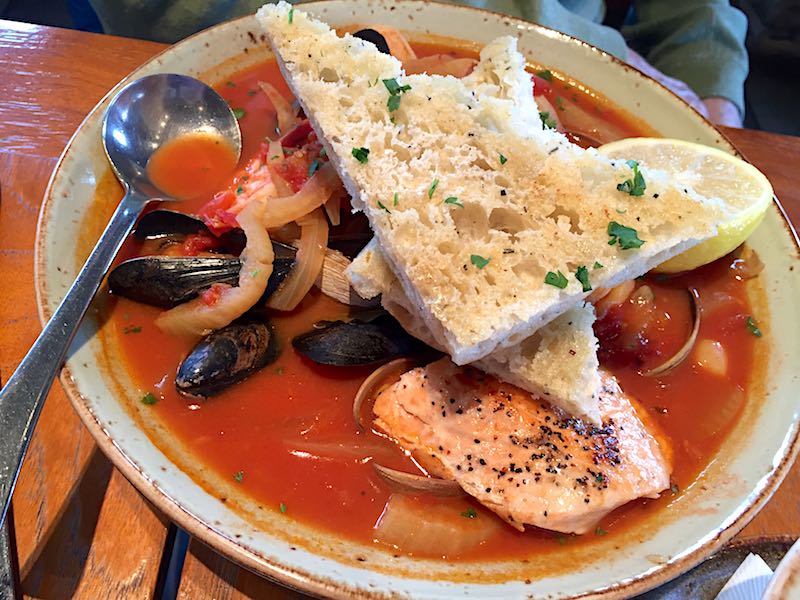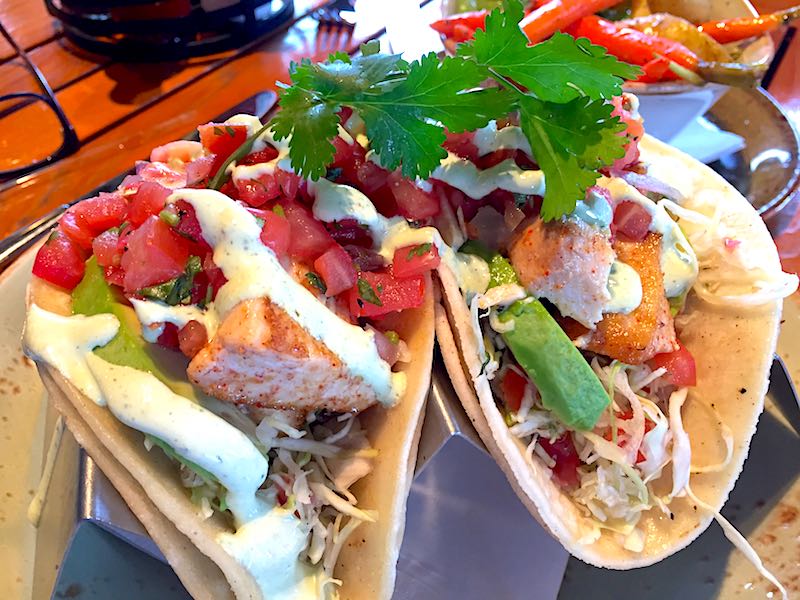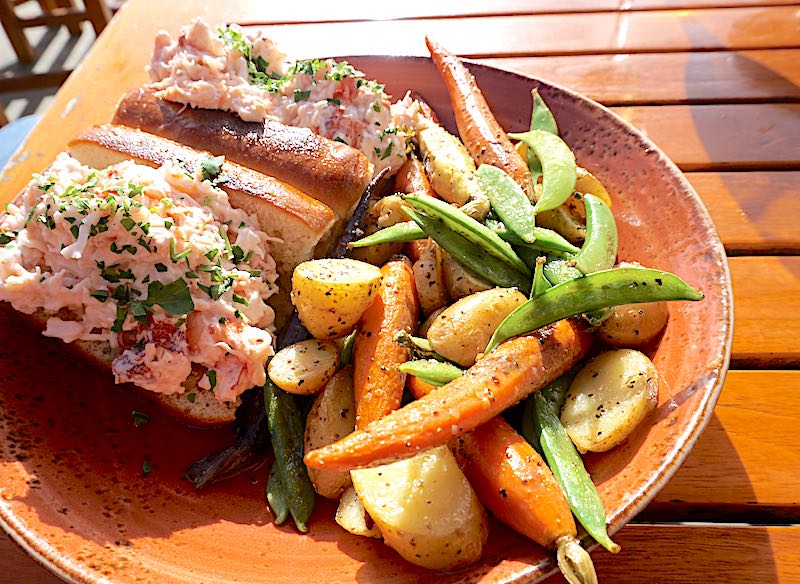 And at cozy Bashi is excellent sushi and Asian specialties. I just wish I had a bowl of their kimchi & lobster fried rice right now, or perhaps the Shanghai garlic noodles. Too bad they aren't open for lunch since restaurants in the surrounding area are few and far between. After a few days here, even though there were quite a few resort restaurant choices, we had exhausted our lunch repertoire.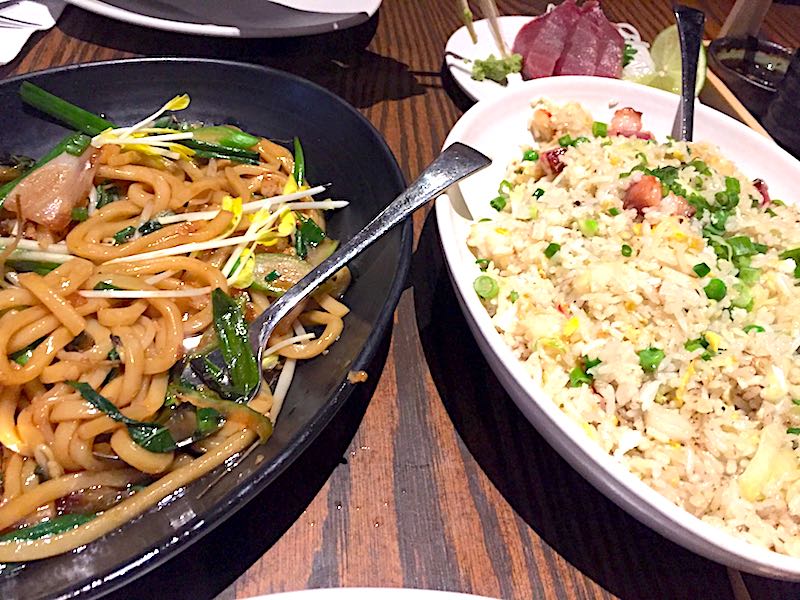 Dinner at Catalina Kitchen was also quite pleasing, although the atmosphere was not particularly a standout. Try the overwhelmingly rich fire roasted cheese served with warm flatbread, chorizo sofrito, and a roasted tomato salsa; or the restaurant's Skuna Bay salmon.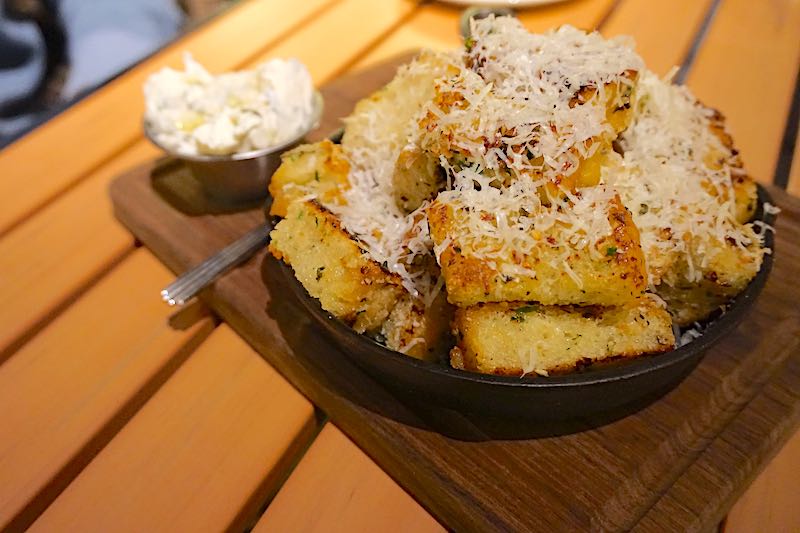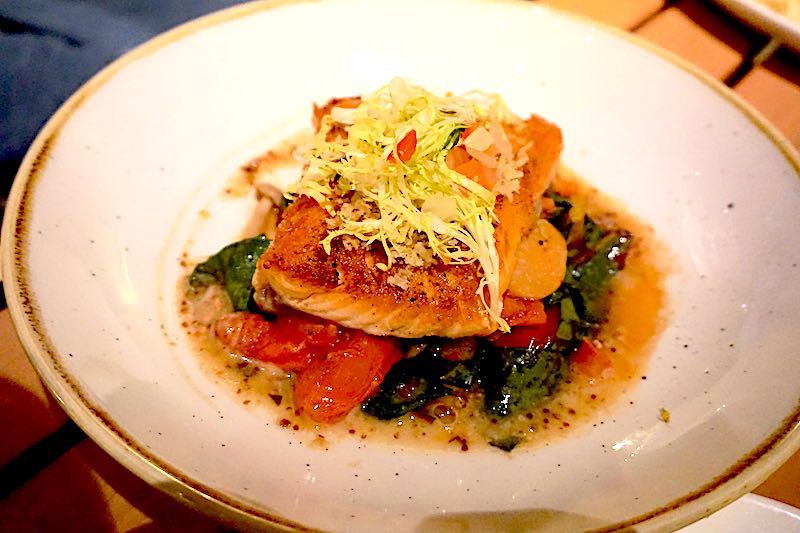 We never made it to the resort's signature restaurant, mar'sel, which features sustainable and inventive California cuisine along with stunning views of the Pacific, but I've heard it's truly a showstopper.
All this in addition to the Spa Café where a healthy fare of salads, sandwiches, and smoothies is available; the Cielo Point pool grill at the adult pool; and Sea Beans for specialty coffees, smoothies, pressed sandwiches, wraps, ice cream and specialty desserts.
Some of the most memorable ingredients found in all the resort's restaurants are sourced either at or near the resort. Right on the grounds is a sea salt conservatory—buckets of water are gathered from the resort's beach cove, then the water is evaporated leaving dried salt which is then flavored in such luscious tastes as Meyer lemon or rosemary. And nearby, on a neighboring plot of land called Catalina View Garden, are the resort's main source of avocados, olives, lemons, a variety of produce, and even honey.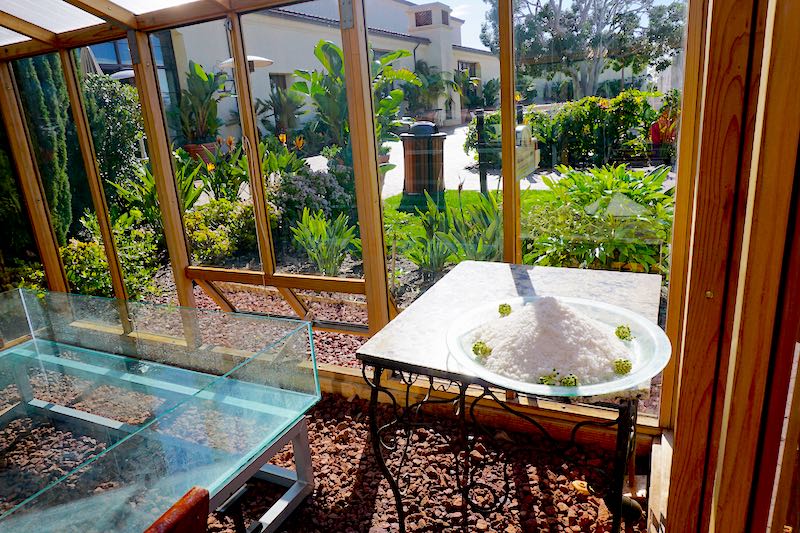 Do understand that the resort is a popular conference facility so come prepared to share your vacation with large groups. The groups won't be exactly in your face at all times, but they do like to congregate in the bar in the evenings, and you might see large outdoor functions on the grounds now and then.
More to come in Part II, Terranea's accommodations.
I invite you to join me on Facebook and Twitter.
Let Us Help You in Planning an Extraordinary Luxury Vacation!
Our expert travel advisors at GSC World Travel will plan a fabulous vacation to the places I write about and more. Your luxury Travel Advisor will work with you to create the perfectly planned trip of a lifetime, making sure that nothing is left to chance.
Please submit a Consultation Request to begin.
---