Southern Ocean Lodge – Kangaroo Island Elegance
Southern Ocean Lodge is simply one of the most stunning hotels in Australia, a place where contemporary architecture combines with sweeping, dramatic views overlooking Kangaroo Island's Hansen Bay. Full ocean views are par-for-the-course from each of the 21 suites cascading along the slope of the limestone cliffs. Built with local limestone and recycled timber, The Lodge blends in beautifully and in a minimalistic way with its surroundings, exuding an organic, luxurious feel.
Getting Here
To reach Kangaroo Island, fly a short hop from Adelaide to Kingscote Airport with both scheduled and charter flights available. Known as Australia's Galapagos, an abundance of native wildlife and natural attractions are the draw with more than 1/3 of the island a National Park, a place where kangaroos (of course!), koalas, fur seals, sea lions, osprey and more roam freely and in abundance.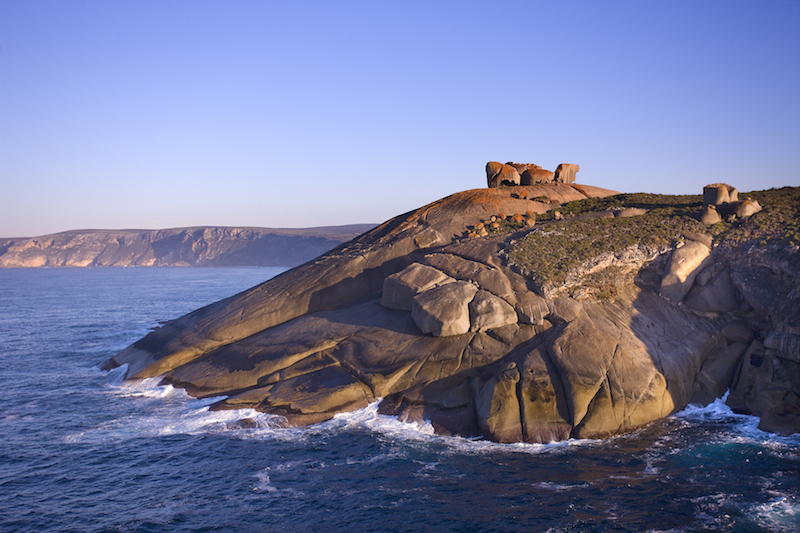 Remarkable Rocks
What's Included?
And what better way to explore than through Southern Ocean Lodge's complete experience, including your choice of a range of guided tours as well as all meals and drinks. During our short two-day stay we spent the first evening communing with the kangaroos at sunset while enjoying canapés and great Australia wines, while the next day came with a trip to a fur seal colony hiking amidst natural wonders including the island's famous Remarkable Rocks. Exciting it was as well as a bit dreamlike.
Your Suite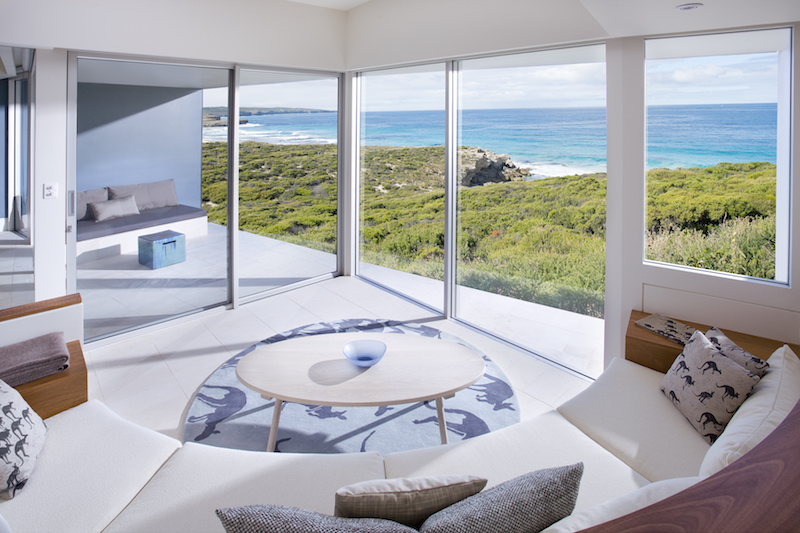 Flinder's Suite
Speaking of dreamlike, let's talk about the Lodge's suites where through floor-to-ceiling glass is a view of a magnificent and windswept ocean and beach wilderness. The smallest accommodations, the Flinders Suites, are quite sizeable at 700 square feet featuring a king bed, sunken sitting area with contemporary furnishings and a curved sectional sofa, lovely terrace with seating and a daybed, roomy bath with shower only, and walk-in closet with a complimentary stocked mini-bar.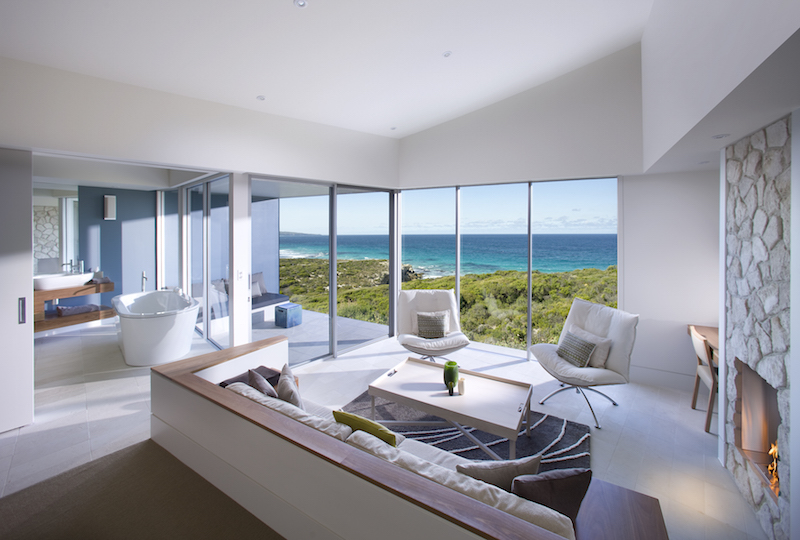 Ocean Retreat
From there suites grow in size with additional amenities. Ocean Retreat suites are larger at 800 square feet with the addition of a fireplace and a freestanding tub. There are only two, 2-bedroom Ocean Family Suites, perfect for families or even two couples. When requesting a room location, remember that the further you are from the Lodge's public areas, the further the walk (it is a bit of an uphill climb when heading back to the main area), but the nicer the privacy. Suites closer in will lose a bit of privacy due to the proximity of the outdoor terrace located off the dining area.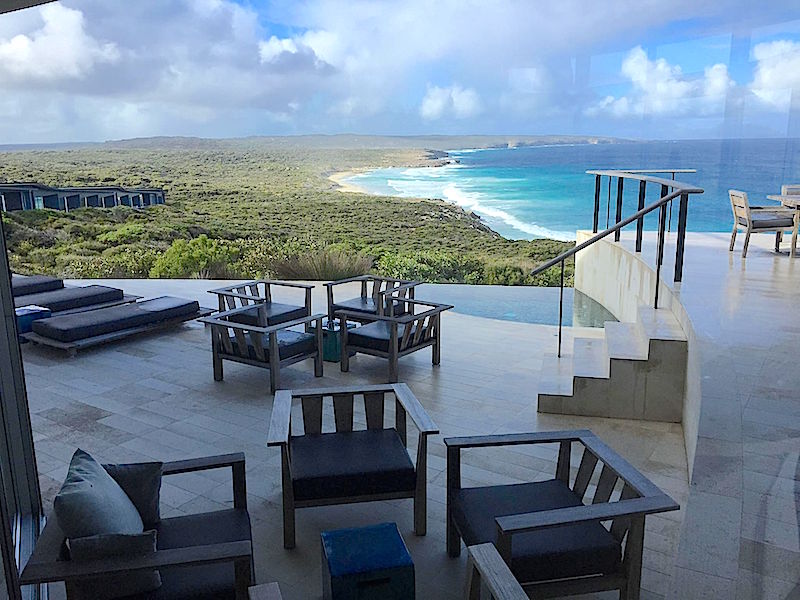 Terrace
No standard pool here, but there is an infinity-edge plunge pool on the terrace outside the Great Room. Or choose a top suite, either one of the Remarkable Suites or the Osprey Pavilion (what a view!), all with 1290 square feet and each offering a hot tub on their terraces. No TVs in most of the suites so come prepared to relax and just enjoy this amazing place.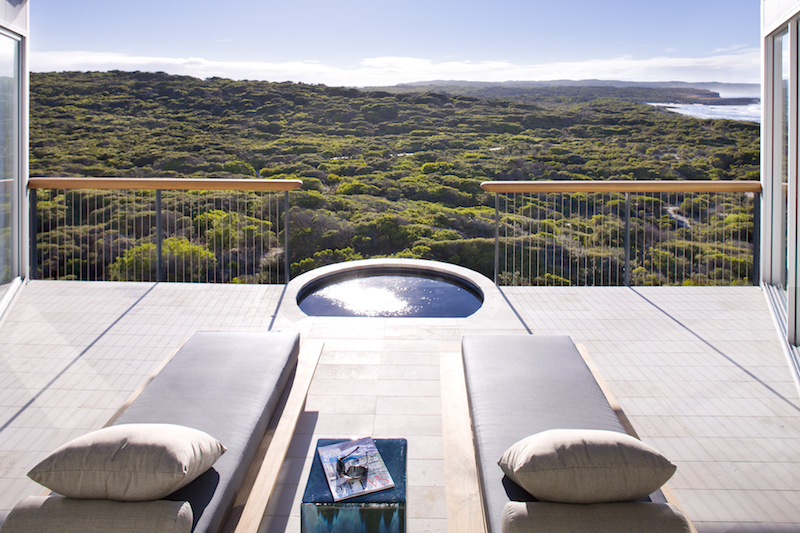 Osprey Pavilion Terrace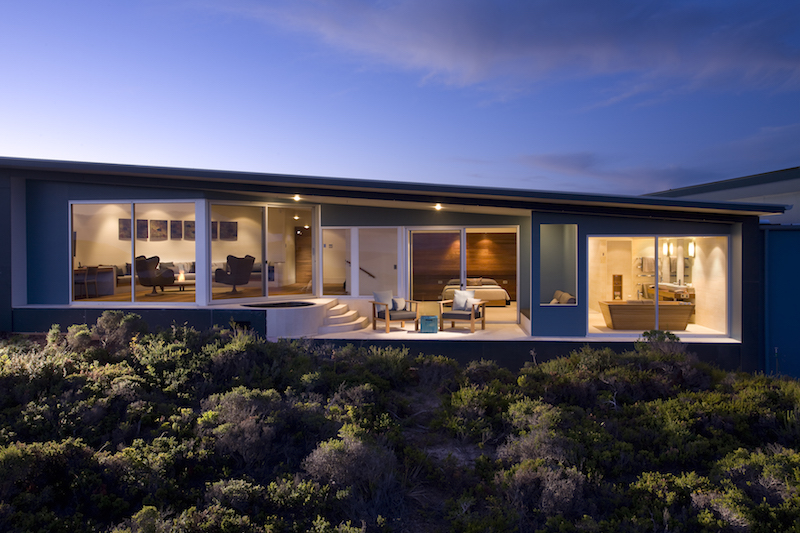 Remarkable Suite
The Great Room and Dining Experience
The lodge really wants you to feel at home therefore the Great Room, perfect for relaxation with an abundance of cushy seating areas—don't even get me started on the magnificent views seen from every square inch! My favorite part of the day is hanging out before dinner for wine and appetizers where you can help yourself to a drink from the varied bar.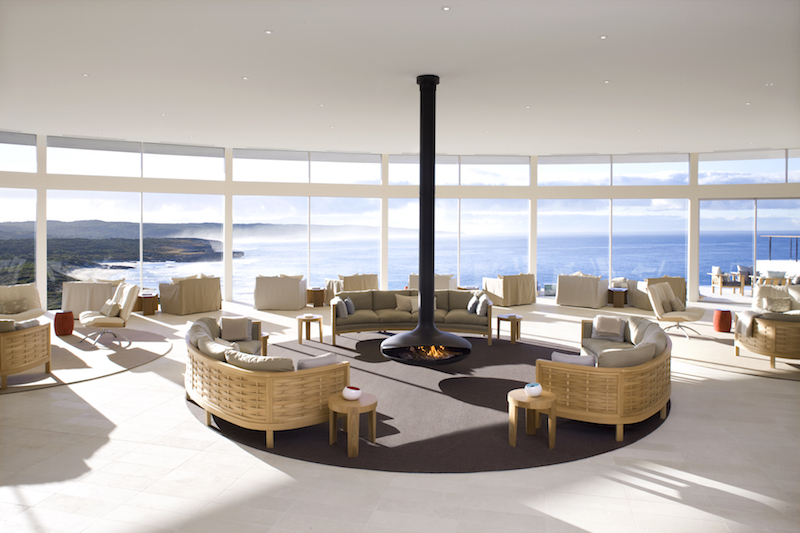 Great Room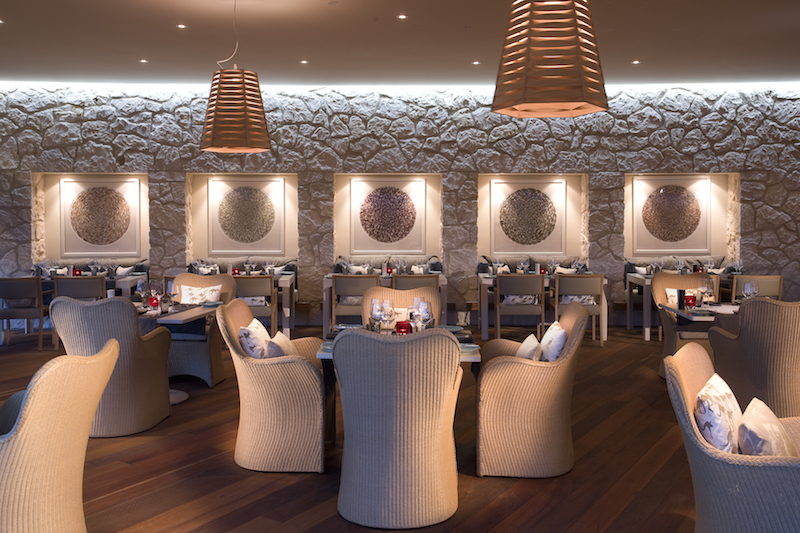 Restaurant
Dining here is an event with a "produce to plate" approach. Healthy and fresh with menus changing daily according to what is available locally, grain-fed and free-range are the norm at all meals. At breakfast I was quickly hooked on the delicious yogurt topped with the house-roasted granola and a bit of the local honey. Add to that the free-range bacon and sausages, the fresh local eggs with bright yellow yolks, and the Southern Ocean smoked salmon, and you have the makings of one fantastic way to start your day. Dinner is a multi-course affair with your choice for each course; or choose from the chef's tasting menu for a bit of adventure. Served with meals is a nice choice of both Kangaroo and South Australian wines and beers with a cellarmaster list available for an additional charge. Or visit the wine cellar and pick a bottle yourself to bring to the table. The only thing lacking is perhaps more experienced waitstaff—always friendly, but not always the most efficient. While, compared to the hiking gear worn during the daytime excursions, guest dress up a bit for dinner, but do expect a relaxed atmosphere with comfortable clothing more than acceptable.
So short was my visit that I never had the chance to make it to the spa, but if here for any length of time plan for a treatment, many using Aboriginal medicines and ancient rituals as well as Kangaroo Island Bay of Shoals mineral salts.
I invite you to join me on Facebook and Twitter.
Let Us Help You in Planning an Extraordinary Luxury Vacation!
Our expert travel advisors at GSC World Travel will plan a fabulous vacation to the places I write about and more. Your luxury Travel Advisor will work with you to create the perfectly planned trip of a lifetime, making sure that nothing is left to chance.
Please submit a Consultation Request to begin..
---