South Africa Adventure Part III, Singita Boulders Lodge
Singita Boulders and Singita Ebony (Singita's very first lodge) are hands down the best experience possible in Africa. I can't begin to tell you how fabulous this place really is. Just a 10-minute drive between the two properties, both are equally spectacular in their own ways. While I can't fault a thing with either, I tend to prefer the accommodations more at Boulders and the public areas at Ebony. And, better yet, both Boulders and Ebony are fresh off a complete renovation and looking stunning.
Our Arrival
We flew between Singita Lebombo in Krueger National Park to Singita Boulders, a privately owned reserve within the Sabi Sand Reserve, in a Piper Cub. Yikes! I couldn't believe when I walked out on the runway at Lebombo and saw this tiny plane waiting for me. But I soon learned that in this part of South Africa you can literally land just about anywhere in case of an emergency so my fears quickly dissipated. We were once again met by a staff member at the Singita airstrip—this time it was our guide and tracker who greeted us—and within 5 minutes we spotted a leopard on the way to the Lodge. Unbelievable!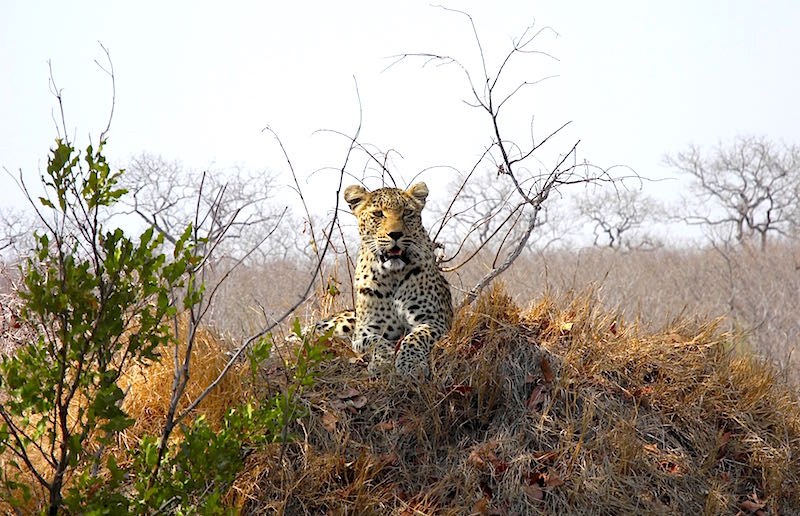 The Setting
My first site of Boulders blew me away. The sound of running water and a cooling pond greets you as you walk into the lobby area. And once again several staff members were on hand to initiate you into the splendors of this opulent place.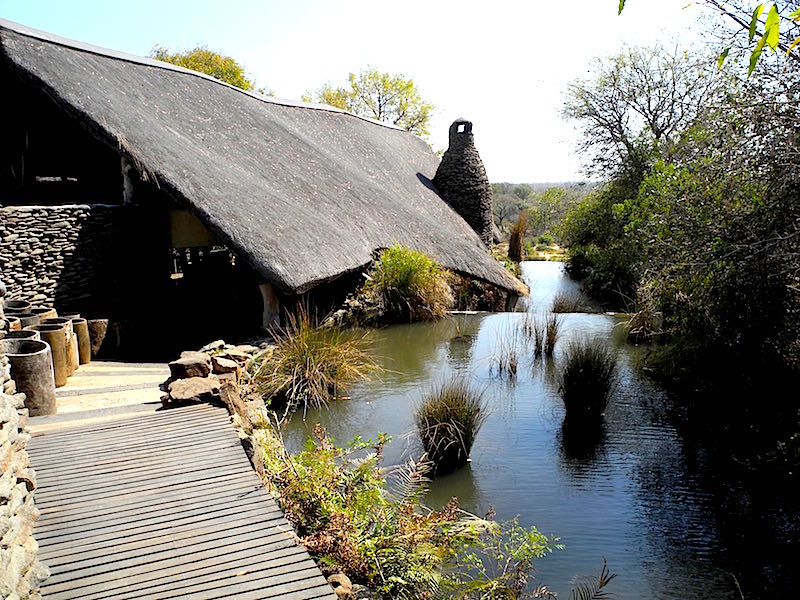 Our Suite
And can we talk about the suites? A gorgeous living room with a double-sided rock fireplace and lofty thatch ceiling just begs you to stay indoors while the adjoining bedroom with its gauzy mosquito-netted king bed, desk composed of a fossilized tree stump, and soft sheepskin throw pillows has an equal pull.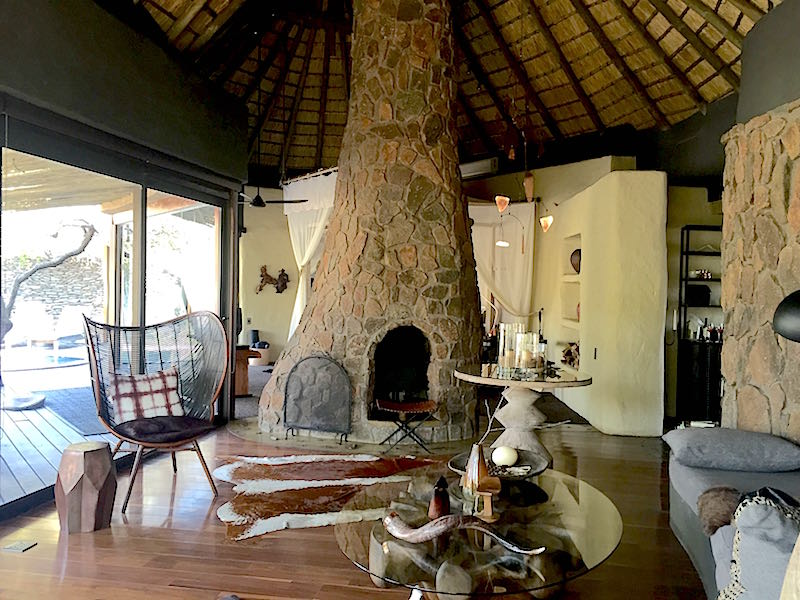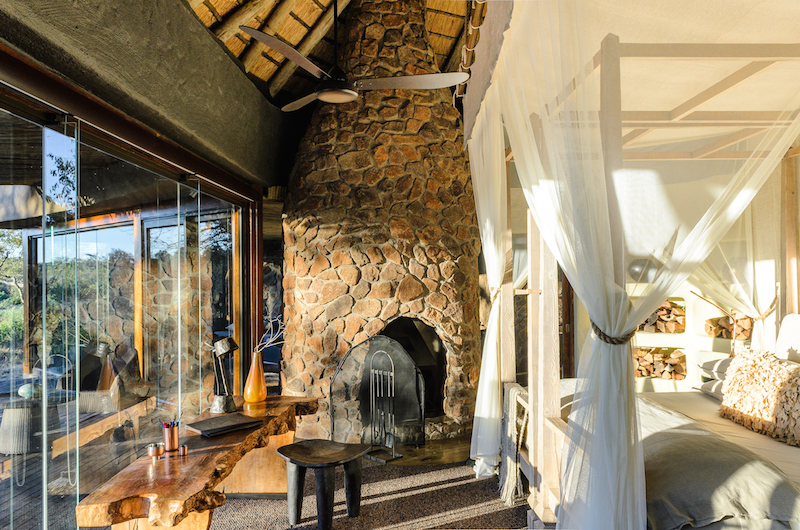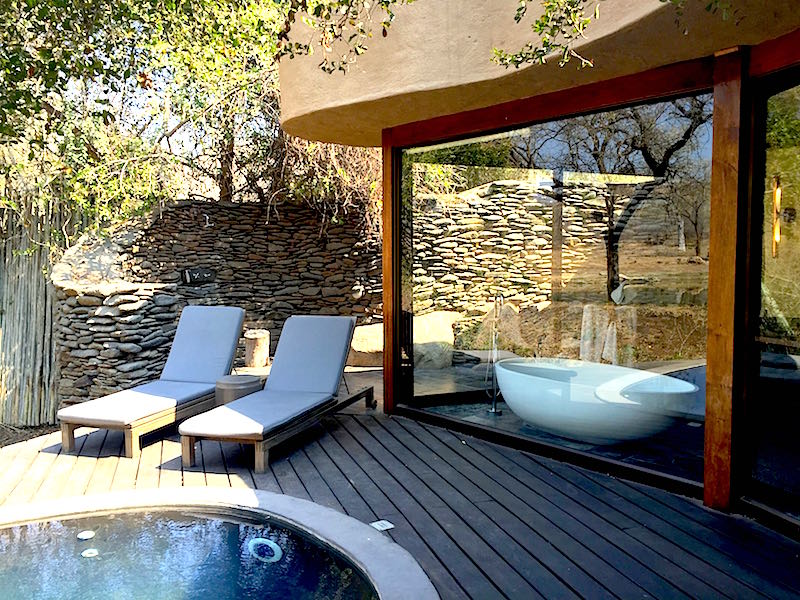 But then there's the glassed bathroom with stone slab vanities and a luxurious soaking tub, and just outside a rock shower. All overlook your deck with its private heated plunge pool and a view of a watering hole where all sorts of wildlife love to gather.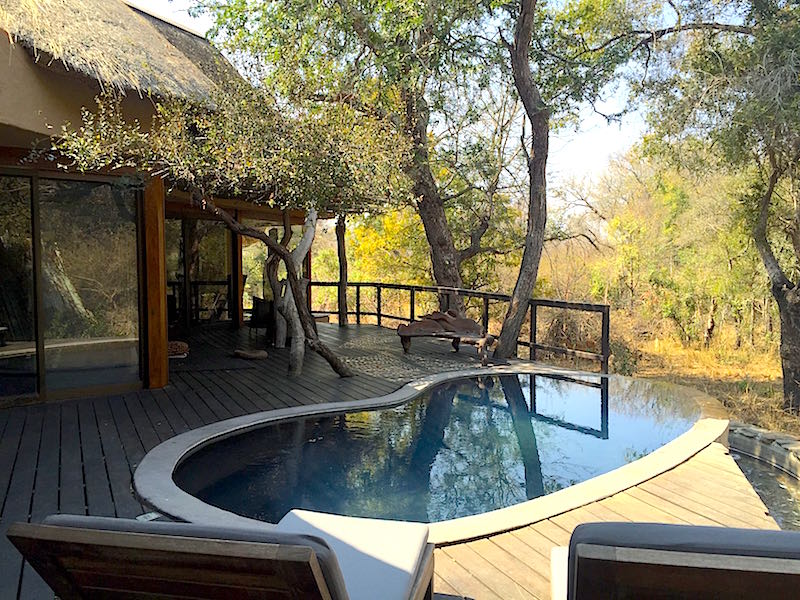 All but two of the twelve suites overlook the Sand River, and at first I was disappointed by our location, but I came to love our private world and each morning and evening it was a thrill to see what creature might visit us. And true to Singita policy, no in-suite TV to break the wonderful silence. Gotta love it!
Over-the-Top Dining and Drinks
The lobby/bar area is so welcoming. Overlooking the river filled with massive boulders (thus the name of the lodge) you'll be drawn to the firepit lit nightly on the deck, perfect for warming up the sometimes cool evenings.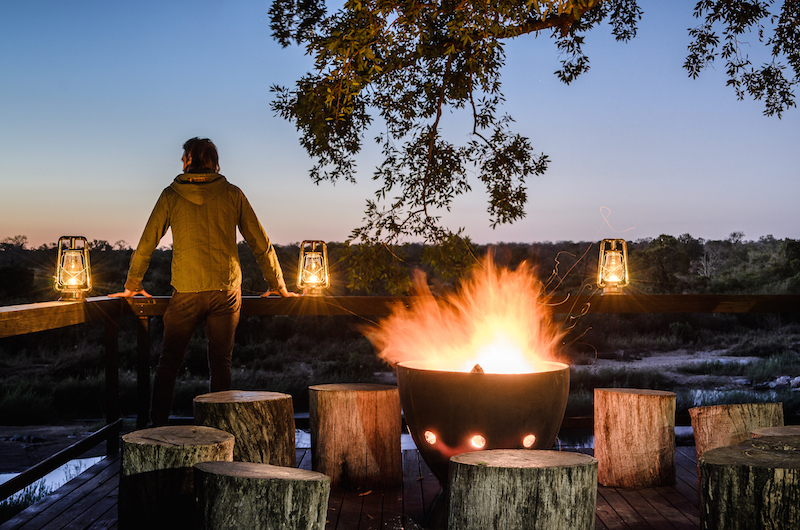 The multi-level outdoor dining terrace (watch out for the monkeys that love to drop down and steal your bread) also overlooks the river.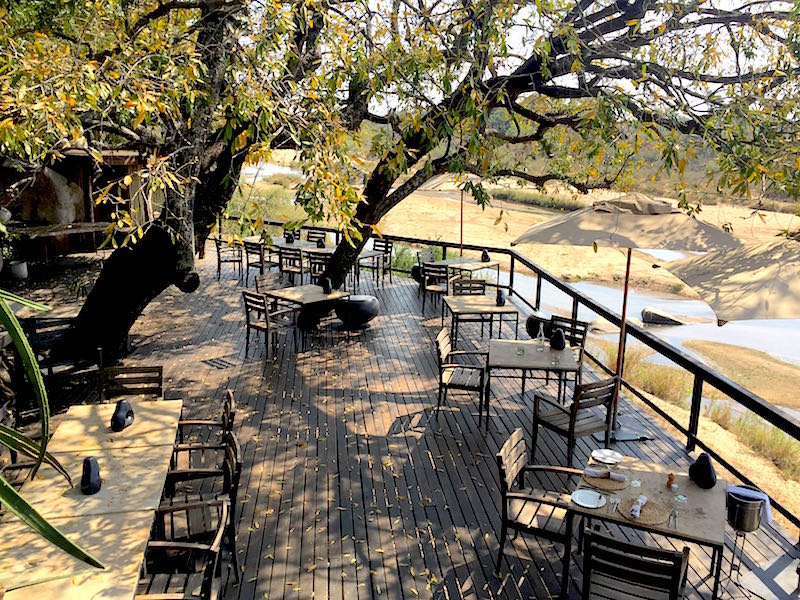 And in cooler weather a handsome indoor dining room is the alternative. Here serving us was the impressionable Gift, who mothered and fussed over us all.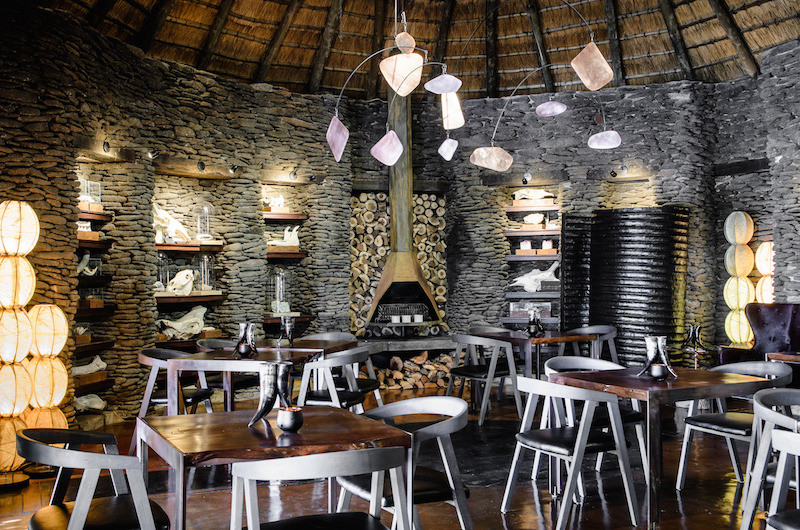 One thing different was that instead of dining out in the bush, at Boulders you dine under the stars in a boma, an enclosure surrounded by branches, where there is a massive fire and candlelit tables with a magnificent spread of goodies. The entertainment by the staff is memorable and really seals the deal to a perfect evening.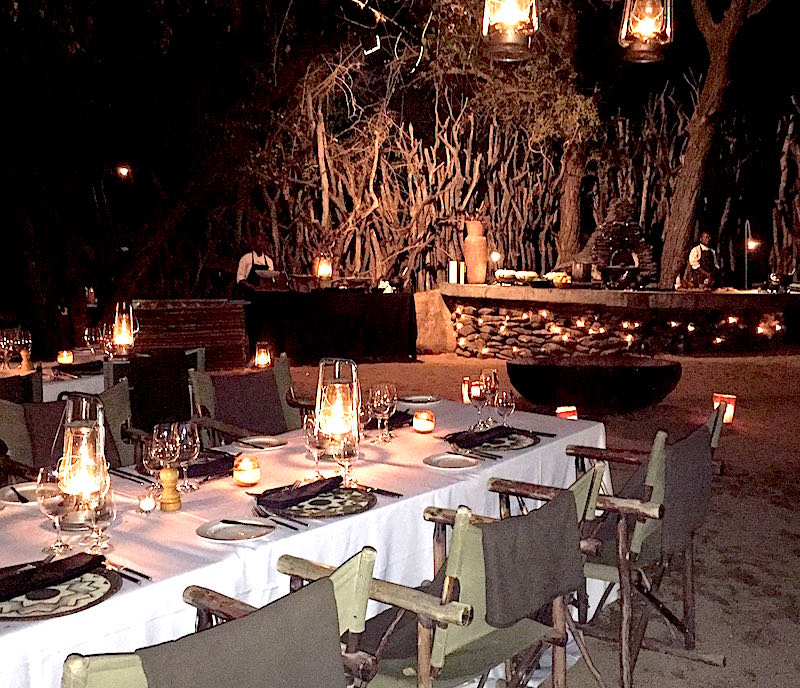 Daily Activities
The same structure applies to your game drives here as at Lebombo (see Part II, Singita Lebombo Lodge), morning and evening, but this reserve is quite a bit smaller so a totally different feel. What you come to Sabi Sand to see are the big cats, and big cats we definitely encountered, even two days of watching lions devour a water buffalo. Missed the kill, but some of our fellows guests did get to see it. All this along with the rest of the Big Five and much more. Once again we had the place to ourselves except for the guests at Ebony, so driving for long stretches without another vehicle in sight is quite common.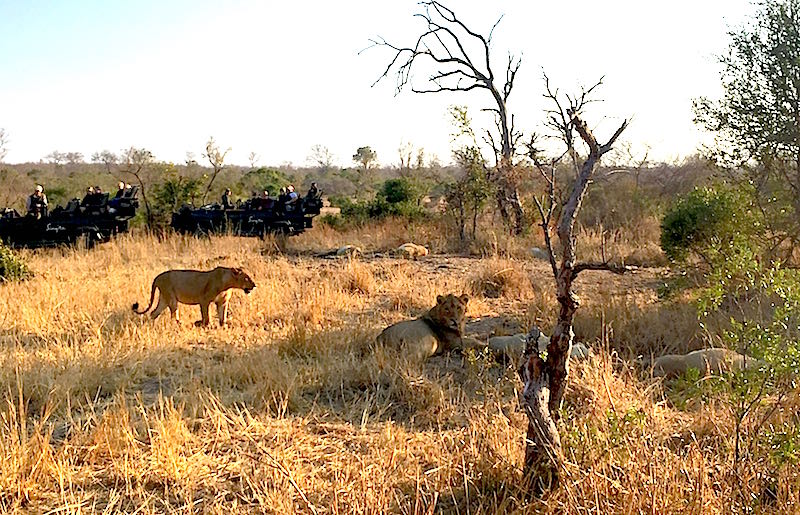 We opted for a walking safari led by our guide one afternoon. Picture a young, very attractive women weighing under 120 pounds leading us through the bush, rifle in hand. This gal was something! Not for one minute did I feel unprotected but I was seriously glad when we didn't encounter anything more than termite mounds.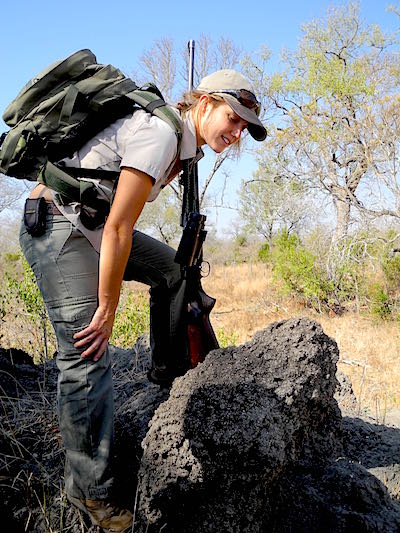 Guest often ask why they must be escorted after dark to their room. To prove the point I heard a great story. We were having breakfast our last morning before departing for Cape Town when a couple dropped by our table itching to talk. The wife was sitting outside around their private pool that morning when low and behold, a leopard dropped down from the rooftop, landing for a split second by her lounge chair and was gone in a flash. I asked her if she had been afraid for her life, and she replied that she didn't have time to even react since it happened so quickly. I was later told by a staff member that these animals are so used to living on the reserve they seem to know their boundaries once inside the hotel compound.
Boulder's Neighbor - Singita Ebony Lodge
I couldn't leave without a peak at the infamous Singita Ebony Lodge, and one of the staff was gracious enough to drive us over and show us around. Wow! Take a gander at these photos—seriously spectacular lobby and dining areas. The suites have been enlarged and renovated and were absolutely lovely, but just not as dramatic as those at Boulders. So like I said before, it really is a tossup between the two. I'm sure you would be thrilled with either place.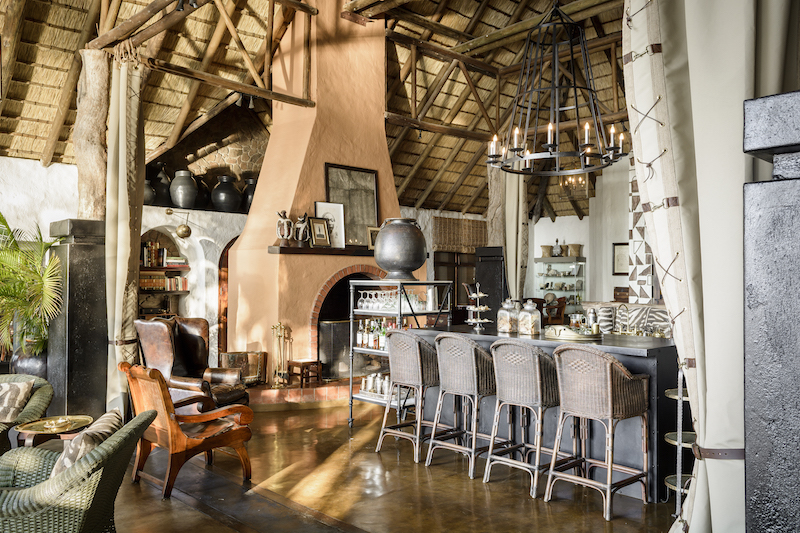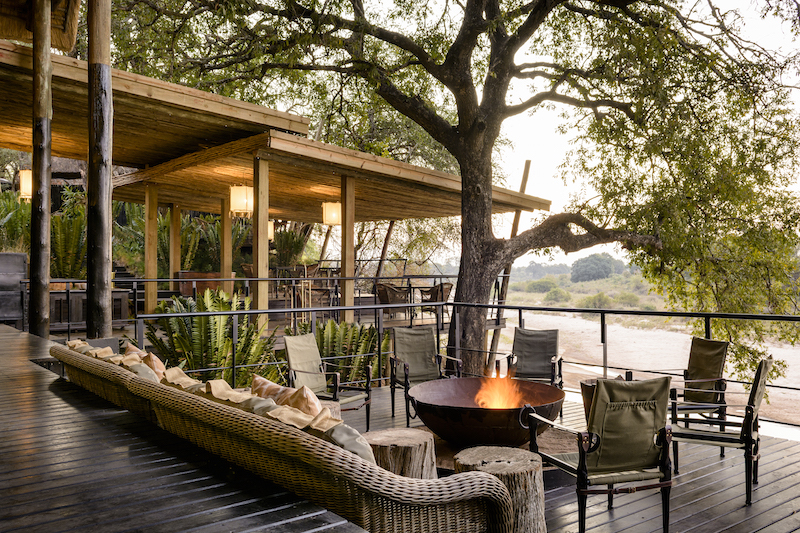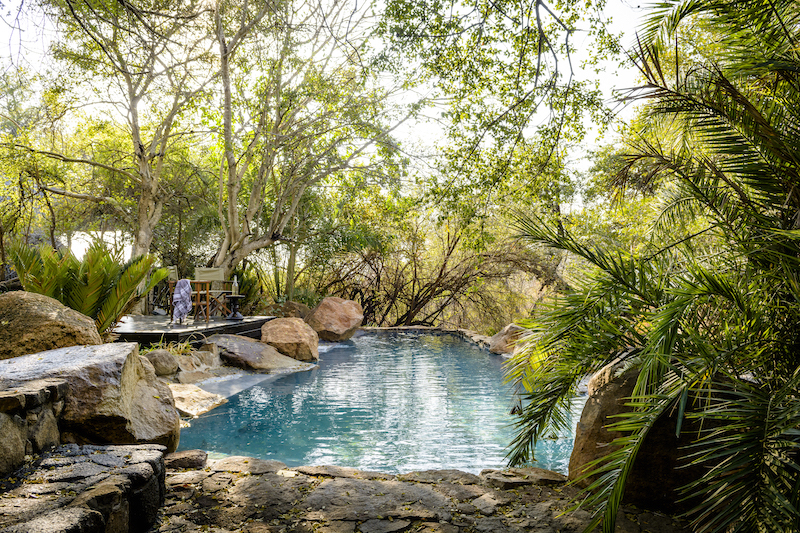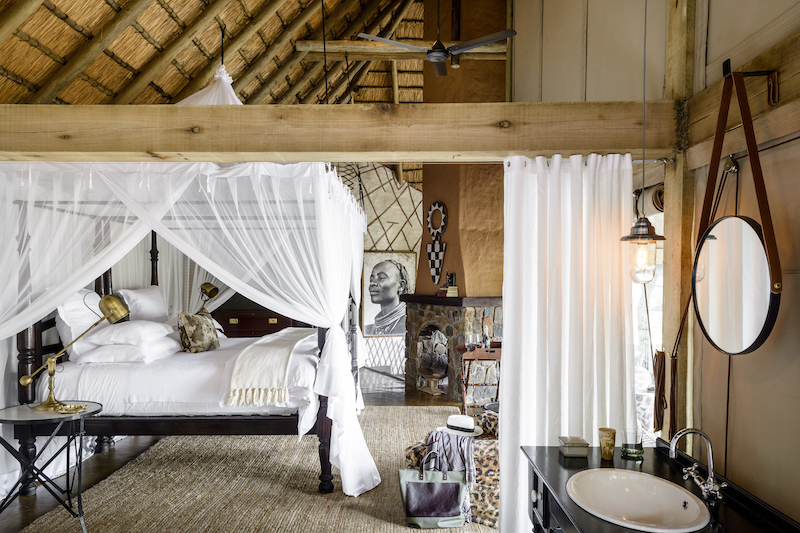 I invite you to join me on Facebook and Twitter.
Let Us Help You in Planning an Extraordinary Luxury Vacation!
Our expert travel advisors at GSC World Travel will plan a fabulous vacation to the places I write about and more. Your luxury Travel Advisor will work with you to create the perfectly planned trip of a lifetime, making sure that nothing is left to chance.
Please submit a Consultation Request to begin.
---