Silver Muse: Alluring Lounges and Public Spaces
On all luxury cruise ships, public spaces are of the utmost importance since they are the places you'll spend much of your waking hours, particularly on sea days. And Silver Muse does not in any way disappoint. What I love about luxury cruising is the enhanced space ratio per passenger, or, in other words, how much space is shared between the passengers. Onboard Silversea you will rarely experience any sort of crowd, won't find yourself searching for a table or lounge chair or waiting in line. From the lounges to the pool deck, the spa, and outdoor areas, it's a wonderful feeling of peace and relaxation.
Let's talk lounges. For me, they make or break a cruise. I love a ship that offers plenty of seating in their bars with personable waiters who know you by name after your first visit and even remember what you like to drink. Take Moses, our favorite waiter in Dolce Vita. When he saw us arrive each evening he immediately made me his special version of a true Mexican-style margarita, and, for my husband, his favorite ginger martini, something not even available on the cocktail list.
Here are some of the best bar choices onboard:
Dolce Vita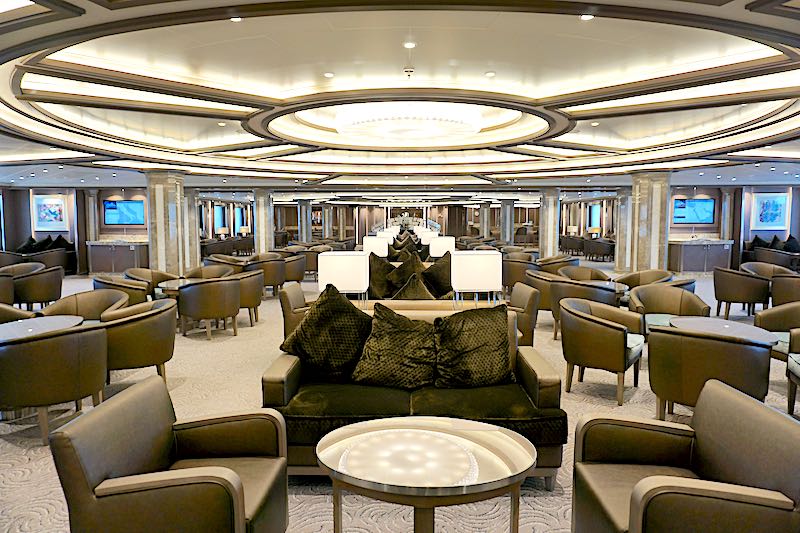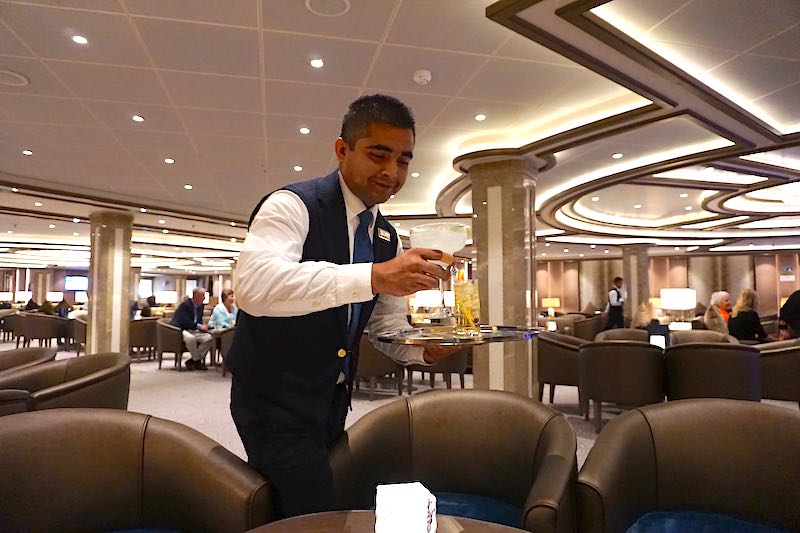 What used to be The Bar on other Silversea ships is now Dolce Vita on the the Muse. It's really the heart of the ship where you'll not only find an expansive bar area but also the reception and shore excursion desk. I have to say I do miss the intimate feel of the old Bar—Dolce Vita seems just a bit too sprawling and overwhelming. During the evening hours entertainment switches between a pianist and a guitarist who oftentimes collaborate for enchanting entertainment.
Connoisseur's Corner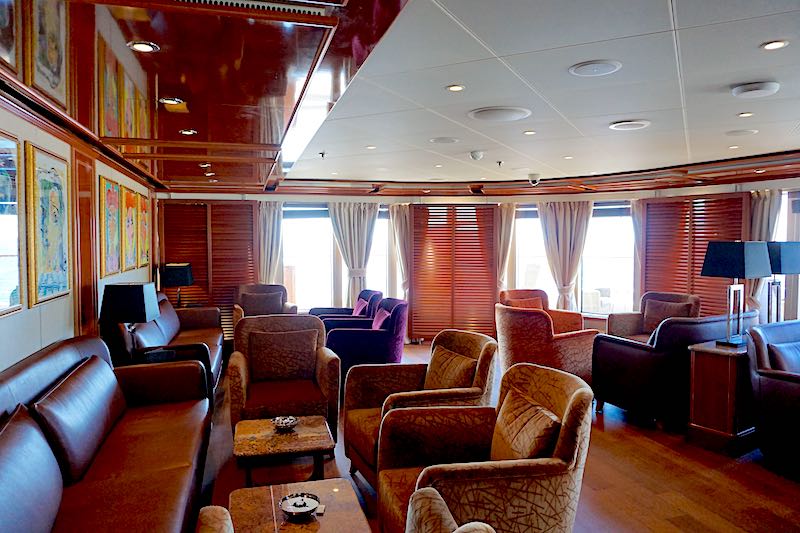 This indoor/outdoor, masculine hideaway is a favorite of those who like to indulge in a nice cigar and glass of cognac. I know it's one place I most assuredly find my husband when he goes missing. While the wait staff is only on hand after 9 PM, you can pick up a drink at anytime next-door at Arts Café.
Panorama Lounge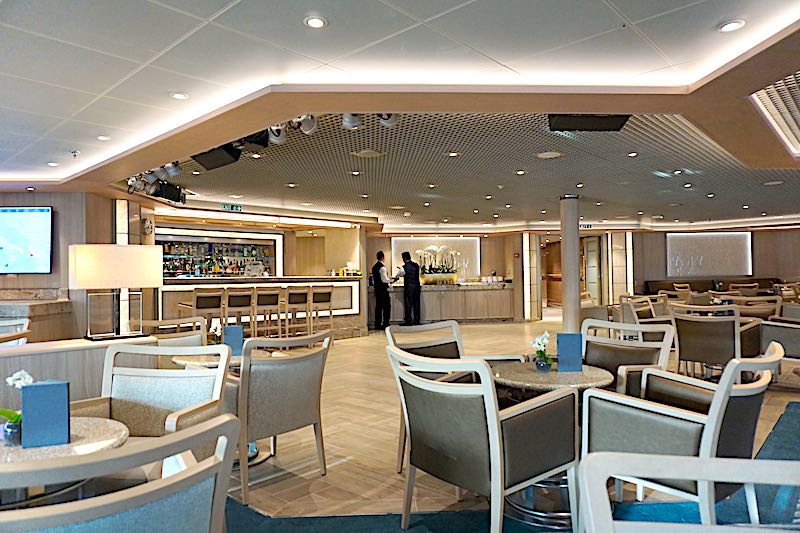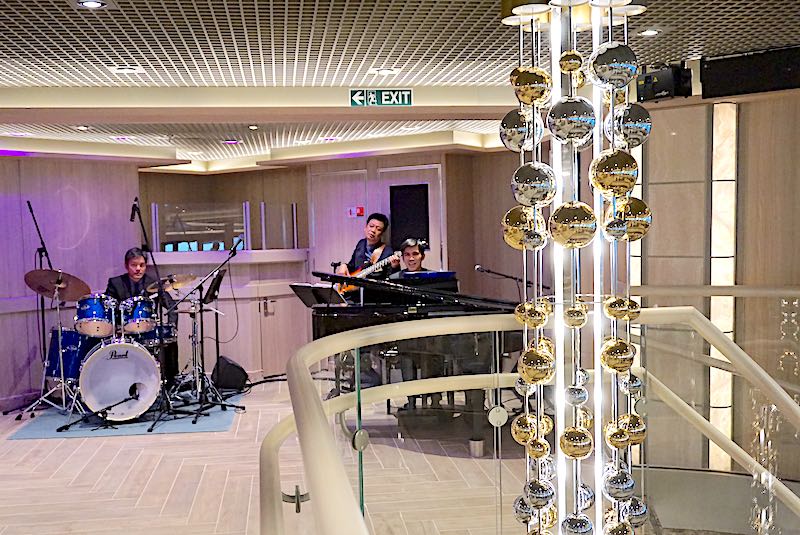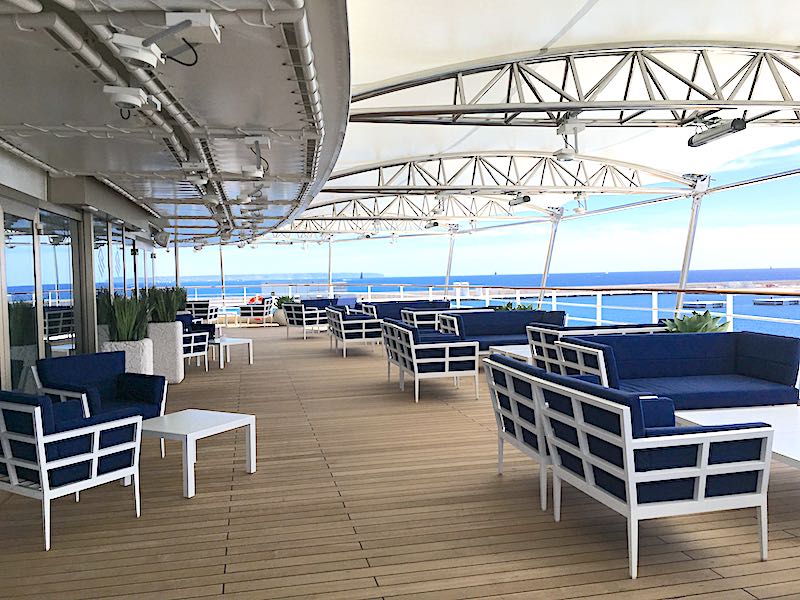 This is my idea of a perfect retreat from morning until night, a place where I like to bring along a book to enjoy with a nice café latte in the morning or a glass of wine in the afternoon. Offering both indoor and outdoor seating, from the lounge's expansive windows you can enjoy your ocean surroundings while being waited on hand and foot. Before dinner a contemporary trio entertains along with martinis and cocktails, and after dinner the place is rockin' since it's usually disco time with the ship's DJ.
Tor's Observation Library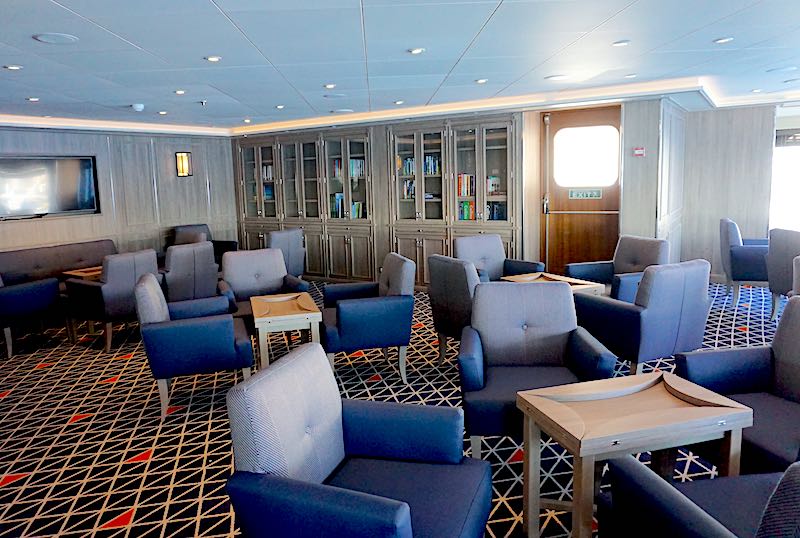 The underappreciated Observation Lounge on other Silversea ships finally has a better use onboard the Muse. Here it's a library/reading room/bar (the bar is staffed only in the evening hours) with superb views to boot. Found on the tip-top of the ship on Deck 11, its location tucked away with all the Silver Suites makes it a hidden gem. Better yet, the place is usually a bit deserted except for those times when it's used for private receptions during which you may have to share the space with a rowdier crowd. My only complaint is the paltry selection of books in the library, but hopefully this will be remedied as the ship continues to sail (remember I sailed on the inauguration cruise).
Atlantide Bar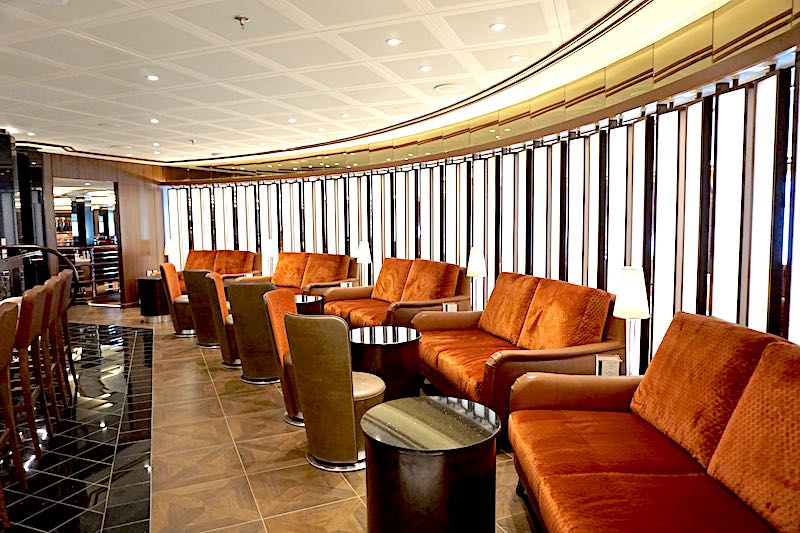 You don't need to dine at Atlantide restaurant to enjoy a quiet pre- or after-dinner drink here. And oftentimes it seems almost empty.
Silver Note Bar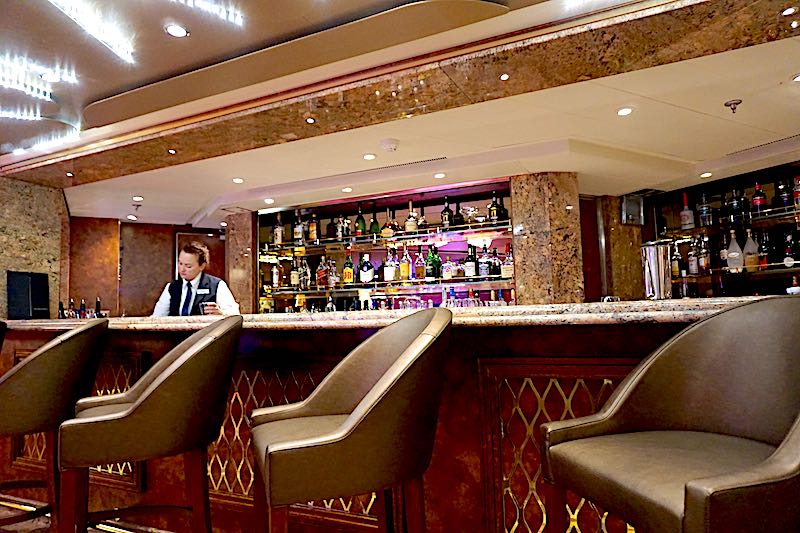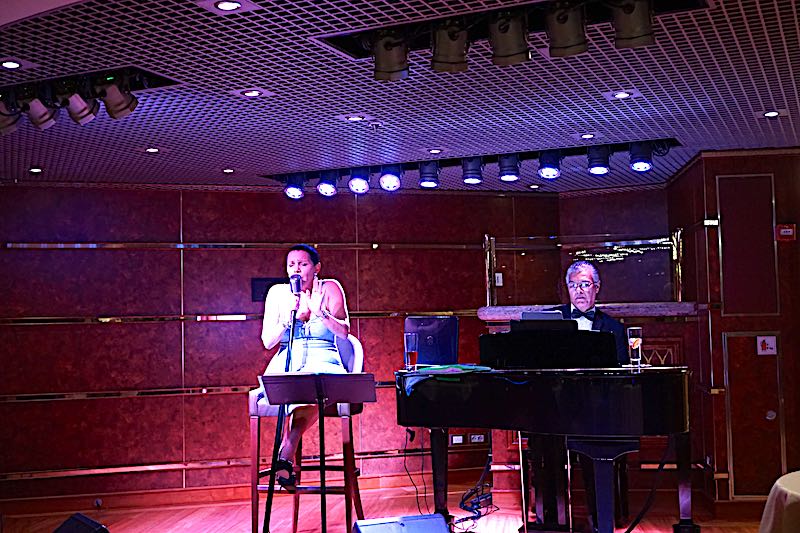 For my favorite entertainment that just happens to include dinner, the Silver Note features Peruvian fusion cuisine and a remarkable jazz duo, Twice as Nice. During dinner the only seats available for the show are at the bar but after 10 PM or so, stop in and grab one of the empty dining tables, sit back, and enjoy. Hands down this is my favorite after-dinner activity.
And for the rest of the public areas onboard the Muse . . .
Venetian Lounge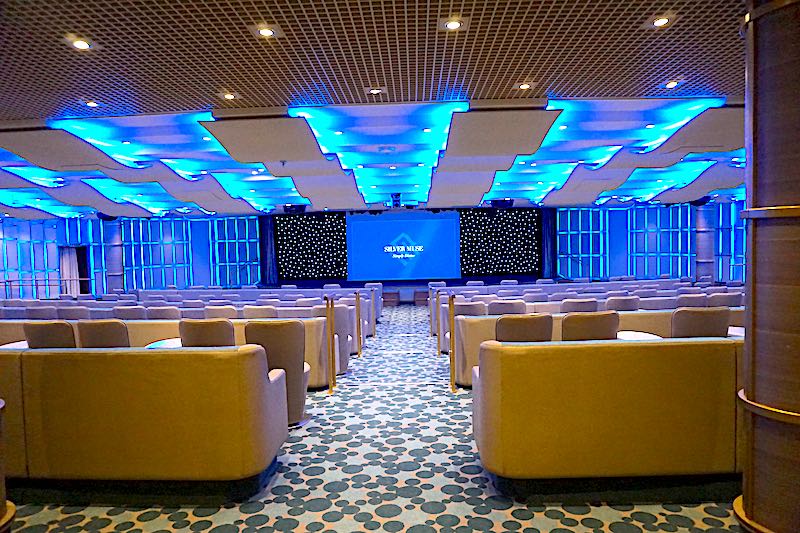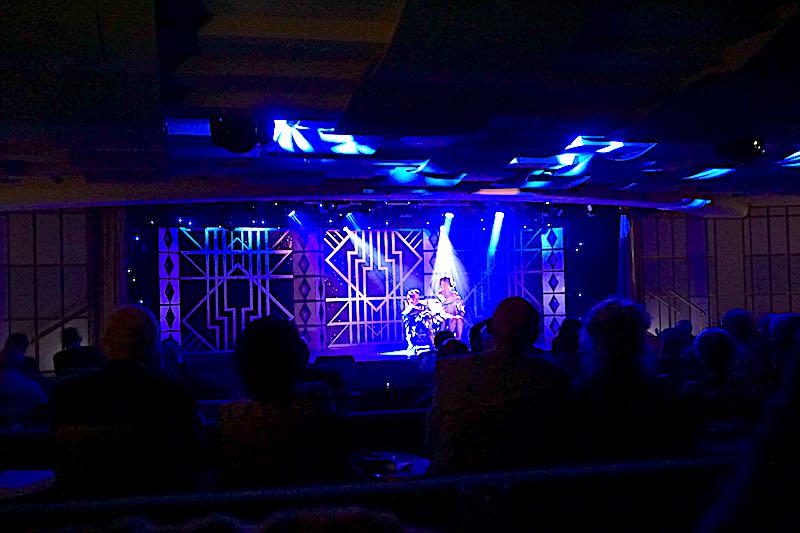 Here is where you'll attend enrichment lectures by day and ship stage productions (presented by The Voices of Silversea) and special entertainment by night. Cabaret-style, tiered seating in the form of comfortable chairs and banquettes is interspersed with plenty of cocktail tables. While the productions aren't exactly what I would describe as Broadway caliber they are enjoyable, and there is a nice passenger turnout for them. My problem is deciding between here and the Silver Note with the Silver Note usually winning out.
Zagara Spa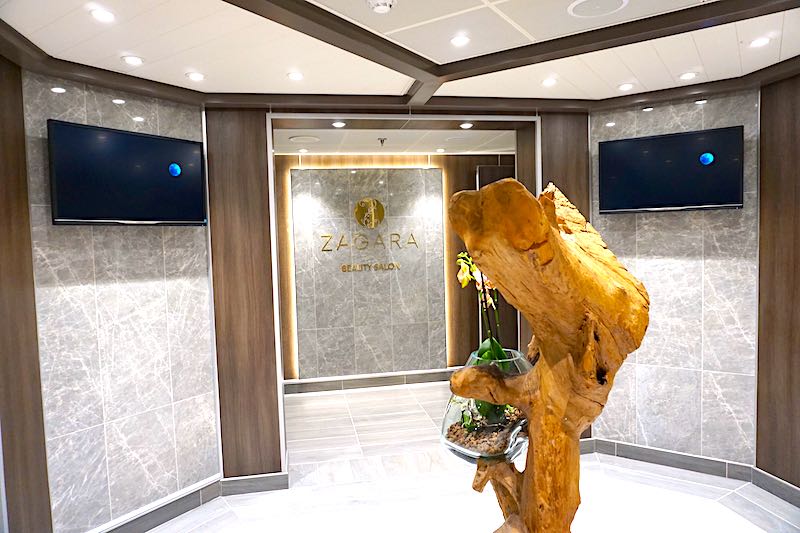 Nine treatment rooms, an acupuncture suite, a relaxation area, and spa outdoor whirlpool is certainly a welcome retreat at the ship's spa. It is a bit low-keyed compared to some of the other luxury ships, so don't expect too much glitz and glamour. However, you will enjoy the nice range of BIOTEC facials, body wraps and massages, even a Amethyst Crystal Sound Bath Healing Treatment, or maybe the ELEMIS Thousand Flower Detox Wrap.
In the nearby fitness area you'll find Technogym equipment and free weights as well as a classroom space offering yoga, body conditioning, Fab Abs, Sculpt Boot Camp, and more. Personal trainers are on hand for individual sessions. Best of all, men and women's saunas and steam rooms are open to all guests so, if you are smart, you'll take full advantage of this nice benefit.
Art's Café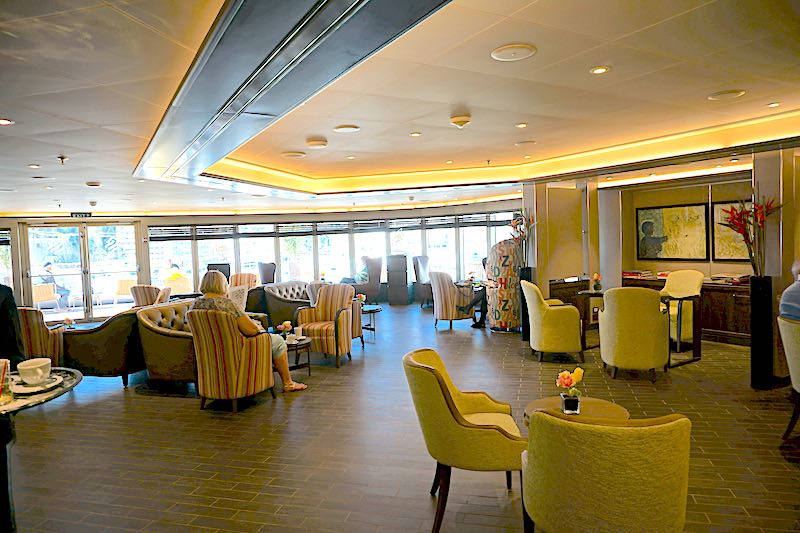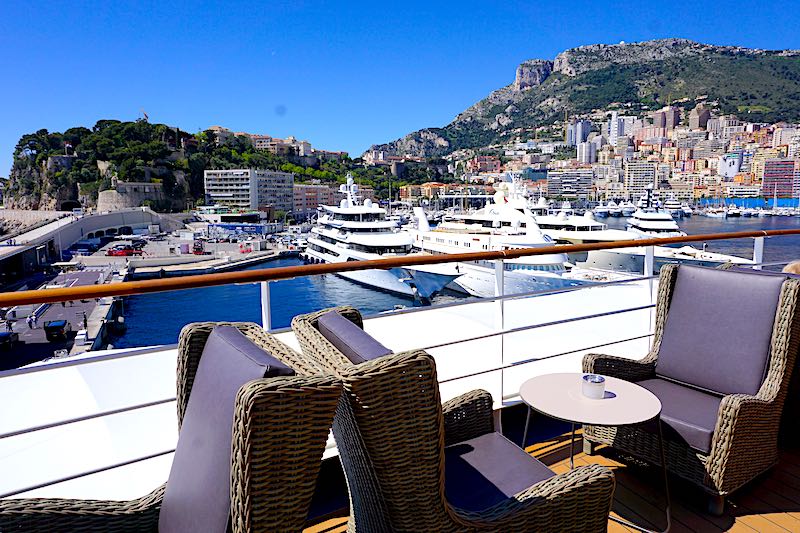 A new concept on the Silver Muse, this café/deli/bar offers specialty coffees, a light breakfast, afternoon tea, wine, and more. Personally I prefer to have tea in the Panorama Lounge (offered on other Silversea ships), but this works fine and has proven to be quite popular. Even better is the back deck, a perfect place for cocktails during sail away or sunset.
I invite you to join me on Facebook and Twitter.
Let Us Help You in Planning an Extraordinary Luxury Vacation!
Our expert travel advisors at GSC World Travel will plan a fabulous vacation to the places I write about and more. Your luxury Travel Advisor will work with you to create the perfectly planned trip of a lifetime, making sure that nothing is left to chance.
Please submit a Consultation Request to begin.
---