Looking for a Super Yoga Program on Your Luxury Vacation?
Yoga has evolved over the years from a "far out" activity of New Agers to an integral part of mainstream exercise routines. Those that enjoy their practice and want to focus on personal health and wellbeing while on a luxury vacation are in luck. Many 5-star resorts offer a variety of yoga classes, some with their own yoga studio and resident yoga practitioner. And better yet you'll return home feeling totally re-energized. Isn't that what a great vacation is for?
Four Seasons Resort Bali At Sayan, Ubud
Set in the island of Bali's central highlands minutes from Ubud is this lush paradise. The resort features a wellness program of life talks, meditation, and yoga, all taking place in the resort's riverside Dharma Shanti bale, a sanctuary for private classes, group sessions, and quiet introspection. Complimentary are Sunrise Yoga, Sunset Yoga, Easy Yoga, Hatha, and Laughter Yoga (combines the freedom and health benefits of laughter with yogic breathing and asanas). In addition, such classes as Antigravity Yoga—a 'flying' practice that combines athletic strength with the motion of dance—and Power Yoga in both group and private classes are available for a fee.
Check the schedule for visiting expert practitioners in residence in 2017 to supplement the resort's existing yoga classes, and have your travel advisor schedule your trip to coincide with one of these temporary additions.
Parrot Cay by COMO, Turks and Caicos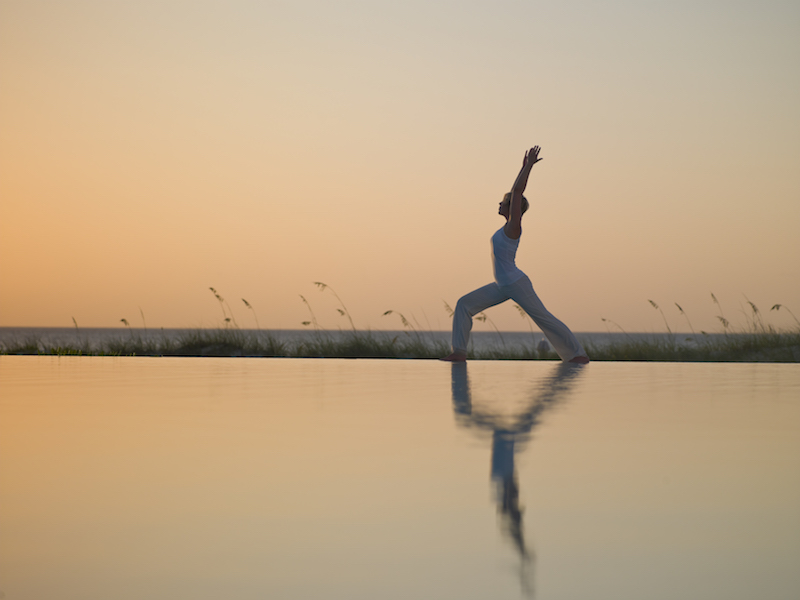 Photo courtesy of Parrot Cay by COMO
Set on it's own private island, Parrot Cay by COMO offer 1,000 unspoiled acres, a mile-long beach, and luxury accommodations ranging from a 618 square foot room and one-, two, and three-bedroom villas, to The Sanctuary, an 8,947 square feet main house along with two four-bedroom guest villas. At the resort's COMO Shambhala Retreat, holistic approaches to physical wellbeing and spiritual balance include a yoga pavilion aired by natural breezes overlooking the North Caicos Channel and the surrounding wetlands. On offer are regular group classes, private instruction, and multi-day yoga retreats with renowned guest teachers. Complimentary yoga and Pilates classes are on tap six days a week with private sessions arranged for a fee.
Four Seasons Resort Lanai, Hawaii
After an 8-month closure and millions of dollars in renovations in guest rooms and suites, restaurants, pool, and shops, this has become one of the most sought-after resorts in Hawaii. And with no stop lights, fast food chain stores or malls, the island of Lanai is the ideal location to relax and connect mind, body and spirit. With the ocean as your background, enjoy group and private yoga classes spanning a variety of yoga disciplines. The resort's Yogi, Rajanish Govind, provides private and group yoga instruction, yoga therapy, pregnancy yoga, lectures on yoga philosophy and more. The list of complimentary classes include Sunrise, Sunset, Ashtanga, Vinyasa, Aqua, and Beginner's Yoga, all offered in the resort's Movement Studio.
Enchantment Resort, Sedona, Arizona
Nestled within vermillion-colored rock formations in the rugged beauty of the Southwest, this 5-star resort offers over 100 activities with something for every passion. In addition to a world-class spa, Mii amo, and luxurious accommodations, there are hiking adventures, vortex lectures, Native American teachings, stargazing, and more.
Complimentary at least once a day in the resort's Movement Studio are yoga classes such as Full Spectrum Yoga (flows, meditation, and breathing techiques), All Ages Yoga (great for families), Restorative Yoga, Vinyasa Yoga, and Chakra Yoga (learn to create more energy in your chakra centers), even Woga which combines walking and yoga in motion.
Nihiwatu, Sumba Island, Indonesia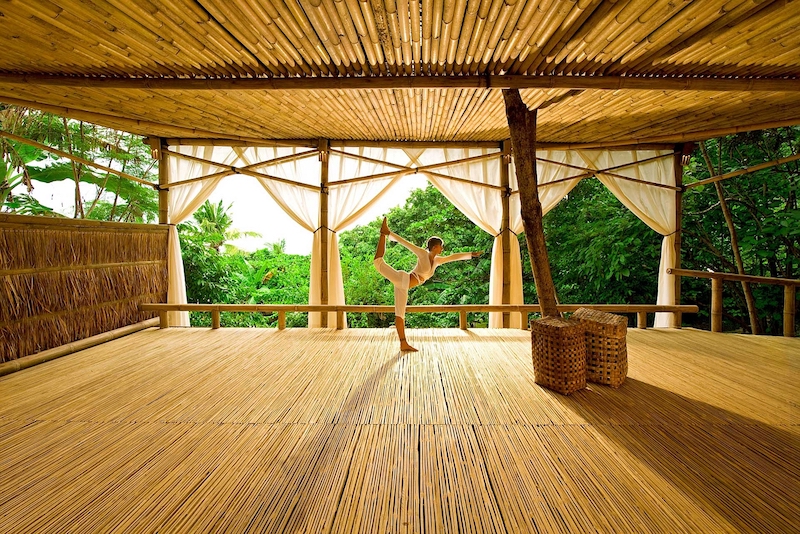 Photo courtesy of Nihiwatu

On the remote island of Sumba in southeastern Indonesia is this one-of-a-kind resort whose focus is on understated luxury, world-class surfing, a thriving marine ecosystem for fishing or diving, and the opportunity to reconnect with a life lived simply, healthfully, and mindfully.
The resort's 360-degree yoga pavilion, set atop the ridge of the resort on an open-air platform with super ocean views, offers seven different group yoga classes—from Ashtanga to Surfer's Stretch yoga, Restorative to Kindalini, and more.
Aqualina Resort & Spa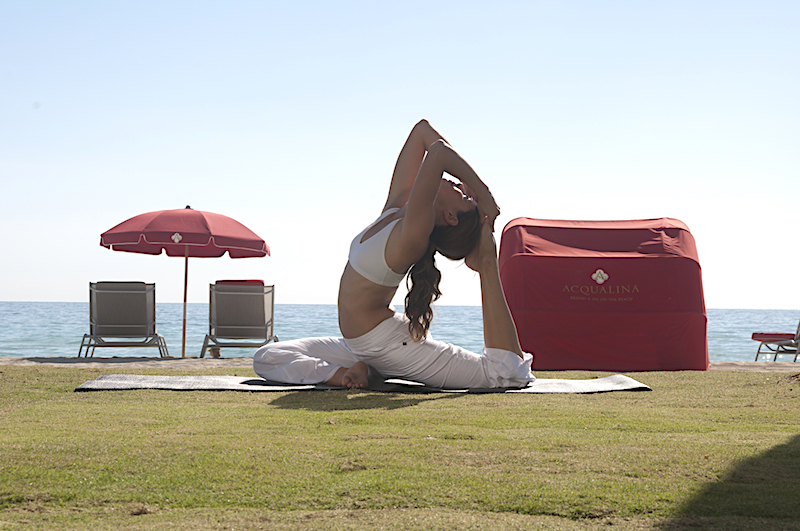 Photo courtesy of Aqualina Resort & Spa
Acqualina Resort & Spa, a beachfront luxury haven in pristine Sunny Isles Beach, Florida, is a place where the charm of a Mediterranean villa meets elegance on the beach. The resort features 98 luxury guest rooms and suites with views of Atlantic Ocean. Acqualina Spa by ESPA, the first ESPA-branded spa in the United States, provides guests with an exquisite 20,000-square-foot, two-story tranquil sanctuary set against the gorgeous backdrop of the Atlantic Ocean.
YOGiiZA offers comprehensive wellness and fitness services to hotel guests by a team of seasoned yoginis and wellness gurus. On offer are such fee-based programs as YOGiiZA Beachfront Yoga Flow, Iyengar Yoga, Ashtanga Yoga, Restorative Yoga, Partner Yoga, Thai Yoga Body Work, "The Way of the Warrior" Yoga (an integral system of mind and body organization which combines yoga, martial arts and mediation), and Yoga for the Senses (a unique sensory experience which includes gentle movement combined with breath as the aroma of Lavender and Sage fills the room with sounds of crystal singing bowls), even Yoga Philosophy with discussion on the yoga sutras and pranayama.
I invite you to join me on Facebook and Twitter.
Let Us Help You in Planning an Extraordinary Luxury Vacation!
Our expert travel advisors at GSC World Travel will plan a fabulous vacation to the places I write about and more. Your luxury Travel Advisor will work with you to create the perfectly planned trip of a lifetime, making sure that nothing is left to chance.
Please submit a Consultation Request to begin.
---