Great Cuisine: Capa at Four Seasons Resort Orlando
Billed as a contemporary Spanish steakhouse, the commendable Capa at the Four Seasons Resort Orlando at Walt Disney World Resort® is one hopping and happening place. Decorated in a palette of black, grey, and crimson, bullfighting is the theme here with displays of matador costumes and even an overhead fixture, reminiscent of a flowing, ruby red matador cape, covering the length of one dining area.
The Ambience
Come early for sunset or stay late for fireworks at the restaurant's outdoor terrace lounge along with incredible views of the surrounding environs including Cinderella Castle and Spaceship Earth from the Four Seasons' Orlando's 17th floor rooftop perch.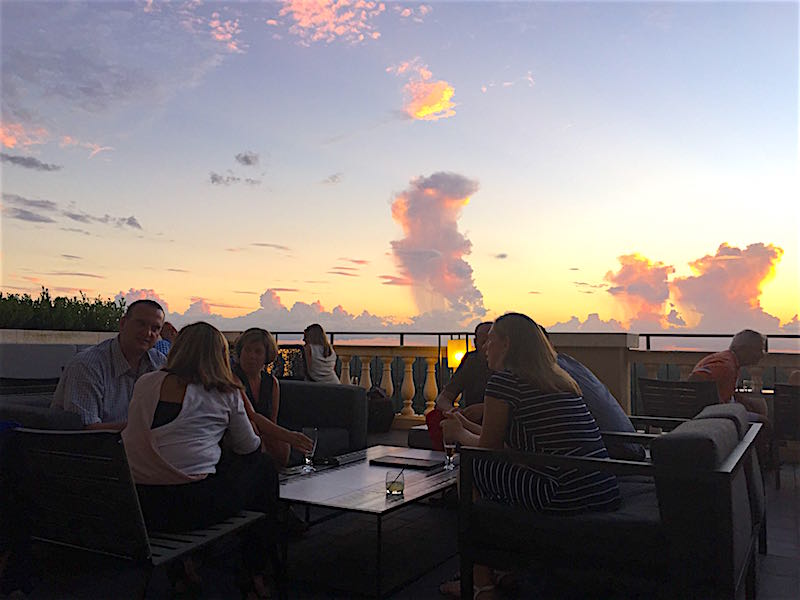 One thing . . . even though it's on Disney property, don't even think of showing up in park clothes; dress here is definitely ratcheted up a notch from most of the other resort restaurants.
Beginnings
On offer are a variety of small plates, somewhat larger raciones, as well as main courses, influenced by Basque cuisine and a delight to the senses. It's difficult to choose from such a nice variety, so try a few and plan on sharing. The cheese board is a joy with rich Spanish cheeses, dabs of honey, and dried raisins.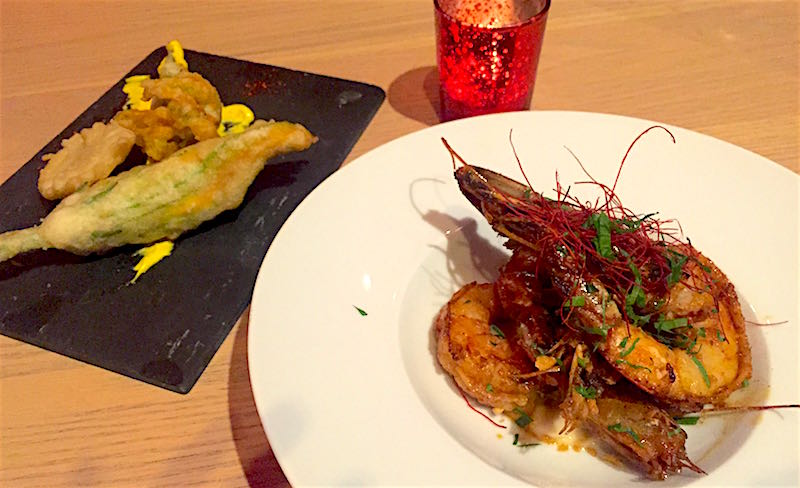 The small plate of gambas delights with super thin slivers of red chili scattered over succulent grilled prawns. But the very best of the small plates is a tossup between the tempura calabaza squash blossoms stuffed with crab and accompanied by saffron aioli and the lightly fried cauliflower topped with a sous vide egg surrounded by a piquant caper sauce.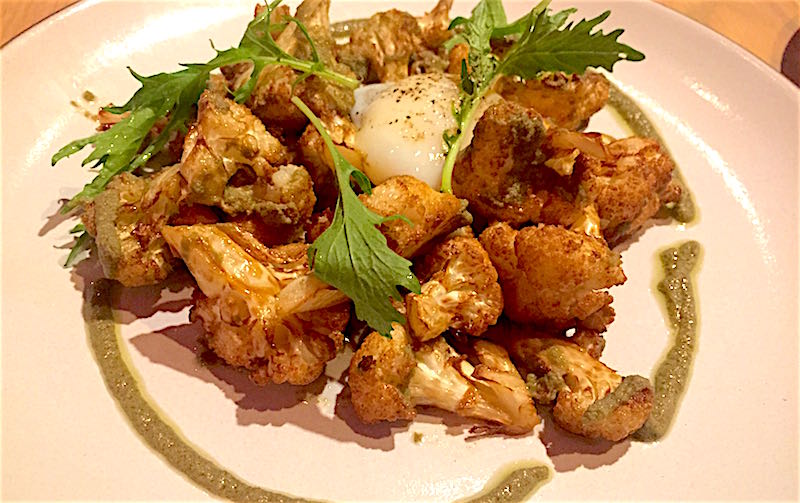 Main Plates and Sides
I would usually say in a case such as this to just come and enjoy some of the best appetizers around and forget an entrée, but if did so you wouldn't have the pleasure of trying the special cut of bone-in Black Angus prime filet, my vote for Orlando's best steak.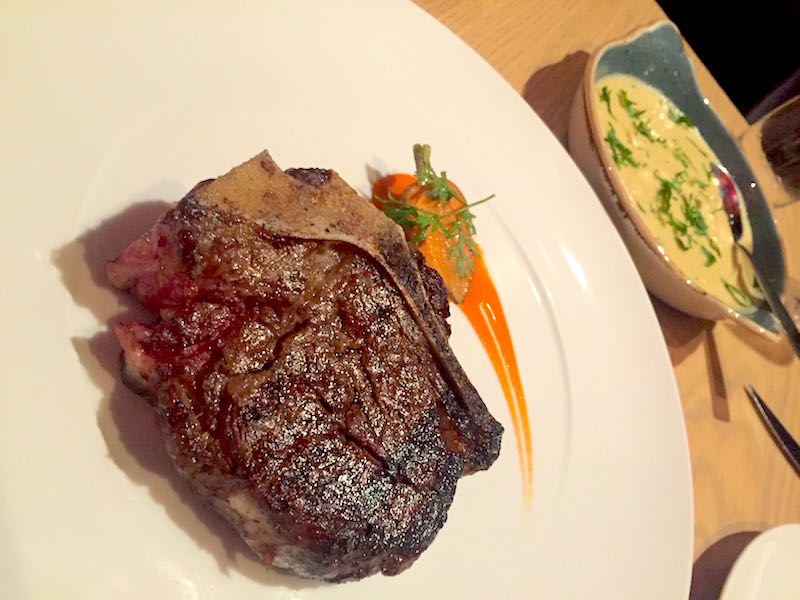 Order a side of the super rich wild mushrooms in sabayon sauce, and, the obligatory pureed potatoes with brown butter.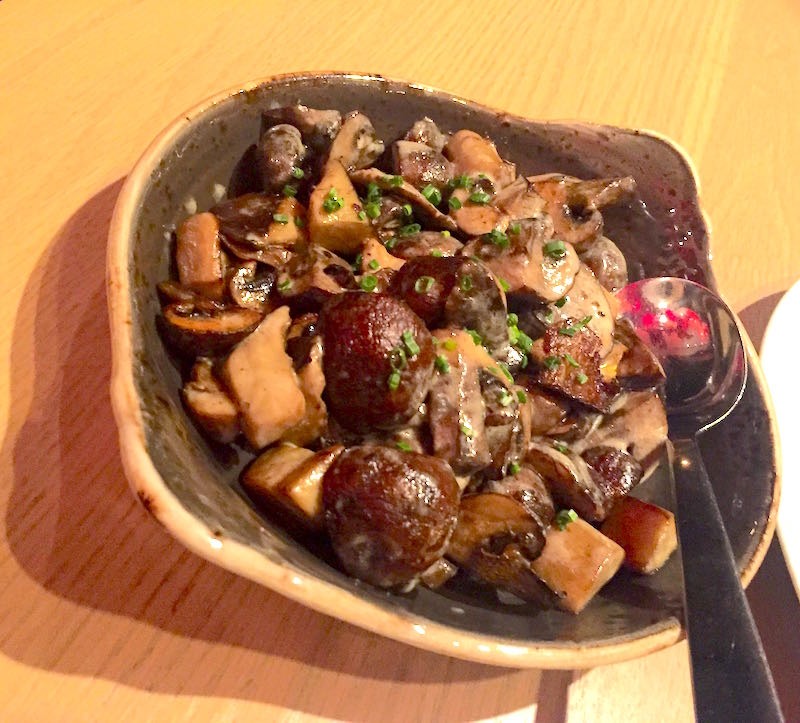 And let's not forget the restaurant's indulgent paella, spiked with tender mussels, fish, plump peas, even quail. A global wine list offers just about something for everyone, but you may want to continue with the restaurant's theme and order a nice bottle of Rioja or one of the other interesting Spanish choices.
The Fireworks Show
Top off the evening by stepping outside to the bar or adjoining terrace for the evening fireworks courtesy of Epcot and the Magic Kingdom. One sour note is the halfhearted host staff, but our exceptional waiter made up for any inconvenience we may have experienced at being seated.
Let Us Help You in Planning an Extraordinary Luxury Vacation!
Allow me to connect you to expert travel advisors who can plan fabulous vacations to the places I write about and more. Your luxury Travel Advisor will work with you to create the perfectly planned trip of a lifetime, making sure that nothing is left to chance. This along with exclusive Virtuoso amenities at Four Seasons Resort Orlando.
Please submit an online consultation request to begin.
---