Four Seasons Resort Bali At Sayan: Paradise on Earth
If you are looking for the true essence of Bali, Four Seasons Resort at Sayan is one-stop shopping. A dream-come-true paradise hidden away just minutes from central Ubud in Bali's central highlands, you see nothing but a suspension bridge and lotus ponds set high above the forest on arrival. Make your descent down staircases to encounter the main building's rotunda lobby, bar, Ayund Terrace restaurant, fitness center and spa from which are stunning views of the surrounding gorge, river, and terraced rice paddies.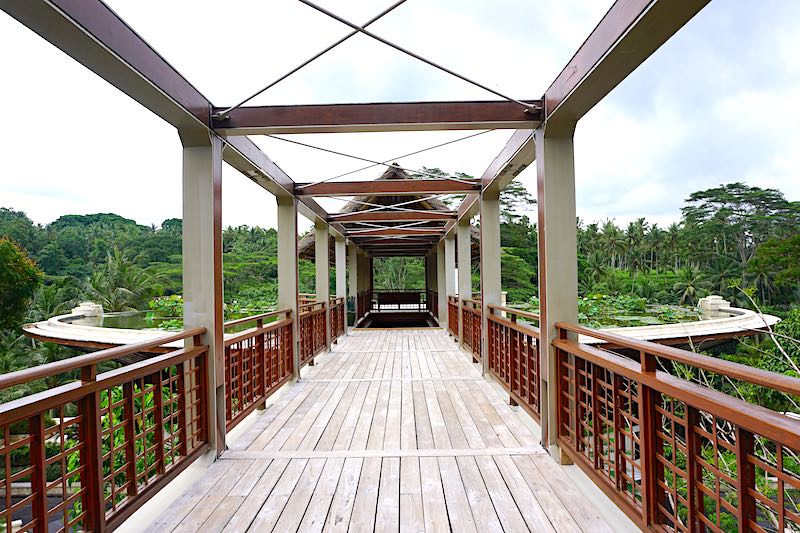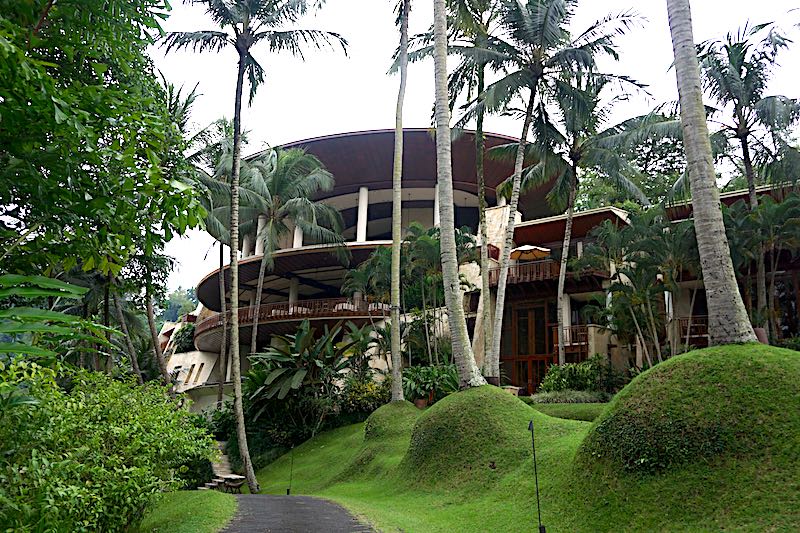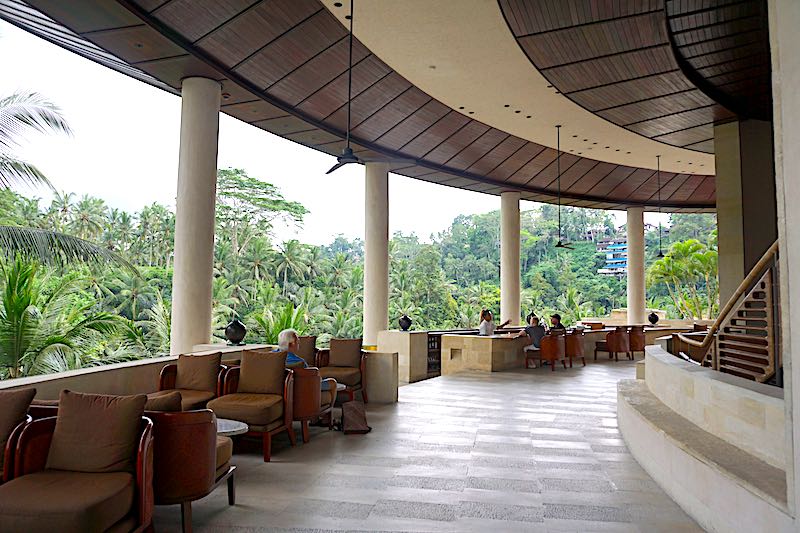 The resort's suites are located within the main building, all offering a separate living room and bedroom, on either one or two levels. Villas are privately nestled throughout the grounds, some with views of the valley, other of the surrounding landscape and tropical forest, and some, like ours, with mind-boggling views of the rushing river. Both suites and villas are adorned in a contemporary Balinese style with lovely teak furnishings highlighted with Bali's famous fabrics.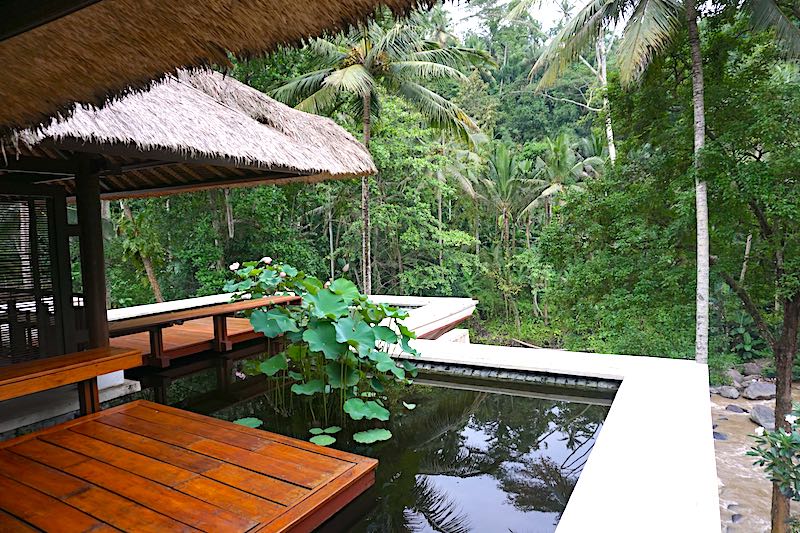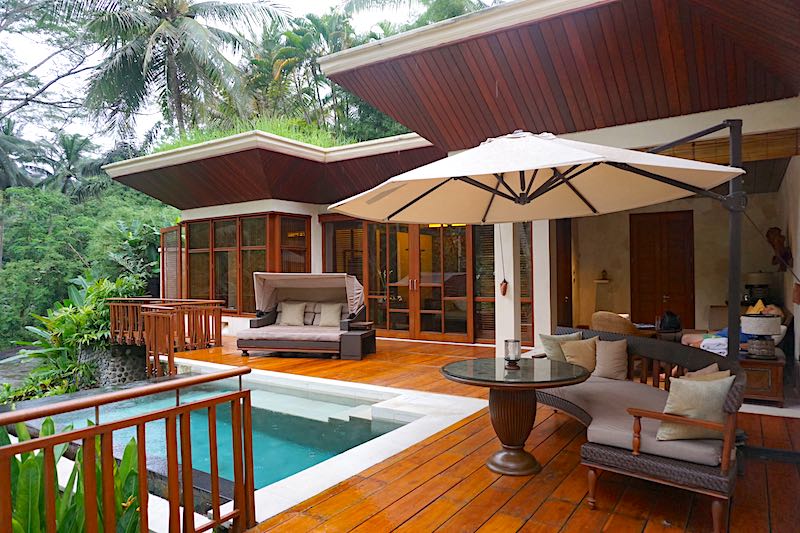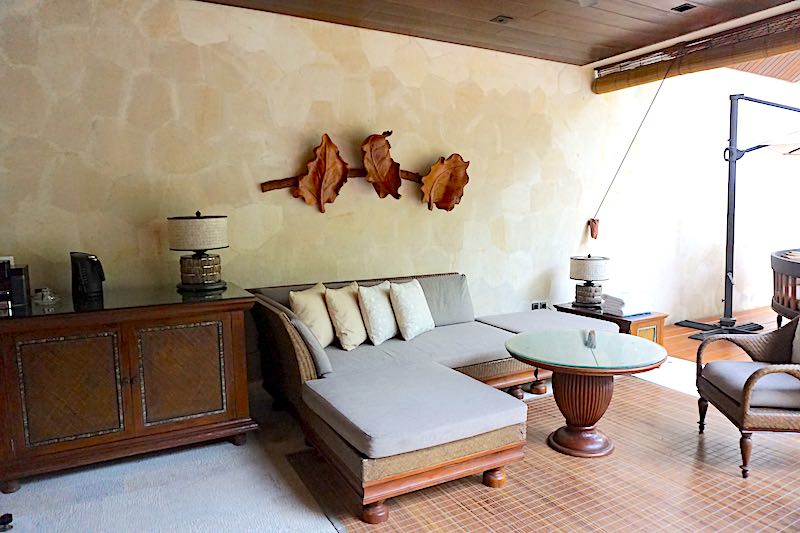 Our Riverfront One-Bedroom Villa was out of this world with both the indoor and outdoor space totaling a whopping 3,660 square feet of space! Imagine your own lily pond on arrival, then a walk downstairs past a romantic waterfall feature and step through your private entry to an outdoor living area like no other with a covered seating area with a sectional sofa and chair. Adjoining is a dining table with umbrella and curved sofa, oversized canopy covered lounge chair, and your very own plunge pool hanging over the rushing river. There's a wonderful sense of privacy.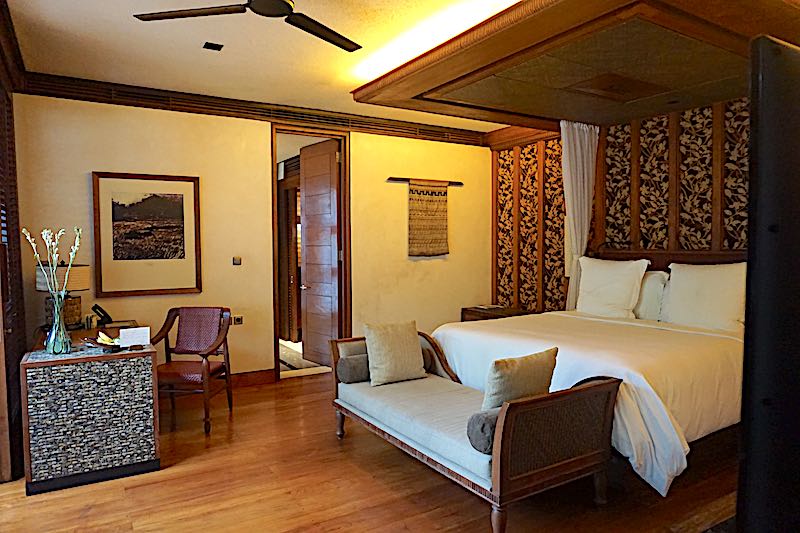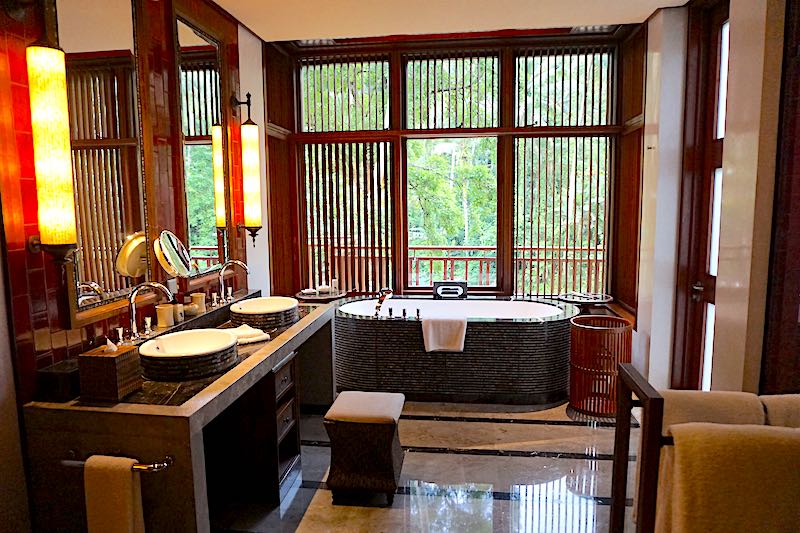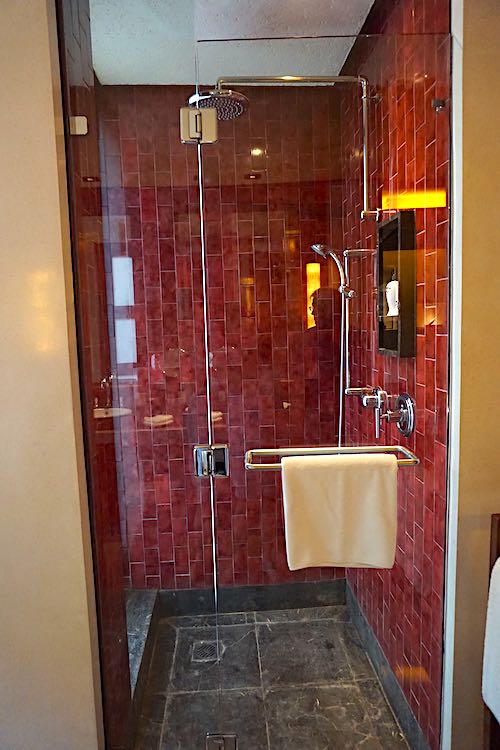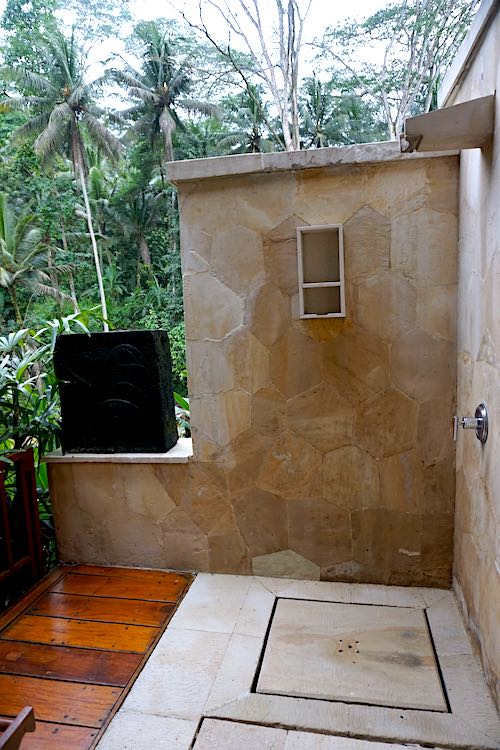 Inside our villa we found a more than comfortable room with a king bed with canopy sheers, behind which is a stunningly carved wooden screen. At the foot of the bed is a chaise lounge and desk, and wide double doors open to the outside. In the adjoining bath a marble double-sinked vanity, wood-paneled walk-in closet, a large freestanding tub next to a picture window overlooking the river, and both indoor and outdoor showers. Nirvana (are you getting the feeling that this resort tops my list?)!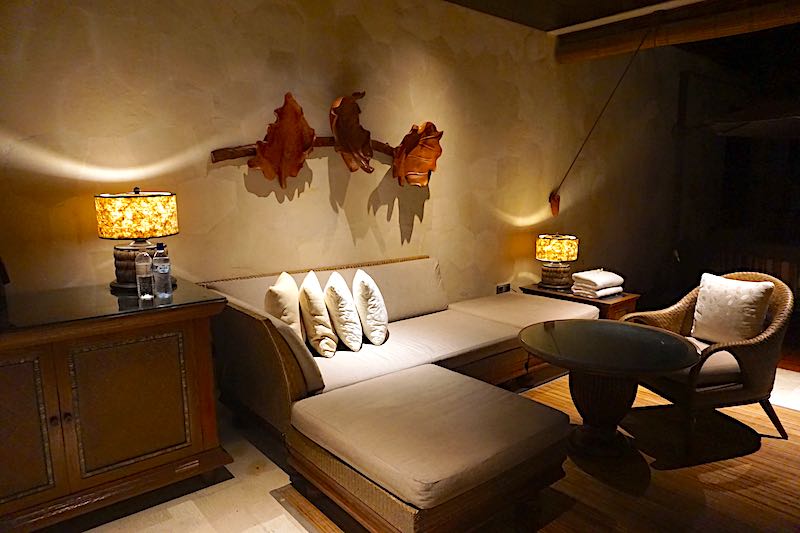 And can we talk about the best turndown service ever? Look what we came back to after dinner.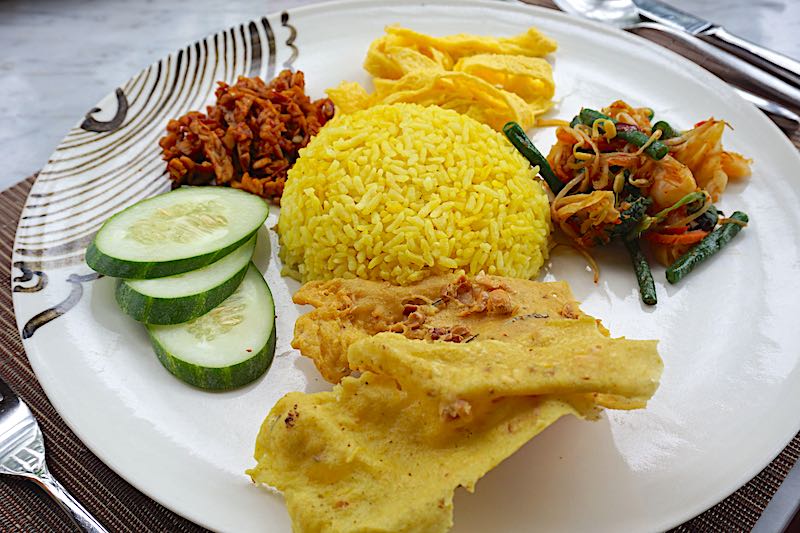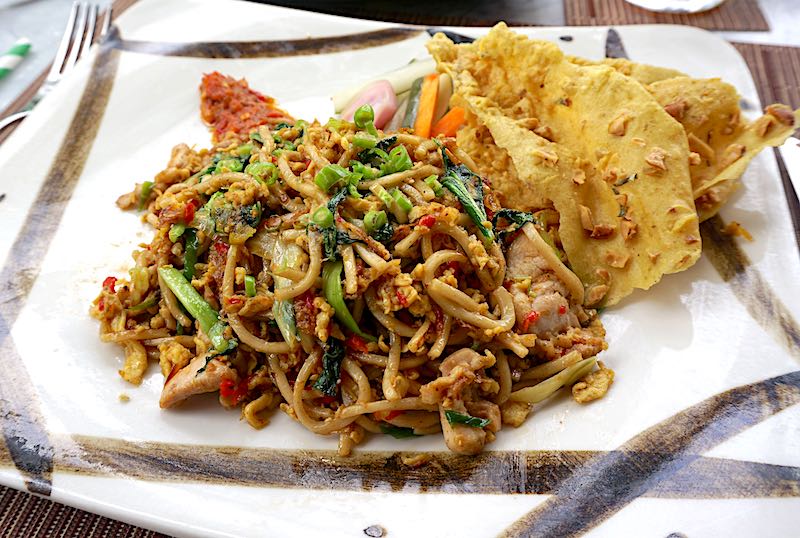 If you can tear yourself away from your villa for sustenance, there is a two-level swimming pool that follows the natural contours of the river it overlooks, and you can dine in the Riverside Café there for lunch and dinner. Just below the lobby area is Ayung Terrace, my favorite dining spot, where breakfast, lunch, and dinner is served featuring Indonesian cuisine. Overlooking the river as well from a higher viewpoint, we had a marvelous dinner here one evening after partaking of an exotic cocktail at the resort's Jati bar. And the next morning an outstanding breakfast opting for the restaurant's modern Indonesian fare of wok-fried egg noodles with chicken and a rice-based Farmer's breakfast.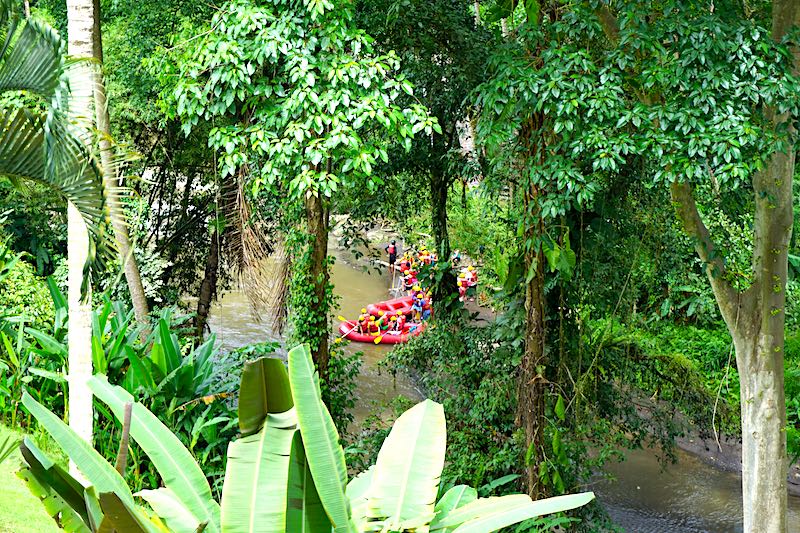 If only there had been time to for the Four Season's Dharma Shanti Yoga Bale where both complimentary and fee-based yoga classes and talks are held. Or perhaps a guided river rafting trip on the Ayung River, or at the very least a treatment at the resort's Sacred River Spa. But alas, since we only had time to spend one night here (we jumped ship while in port on our Seabourn Encore cruise), these will have to be saved for another day if I'm lucky enough to return.
More to Come in Part II, Four Seasons Bali at Sayan Villas and Suites.
I invite you to join me on Facebook and Twitter.
Let Us Help You in Planning an Extraordinary Luxury Vacation!
Our expert travel advisors at GSC World Travel will plan a fabulous vacation to the places I write about and more. Your luxury Travel Advisor will work with you to create the perfectly planned trip of a lifetime, making sure that nothing is left to chance.
Please submit a Consultation Request to begin.
---