Fairmont Austin: A Texas Hotel With a Contemporary Vibe
I'm a Texas gal through and through, and I know that most Texans feel if you are going to visit one city in their state it might as well be Austin. Unfortunately there is a dearth of 5-star Austin hotels—until recently the Four Seasons was the only choice unless you count some of the great boutique hotels in the area. So when Fairmont opened the largest hotel in the city, in fact Fairmont's largest hotel in the U.S., I just had to head north from San Antonio to check it out myself.
The Vibe
Well located in the downtown area within walking distance of many sights and restaurants, the 37-story hotel greets you on approach by a bronze Texas Ranger statue leading you to expect a Texas-themed hotel. But this is where any sort of theming ends. Inside is nothing but a contemporary decor. Now don't get me wrong, I love modern furnishings and architecture, but it just wasn't expected. Loads of Italian marble is mixed with bright, rich blue and emerald green furnishings and walls are hung with modern art. Organic accents abound with indoor faux oak trees and soothing water features, almost a park-like atmosphere.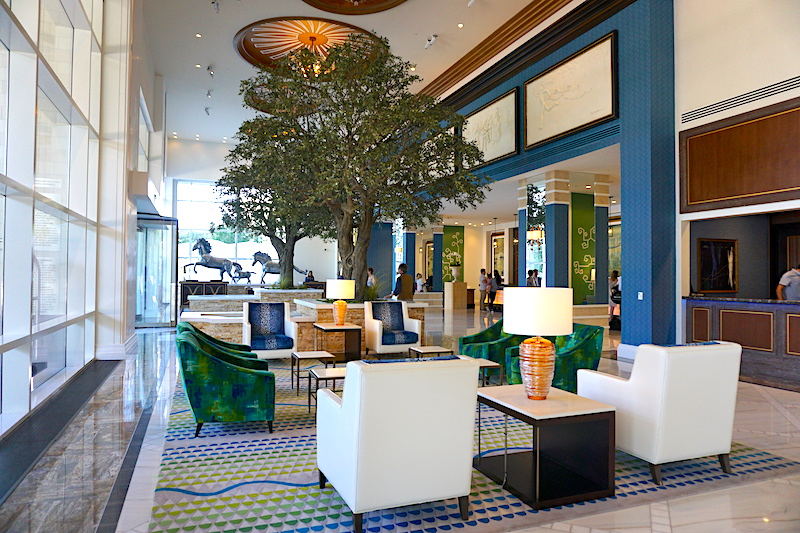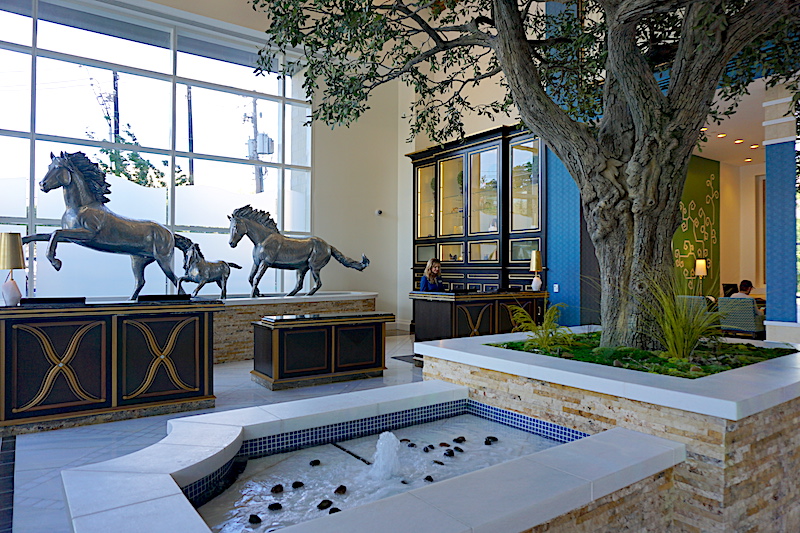 Our Suite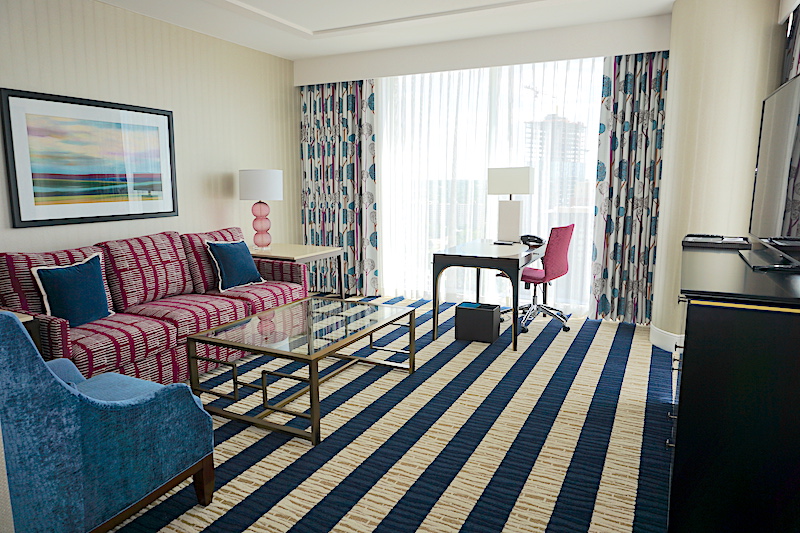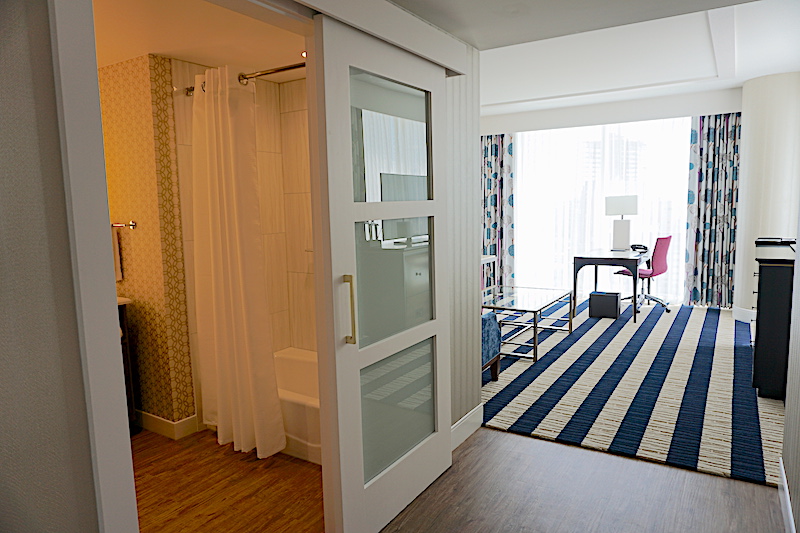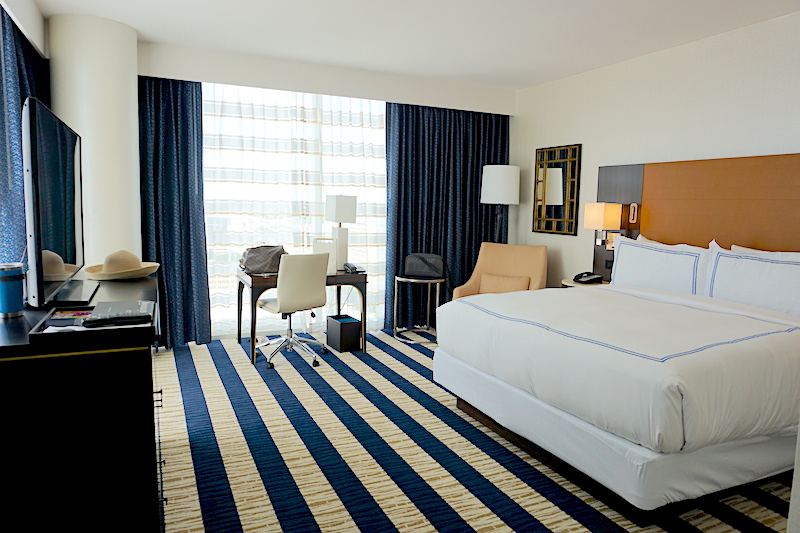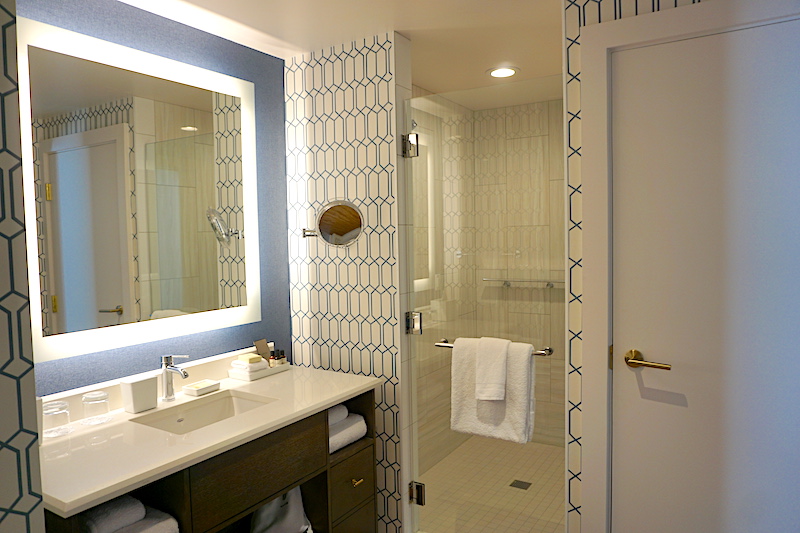 One-bedroom Park View corner suites come with lovely views of Lady Bird Lake and Palm Park depending on which room you are in. Rich blue and cream striped carpet, heavy blue drapery, work desk, oversized TV and bureau, and king bed are great assets; however, the layout is bizarre with a central interior hallway dividing the living and bedroom into two separate rooms (each the size of a standard guest room), each with locking doors. So in order to reach the living room from the bedroom and vice-versa it is necessary to open two heavy exterior-type doors with a hallway cross. A real pain to be sure. I would understand if both of the rooms are guest rooms, but this isn't the case. At one point I had just crossed between the two rooms in the hallway and the housekeeper opened the exterior door without knocking and started vacuuming the hallway as if it wasn't part of the suite but instead part of the common hallway. Crazy! I did call the front desk to make sure that this isn't a one-off type of suite, but was told that all the Park View Suites were laid out in the same manner.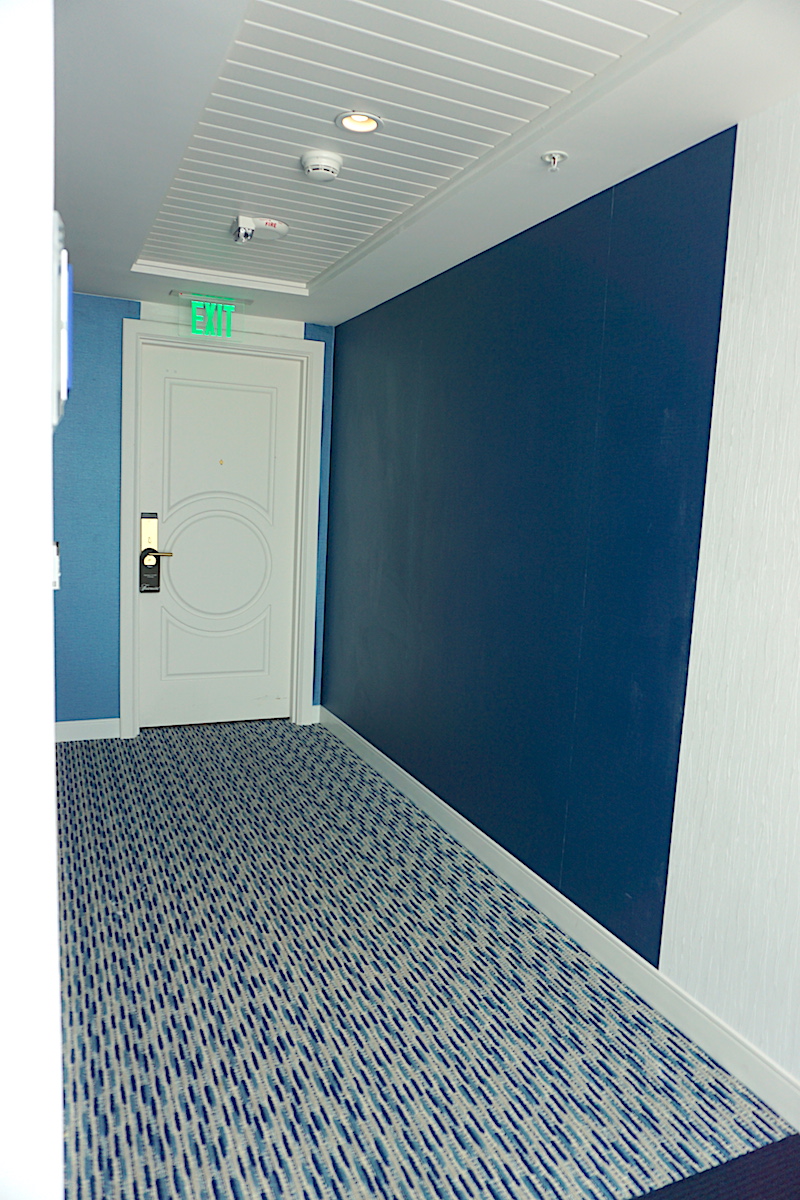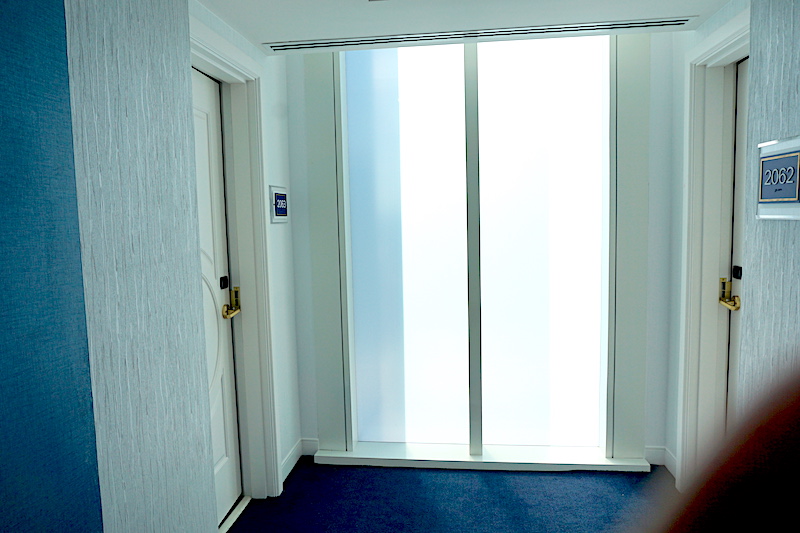 That said, both sides of the suites are comfortable, each with a full bath. An extremely comfortable king bed pillow-top mattresses and soft downy pillows makes for a restful night. The bedroom bath has both a nice-size tub and separate and very large shower, and the Le Labo bath products are a favorite.
I do love Fairmont Hotels, in particular their Gold Level amenities, but decided to stay in a non-Club suite in order to be hungry enough to enjoy some of the many outstanding restaurants in the city. The Club offerings are so substantial that it usually ends up being both breakfast and dinner for us.
Hotel Bars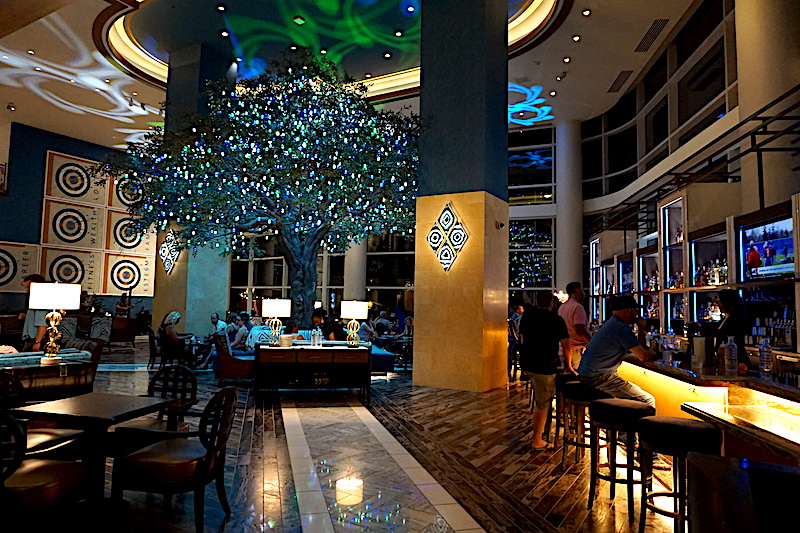 The hotel's lobby bar, Fulton, is centered by a massive oak tree lit with colorful lighting. Walls of floor-to-ceiling windows makes for one bright space in the afternoon and early evening, a place that is more than likely going to be scorching in the middle of a Texas summer. But after dark it's a beauty and the live music is always welcome—this is Austin after all!
A second bar on the 7th floor just off the pool, Rules and Regs, comes with a hip atmosphere, loud music, and a somewhat austere interior. Opt for a table outside where you can take advantage of the impressive city views.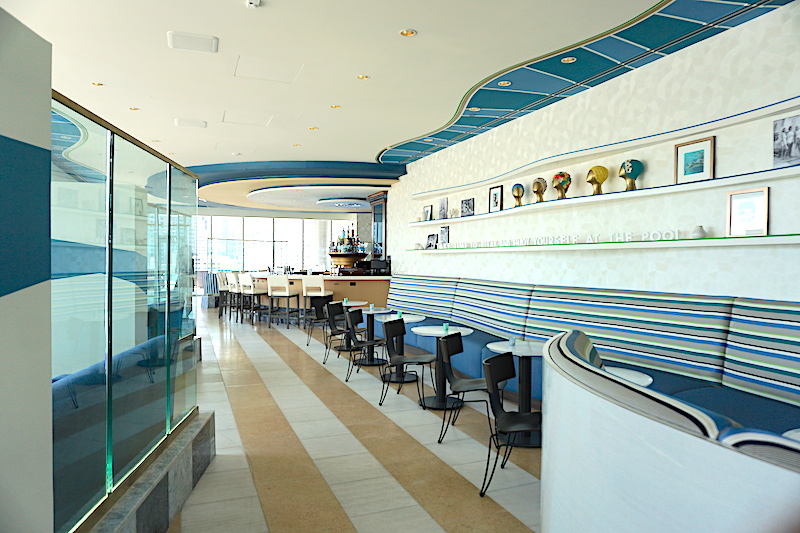 The hotel's lovely pool—again with super views—while large proved to be not quite large enough for a Saturday afternoon when there wasn't a lounge chair to be had (the photo here was late on a Friday afternoon which is when I should have tried for a spot).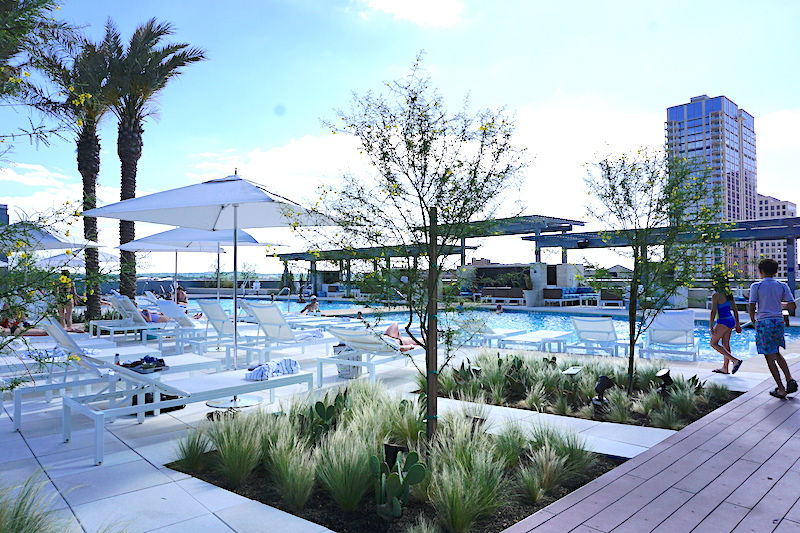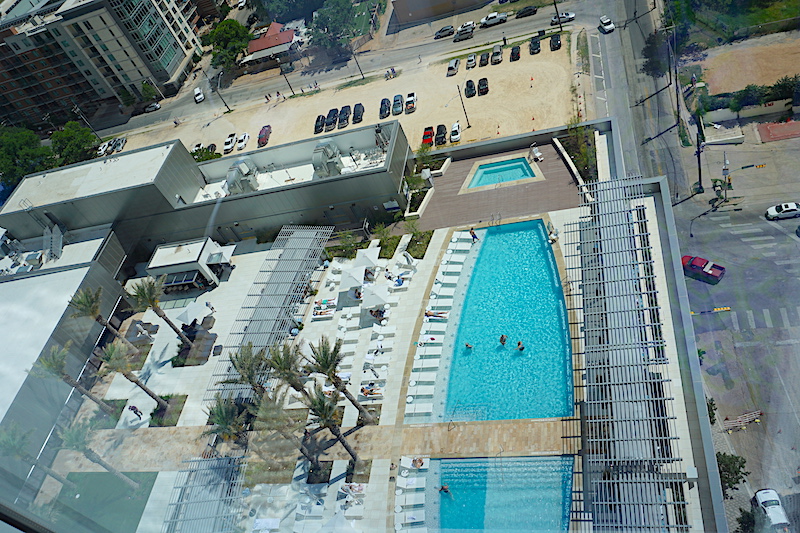 Getting Around
We did enjoy using the hotel's complimentary car service, first come first-served, that will drive you anywhere within a few mile radius. Austin parking can be a nightmare so we ditched the car in favor of the hotel car combined with Uber. Because this hotel is linked to the Convention Center come prepared for an influx of conventioneers.
I invite you to join me on Instagram, Facebook, and Twitter.
Let Us Help You in Planning an Extraordinary Luxury Vacation!
Our expert travel advisors at GSC World Travel will plan a fabulous vacation to the places I write about and more. Your luxury Travel Advisor will work with you to create the perfectly planned trip of a lifetime, making sure that nothing is left to chance.
Please submit a Consultation Request to begin.
---