Disney's Flying Fish Transformed
Flying Fish at Disney's Boardwalk Entertainment District has a new look that's hard to resist. Completely transformed, it now exudes a sophisticated and stylish vibe, a stunning reversal from the previous whimsical decor. Deep blue hues abound on the walls, fabric ceilings, and drapery, and, suspended from the enameled ceiling, is an eye-popping school of fish and sea bubble clear glass chandeliers. It's as if you are below the ocean looking up to the water's surface, quite reminiscent of the nearby Todd English's Bluezoo.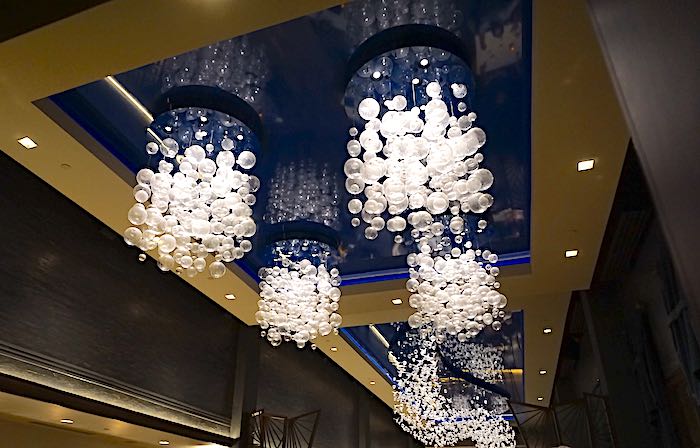 Chef Tim Majoras—formally sous chef—is now at the helm. The menu is still heavily concentrated on seafood, all of it sustainable, the open onstage kitchen is still central to the dining room, but no longer will you find the popular chef's counter dining. Fans of the lively kitchen area bar will be happy to know that it too was retained and is now quite gorgeous with it's bronzed fish-scale tile façade.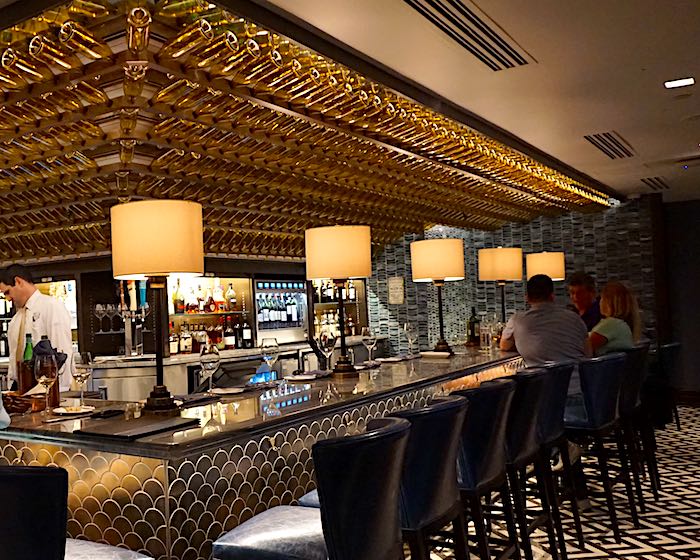 The question is: where to sit? If you like the bustling action of the kitchen then ask for the more casual front area of the restaurant, but if a subdued atmosphere is your style then the back section of the restaurant is much more conducive to quiet conversation. Here you'll find, along with standard tables, elegant seating in a continuous row of bronze high-back, S-curved banquettes interspersed with frosted glass screens. Regardless, most tables are laid with white linens and all with creative fish scale flatware and slate blue napkins.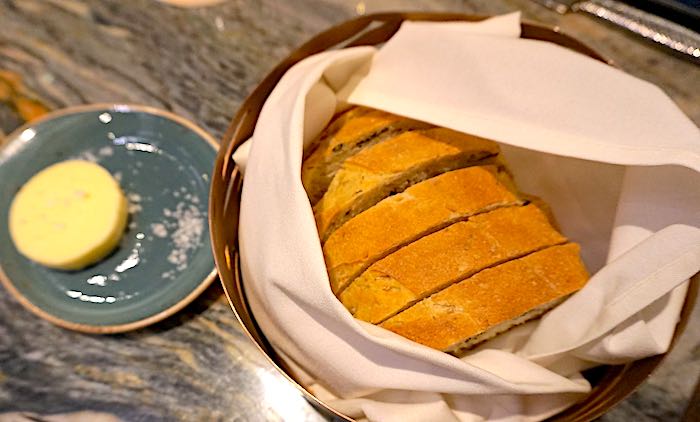 Go ahead and ruin your appetite with a few slices of the tasty semolina and nori bread and slather on a some of the sea salt butter. A popular starter is the rich crab bisque with jumbo lump blue crab, leeks, beautifully finished with a tarragon crème fraîche. I like that the sweetness and the heavy cream normally found in lobster bisque is missing, that the Flying Fish version is less rich and cloying. Instead it's tart and earthy, and a tableside splash of sherry is optional.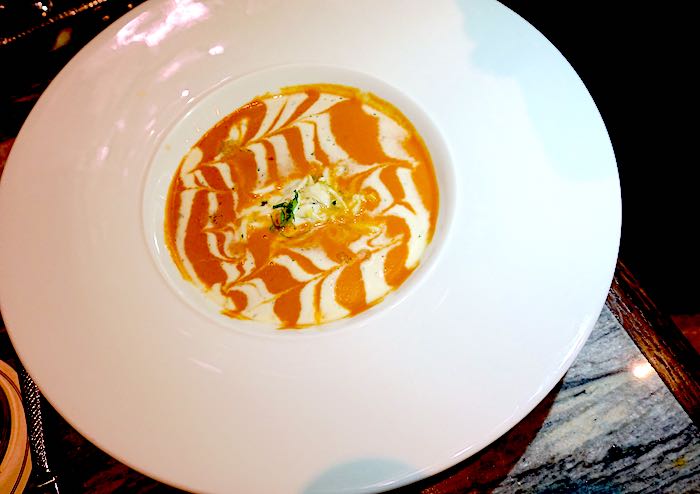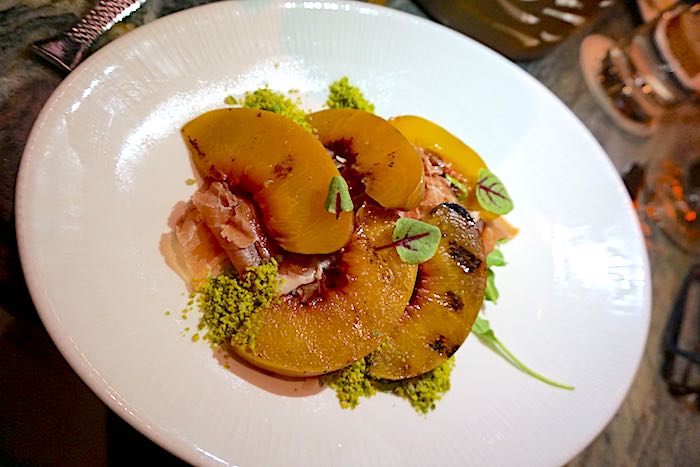 My salad was a bit of enigma. Sitting on a tad of arugula tossed in vinaigrette are prosciutto and lightly grilled peaches and just a bit of Sonoma Chèvre with ground pistachio "dust" scattered around the plate. If ripe, soft, sweet peaches are what you had in mind then move on to another choice. Maybe the al dente consistency of the peaches was intentional, but it wasn't exactly to my expectation or my taste.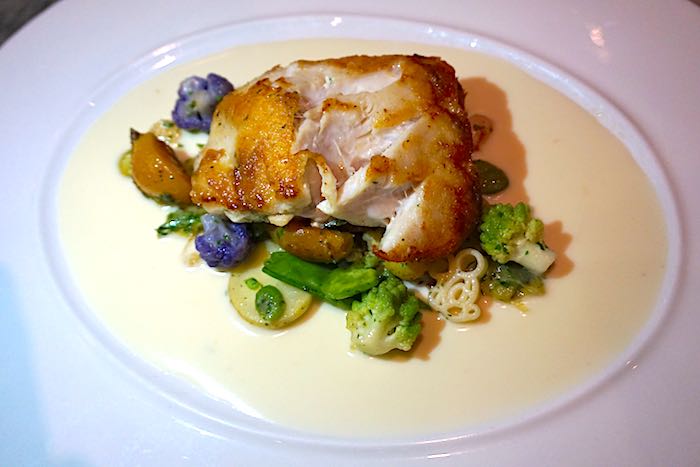 The best presentation of the evening was the seared tilefish, although it felt just a bit lacking in freshness, served over a medley of gorgeous vegetables (sliced baby potatoes, tiny florets of purple cauliflower, broccoflower, golden beets) sitting on a pool of delish potato beurre blanc, probably a nod to the old potato-wrapped snapper entrée favorite no longer on the menu.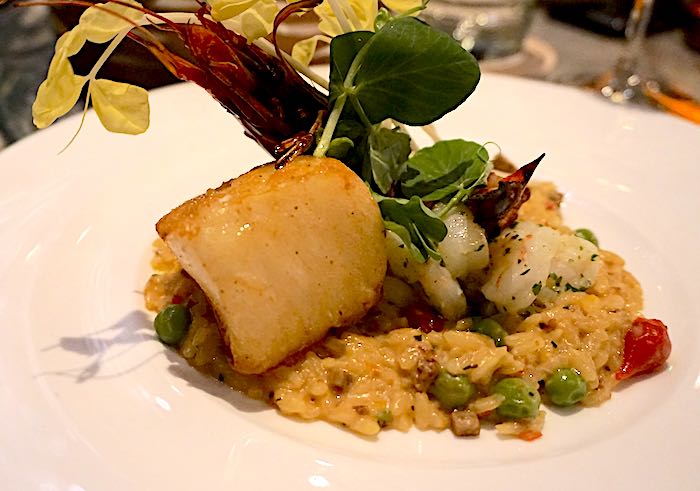 The Chilean sea bass dish was perfectly cooked with a golden pan sear. Served alongside it was a paella-like bomba arroz, made with a short-grain Spanish rice, and festooned with savory Key West shrimp, fresh peas, sweet little tomatoes, and chorizo, a winner except for a sweetness that was a bit overwhelming. But the Carabineros giant-size prawn that topped the dish had a slightly mushy consistency.
A wine list a mile long with close to 300 labels and around 80 by the glass, is quite redolent of another of my favorite dining spots, California Grill at Disney's Contemporary Resort. And you may want to arrive early at the adjoining AbracadaBar where "magic" is the theme in the variety of hocus pocus craft cocktails.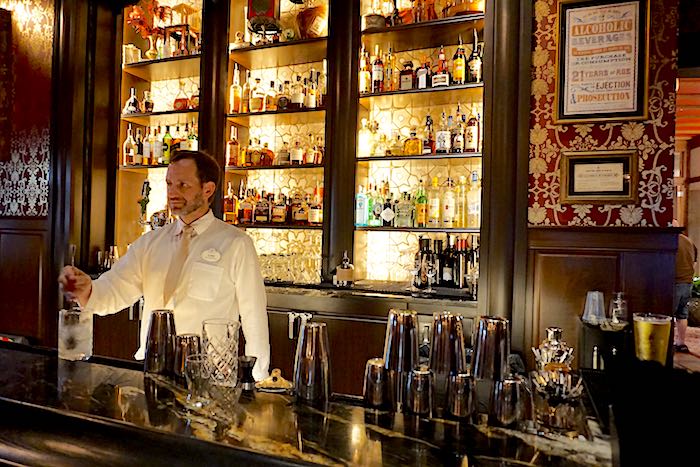 Let Us Help You in Planning an Extraordinary Luxury Vacation!
Allow me to connect you to expert travel advisors at Glass Slipper Concierge who can plan fabulous vacations to Disney Destinations. Your luxury Travel Advisor and Disney expert will work with you to create the perfectly planned trip of a lifetime, making sure that nothing is left to chance.
Please submit an online consultation request to begin.
---