Cocktails Anyone? My Favorite Hotel Bars.
One of best things about travel is a stay at a luxury hotel with a fabulous bar. Nothing is more perfect than to have a convenient and atmospheric place for a before- or after-dinner drink. Here are a few of my very favorites:
Terrat, Mandarin Oriental Barcelona
This incredible rooftop bar offers great wine and a stunning 360-degree view of the city. Set around the hotel's sleek dipping pool and overlooking Barcelona's exclusive Passeig de Gracia, you can even spot Antoni Gaudí's legendary La Sagrada Família and Casa Batlló from it's lofty heights, all while enjoying a nice Spanish wine, craft cocktails, and Peruvian appetizers.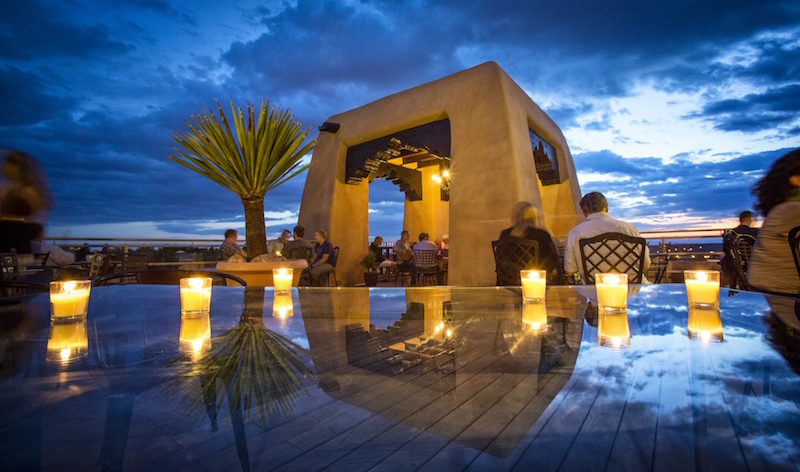 Photo courtesy of La Fonda on the Plaza
Bell Tower Bar, La Fonda on the Plaza, Santa Fe, NM
Perched atop La Fonda on the Plaza is the perfect place to watch the sunset with a view of the city and distant mountains while sipping a great margarita. It is quintessential Santa Fe!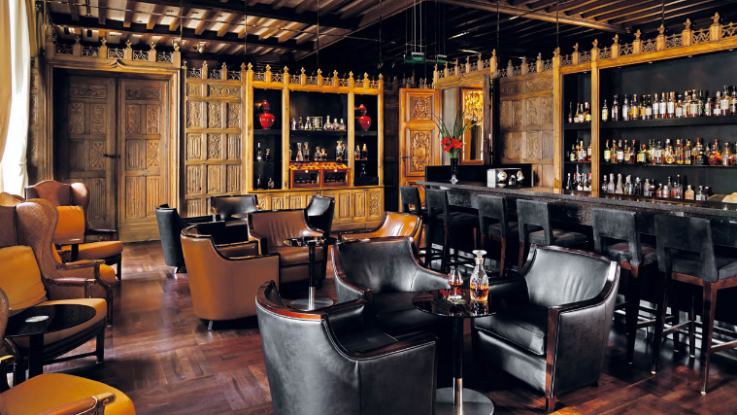 Photo courtesy of Palacio Duhau Park Hyatt Buenos Aires
The Oak Bar, Palacio Duhau Park Hyatt Buenos Aires
In the hotel's historic Palace building, this Old-World-style bar comes with 17th century, stunningly carved oak paneling from a castle in Normandy , a wood burning fireplace, leather wingback chairs, and a terrace for up to six people, all overlooking the hotel's lovely garden.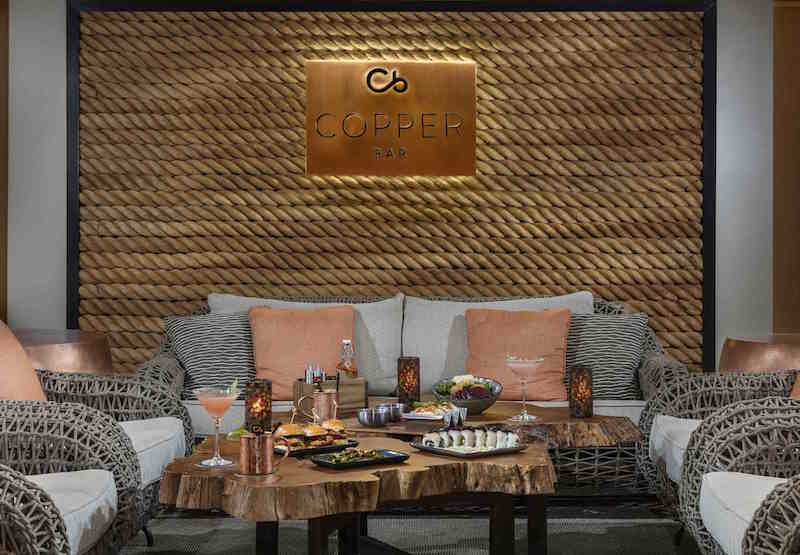 Photo courtesy of Mauna Kea
Copper Bar, Mauna Kea Hotel, Hawaii Island
Whenever I'm in Hawaii, I have three bars that always make my list of places to visit. House Without A Key and Lewers Lounge at Waikiki's Halekulani (see next listing), and then there is this spot at the iconic Mauna Kea Hotel on the Big Island of Hawaii, a favorite gathering place for decades. I've yet to experience it's recent renovation but can't wait to see how they have combined the old with the new. With sweeping views of Kauna'oa Bay and nightly live traditional Hawaiian music, this is the place to be with a mai tai in hand.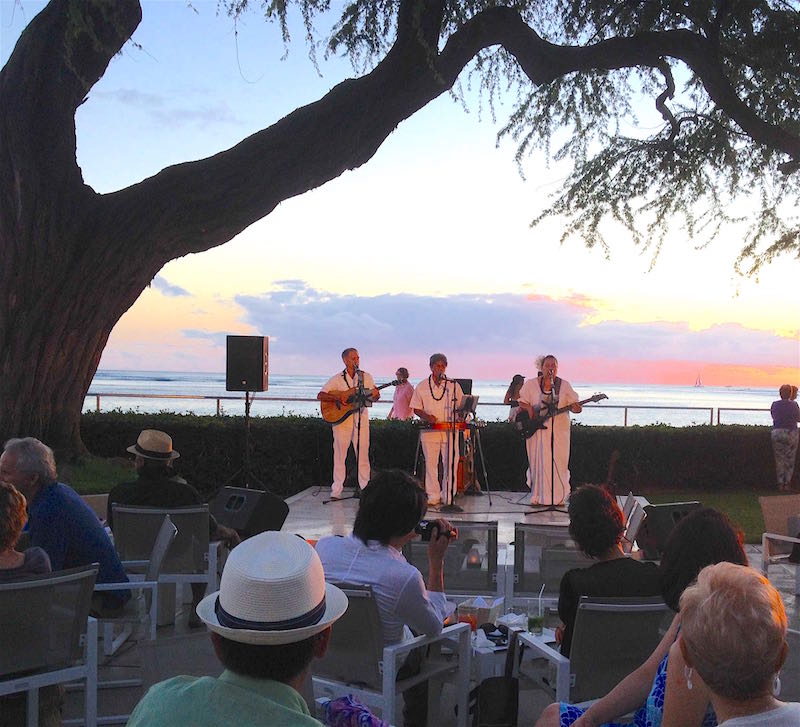 Lewers Lounge and House Without a Key at the Halekulani Hotel, Waikiki, Hawaii
Can you tell I adore drinks and live music in Hawaii? The lovely Halekulani in Waikiki has not one but two of my favorite bars. Lewers Lounge is a tony piano lounge with serious cocktails, a place where nothing but an icy cold martini will do. In fact, the legendary Dale DeGroff, formerly of NYC's Rainbow Room, created the bar menu with drinks like a blackberry julep and ginger lychee caipirissima.
And House Without a Key, my absolute favorite, set underneath the hotels' century-old Kiawe tree with picture perfect sunset ocean views. Best of all is the nightly Hawaiian music paired with the dancing of five former winners of Miss Hawaii. It's truly paradise.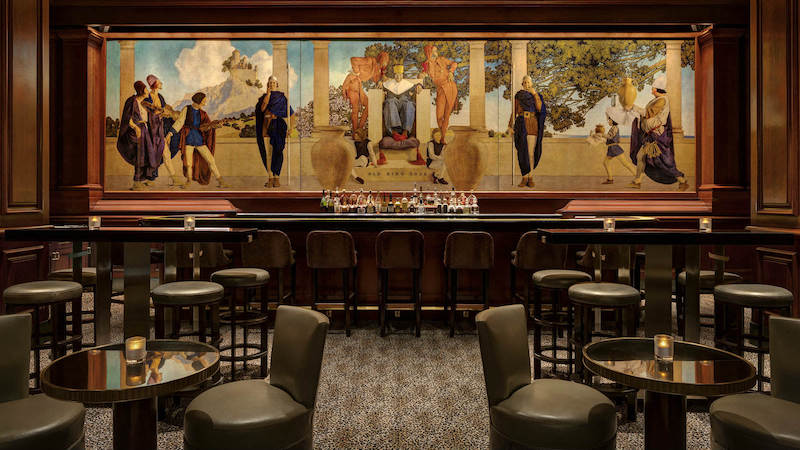 Photo courtesy of St Regis New York
King Cole Bar, St. Regis Hotel, New York, NY
For over a century, the St. Regis New York has reigned as an emblem of style and sophistication in the heart of Manhattan, renowned for the parade of famous people that have frequented this historic place. Where better to sip on classic cocktails while gazing at Maxfield Parrish's famous mural?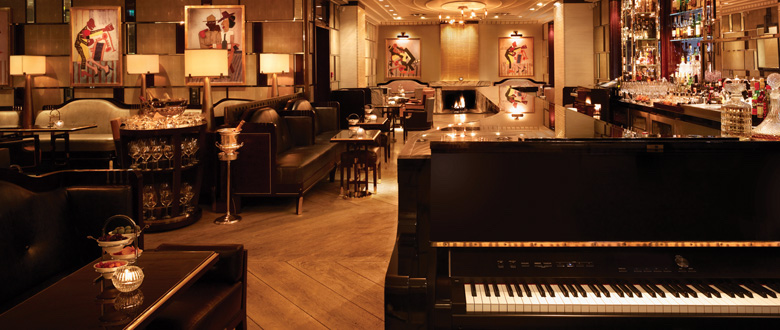 Photo courtesy of Corinthia London
Bassoon, Corinthia Hotel London
Bespoke cocktails and fine Champagnes are served in this elegant yet cosy, art-deco drinking den with walls of jazz-inspired art from William H Johnson. Drinks are served in replicas of Queen Victoria's glassware along a seven-metre bar that sweeps into a piano, and most evenings you'll find live music. The last time I stopped in for a before-dinner drink I couldn't resist staying for the entire evening—it's pretty darn irresistible.


Photo courtesy of Raffles Grand Hotel d'Angkor
Elephant Bar, Raffles Grand Hotel d'Angkor, Siem Reap, Cambodia
The Raffles Grand Hotel d'Angkor was Siem Reap's first hotel and is still the city's grande dame. Head downstairs off the lobby for drinks in the elegant Elephant Bar, a French Colonial-style beauty. Choose an Airavata made with rum, crème de banana, fresh lime and coconut juice, and Malibu, served in a coconut shell.
I invite you to join me on Facebook and Twitter.
Let Us Help You in Planning an Extraordinary Luxury Vacation!
Our expert travel advisors at GSC World Travel will plan a fabulous vacation to the places I write about and more. Your luxury Travel Advisor will work with you to create the perfectly planned trip of a lifetime, making sure that nothing is left to chance.
Please submit a Consultation Request to begin.
---