World's First All-Suite Business Class On Delta One
Imagine your own suite in Delta business class! That will become a reality with the introduction of the Delta One suite, the first business class cabin to feature a sliding door at each suite.
The Delta One suite will debut on Delta's first Airbus A350, due to enter service in fall 2017. Offering each customer a private space accessed by a sliding door, each aircraft will feature 32 suites.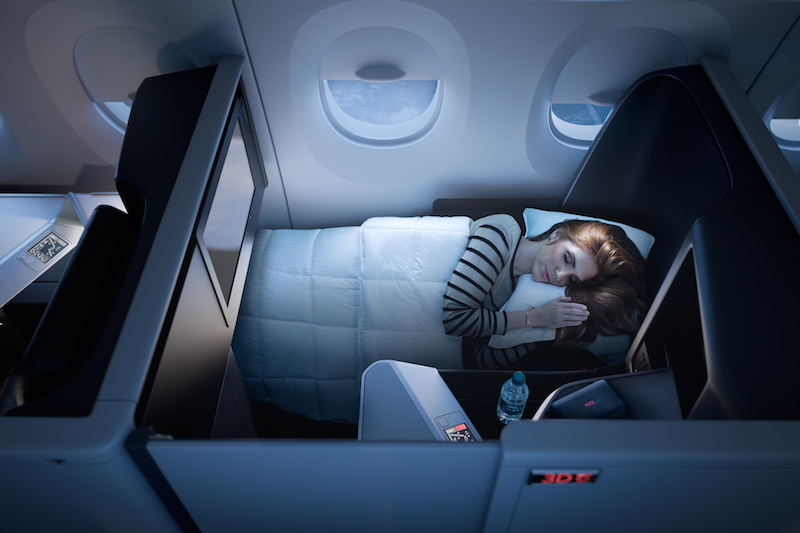 In addition to full flat-bed seats with direct aisle access, the Delta One suite features:
• A full-height door at every suite
• Sliding privacy dividers between center suites
• In-suite, customizable ambient lighting
• Dedicated stowage compartments for shoes, headphones and laptops
• Contemporary design featuring premium trim and finishes
• Memory foam-enhanced comfort cushion
• An 18-inch, high resolution in-flight entertainment monitor, the largest among U.S. carriers
• A universal power outlet and high-powered USB port at every seat
"Delta constantly listens to customers and responds with products that deliver what they want. After setting the standard with the introduction of full flat-bed seats with direct aisle access in 2008, Delta is again elevating the international business class experience," said Tim Mapes, Delta's Senior Vice President and Chief Marketing Officer. "Added comfort and privacy are important to business travelers, and that drove the design of the all-new Delta One suite."
In addition, Delta One customers enjoy chef-curated meals, wine pairings by Delta's Master Sommelier Andrea Robinson, Westin Heavenly In-Flight Bedding, noise-canceling headsets, and TUMI amenity kits featuring Kiehl's, and in-flight loungewear on select flights.
Following the A350 debut, the Delta One suite will progressively roll out on Delta's Boeing 777 fleet. Delta will be the first U.S. airline to take delivery of the A350, which will primarily serve routes between the U.S. and Asia.
Pretty exciting that U.S.-based airlines are now stepping up their game to compete what is already being offered on many foreign carriers.
I invite you to join me on Facebook and Twitter.
Let Us Help You in Planning an Extraordinary Luxury Vacation!
Our expert travel advisors at GSC World Travel will plan a fabulous vacation to the places I write about and more. Your luxury Travel Advisor will work with you to create the perfectly planned trip of a lifetime, making sure that nothing is left to chance.
Please submit a Consultation Request to begin. .
---